See why this old textile-town-turned-travel-hot-spot was ranked the No. 1 Friendliest City in the United States and the No. 6 Best Small City in the United States in the 2020 Condé Nast Traveler Readers' Choice Awards.
In this work-from-home age, Greenville, South Carolina has garnered attention as one of the nation's top Zoom Towns. Telecommuters are leaving behind large metropolitan areas to move to affordable, laid-back locales like this Upstate South Carolina city to set up shop at home.
Perhaps you don't want to go to that extreme, however. That's OK – because in recent years this newly minted Zoom Town also has become a Boom Town for travel and tourism.
Natives of Greenville, which is nestled in the Blue Ridge Mountains foothills, are happy to share their hometown with guests.
"When you get here, you feel like a local very quickly," says Ty Houck, the Greenville County Parks, Recreation & Tourism director of greenways, natural and historic resources.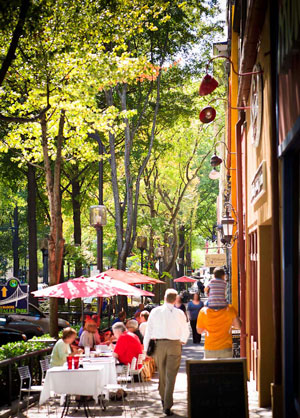 Downtown Dazzle
Weekend visitors to the pedestrian friendly city can park their cars downtown and never use them again until they leave. Those who want to give their feet a break – or dip a toe in every available experience – can take a carriage ride or hop aboard the free, open-air trolley downtown.
Featuring wide, tree-lined sidewalks, Main Street stretches from the north end of town near NOMA Square, downtown's largest plaza, and ONE City Plaza to the classic minor-league ballpark in the city's West End.
In between, specialty boutiques; marquee retailers; fabulous galleries; the Peace Center, the city's performing arts venue; diverse chef-driven restaurants and a variety of hotels line the street.
At RiverPlace, visitors can meander along the Reedy River among the restaurants, shops, condos and open artist studios.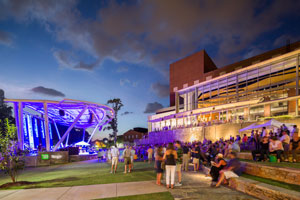 Festival Fun
From concerts and craft beer festivals to movies and dancing on The Plaza, Greenville is the site of about 300 events a year, many with free admission.
The TD Saturday Market on Main Street — named one of the "Top 10 Markets in the South" by Deep South Magazine and one of "The South's Best Farmers' Markets" by Southern Living — will take place Saturdays from 8 a.m. – noon from May through October on a scaled-back basis this year. Precautions will be in place to ensure the safety of vendors and shoppers.
The 17th annual Artisphere, a nationally recognized fine arts festival, will take place on four blocks downtown May 7 – 9. This year Artisphere will be gated, with timed and ticketed entry to regulate crowd size. Masks are required, and hand sanitizing and washing stations will be placed throughout the festival grounds. Social distancing also will be encouraged.
The festival has been named the Best Overall Arts Fair by ArtFairCalendar.com (the top website for art fair event listings) and landed in third place in the 2015 USA Today Reader's Choice Contest for Best Art Festival.
"The arts is certainly one of our largest draws," says Sunny Mullarkey, a local artist and muralist.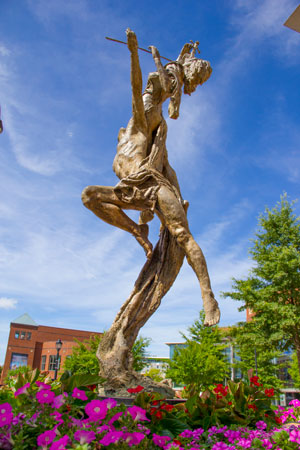 Art for Art's Sake
It doesn't take a festival to appreciate the arts, however. Transforming the city itself into an open-air gallery, public art is the pride of the city. The Art in Public Places walking tour includes sculptures such as Octo 2 and Reminiscence.
For young children – or for the child in you, Mice on Main is a collection of nine bronze mice that are hidden along five blocks of Main Street between the Hyatt Regency and the Westin Poinsett hotels. The sculptures, conceived by a local student for his senior project and crafted by local artist Zan Wells, were inspired by Margaret Wise Brown's beloved children's book, Goodnight Moon.
The Greenville County Museum of Art, considered the premier American art museum in the South, is home to the world's largest public collection of watercolors by American artist Andrew Wyeth.
There's even artistry in the architecture. Five mills are under renovation, and the Center for Creative Arts was one of the first entities to move into a repurposed mill.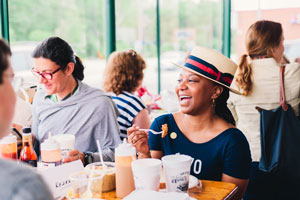 Fare Game
When it comes to fine dining, Greenville doesn't play around. In the last three years, four restaurants have been nominated for James Beard Awards. Offering Southern specialties and international cuisine, independent coffee and doughnut shops, ice cream shops and rooftop bars, the city's nationally recognized culinary scene plates something for every mood or taste.
Many downtown restaurants offer sidewalk dining. In addition, most of the restaurants on Main Street put out water for dogs, making Greenville as pet friendly as it is pedestrian friendly.
Nose Dive, a gastropub that serves urban comfort food (think chicken and waffles, fish and chips, seasonal salads and burgers) even has a dog menu. Aryana serves Afghan dishes; Pomegranate on Main offers Persian fare; Pita House has Middle Eastern cuisine; Golden Llama serves Peruvian food.
Pickwick Pharmacy, which opened in 1947, has been named one of the "Best Soda Fountains in the U.S." Locals also love Pink Mama's Ice Cream for its ice cream treats, hand-crafted sweets, coffee drinks, and dairy-free and vegan options.
With 18 breweries in Greenville County, a craft beer culture is flourishing in the area. To get a taste of the hand-crafted beverages, the Brewery Experience takes visitors to various pour houses with public and private tours.
Thomas Creek Brewery is considered the cornerstone of the local craft beer marketplace, and its Trifecta IPA is one of Greenville's top-selling beers. The award-winning Swamp Rabbit Brewery & Taproom in Travelers Rest is hopping as well.
The Greenville BBQ Trail provides samplings at local favorites Bucky's Bar-B-Q, Henry's Smokehouse and Mike & Jeff's BBQ plus behind-the-scenes looks at the restaurants' cooking techniques as well as servings of their history and Greenville barbecue lore.
Another popular barbecue spot is Bobby's BBQ, featuring two 21-foot smokers, affectionately called Grace and Mercy, that can hold 20 racks of ribs.
"Barbecue is definitely a labor of love," says Tay Nelson, who owns the restaurant with his wife, Sara. "Here we do it Texas style, and we use all wood." Brisket is the restaurant's best seller. However, Tay shares one more secret: "Banana pudding is our kryptonite."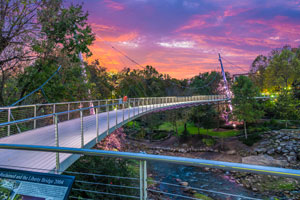 Outdoor Oasis
Visitors can have a blast at the city's many outdoor amenities as well.
"We literally have more than 100 parks, and the Blue Ridge Mountains are in our backyard," Houck says.
Falls Park on the Reedy, recently ranked as one of the nation's "Top 10 U.S. Parks" along with the heady company of Golden Gate Park and Central Park, is the hub of downtown activity. The 32-acre park's pedestrian-only Liberty Bridge, the only single-sided suspension bridge in the Western Hemisphere, spans the Reedy River. The bridge also offers spectacular views of the city skyline and Reedy River Falls.
Several pieces of public art have a home in the park as well. The "Rose Crystal Tower," a sculpture by internationally renowned artist Dale Chihuly, resembles pink rock candy. "Falls Lake Falls," a commissioned sculpture by internationally recognized artist Bryan Hunt, is the second in an edition of three (the original is in Tokyo) and the only piece of its kind on this continent.
"Outdoors is the inspiration for our art," Houck says.
In addition, the park houses the Greenville Zoo, a 14-acre facility featuring wildlife such as giraffes, monkeys, lions, giant tortoises and Amur leopards.
The multi-use park also includes gardens and stonework, and its network of pedestrian pathways winds past outdoor amphitheaters that host everything from concerts and festivals to Moonlight Movies and Shakespeare in the Park. Swamp Rabbit Trail, a world-class, 22-mile paved path for walkers, runners and cyclists, goes through Falls Park as well.
Despite its popularity, Swamp Rabbit Trail is perfect for social distancing. "If you put everybody on a bike, they're sort of naturally six feet apart," Houck says.
Just 10 minutes from downtown, Paris Mountain State Park has four lakes, a swimming area (complete with kayaks, canoes and pedal boats for rent), playground, campground and 15 miles of hiking and biking trails.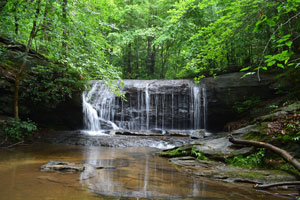 Jones Gap State Park in northern Greenville County features 60 miles of hiking trails. Anglers can fish for mountain trout, and, depending on the season, hikers can see wildflowers or an explosion of fall color.
Jones Gap connects to Caesars Head State Park in the Mountain Bridge Wilderness Area, a 13,000-acre area of Southern mountain forest. Hikers can take a number of loop and traverse trails that connect the parks, and trailside camping is available for those who choose the longer routes.
Known for its waterfalls and panoramic views that extend into Georgia and North Carolina, Caesars Head also is a prime viewing spot during "Hawk Watch," the fall migration of thousands of hawks on their way to South America.
Bring your binoculars, and you might spot other rapid-flying raptors such as bald eagles, Mississippi kites, American kestrels, turkey vultures and peregrine falcons. Two hiking trails lead to Raven Cliff Falls, which is South Carolina's tallest waterfall at 420 feet.
For more information on making the most of your visit, check out artisphere.org, greenvillehistorytours.com, thebreweryexperience.com or visitgreenvillesc.com.
By Morgan Davis