This rustic mountain getaway celebrates a century of R&R.
For 100 years, Lake Rabun Hotel in Lakemont, Georgia has been a place that beckons those who want to reconnect with nature – and themselves – to the Blue Ridge Mountains of north Georgia.
There's much to see and do at the rustic hotel, but the feeling of warmth and restoration that guests take home is the best souvenir of all.
"When you come to Lake Rabun Hotel, it's like you come to a different world," says owner Gwen North. "There is something about this place that just has a message."
Centennial Celebration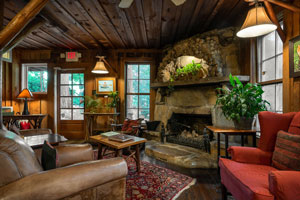 When North, a preservationist from Delaware, bought the property 14 years ago, it was run down and empty. However, its potential was unmistakable.
"The hotel was so magical," she says. "It was in disrepair, but the bones of it were evident to me. I just fell in love with the architecture and the area."
Built in 1922 by German immigrant August Andreae, the boutique hotel is the last surviving mountain lodge on a lake in Georgia. To celebrate its heritage, the hotel has held a number of events for its 100th anniversary this year.
However, before a kickoff event in April, North contacted everyone on the hotel mailing list and asked them to share their favorite remembrances and photographs from their stays. She then compiled their stories on memory boards that are set up on easels throughout the hotel.
"It's a warm place with a homey feel that celebrates where it is," North says. "It has a rustic charm that you can't reinvent."
The first Sunday of every month, the hotel also holds events to celebrate the arts in the area.
In November, this event will feature Don Bundrick, a self-taught furniture maker from Tallulah Falls who crafts rustic twig furniture in Rhododendron and Mountain Laurel styles. North says she'll probably offer a presentation about moonshine in December.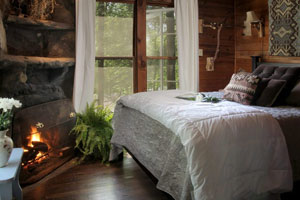 Guest Chambers, Cottages and Camps
When the hotel was restored in 2008, modern amenities were added to the rustic charm of the mountain retreat. Guests can choose from 13 rooms that reflect the beauty of the region.
The second floor features historic rooms that are original to the hotel, while the third-floor rooms were built about four years ago. Each room has a private bath and a king- or queen-size bed – plus its own one-of-a-kind personality.
Two features that guests will not find in their rooms are telephones and televisions. The lack of these amenities is not an oversight, however, but an omission by design.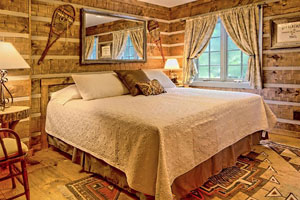 "We encourage people to get to know one another again and enjoy nature," says North.
TVs are available in the parlor and bar, and wireless internet is available throughout the hotel.
In the wide upstairs hallways, guests can lounge on rustic furniture and sofas while they snack on fresh cookies and beverages. They frequently befriend each other over a freshly brewed cup of coffee or a glass of wine.
Guests also can play board games in the parlor or showcase their talents on a baby grand piano.
Other accommodations include a two-bedroom, two-bath Innkeeper's Cottage and five cottages at Lake Rabun Fish Camp, which is located a mile from the hotel.
Built of cedar board and batten in the early 1900s, the Innkeeper's Cottage features a cathedral ceiling and the original stone fireplace in the living room and a fully equipped kitchen.
The Fish Camp Cottages are set in secluded woodlands among pines, hemlocks, oaks, native ferns, mountain laurel and rhododendron.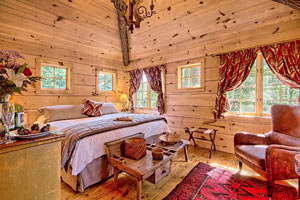 Three of the cottages are dog friendly, North says, and they're also ideal for families with children under age 10.
In the heart of the fish camp, a communal space is surrounded by a rock wall and centered by a native stone fire pit. At this gathering spot, guests can roast hot dogs or s'mores, get to know one another or simply enjoy the stars and sounds of nature.
Outdoor Paradise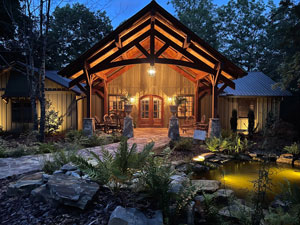 The hotel also offers complimentary concierge services to guests, and their itinerary can be set before they arrive.
"When people make their reservations, we find out what kind of activities they're interested in," North says.
No wonder the hotel gets a lot of repeat visitors, including guests from all across the world.
"They come for the outdoors and the activities," says North. "There are so many different things people can do every day."
The concierge can make guest reservations for outdoor activities such as boating, horseback riding, fly fishing, whitewater rafting, zip-lining, golfing and ATV tours.
The area also features mountain biking and hiking trails, including the Appalachian and Bartram trails, for people of all abilities.
In addition, Lake Rabun Hotel is located near 10 waterfalls. "Rabun County has more waterfalls than any other county in Georgia," North says. "Tallulah Falls is one of the biggest attractions in the area, and it's only five minutes from the hotel."
After a full day of play, guests can get pampered with custom-designed services at the hotel spa.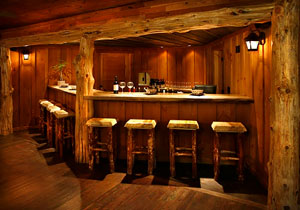 Shopping also is available in Lakemont and the nearby communities of Dillard and Clayton.
"Clayton is an up-and-coming little town with a lot of arts and restaurants springing up," North says.
Nearby wineries and distilleries include Stonewall Creek Vineyards, Tiger Mountain Vineyards, 12 Spies Vineyards, Noble Wine Cellar, Moonrise Distillery and R.M. Rose Company.
"It's a great place to explore vineyards," North says. "The culinary scene in Rabun County is excellent."
Farm-to-Table Fame
However, one of the area's best places to dine is onsite at the award-winning Lake Rabun Hotel Restaurant.
"We were one of the first farm-to-table restaurants in north Georgia," says North. "Rabun County is the farm-to-table capital of Georgia. There are lots of local farms and vineyards that we support."
The restaurant's seasonal menus are inspired by locally grown produce, and it also serves humanely raised meats and mountain trout. One of its most popular signature dishes is Pecan Encrusted Mountain Trout, named by Explore Georgia as one of the "Top 100 Meals Loved By Locals."
Guests can enjoy their meal in the rustic dining room or the Locust Log and Tree Top decks. While the covered Locust Log overlooks a small waterfall and koi pond, Tree Top is an open-air deck that is filled with flowers and plants.
The restaurant has been selected as a Top 10 Best Farm to Table Restaurant in Georgia. In addition, it has earned Open Table's Diner's Choice and 100 Best Brunches in the Nation awards.
Something That Matters
The hotel has been named to National Geographic Traveler's Annual Top Stay List of 123 Hotels in the United States, Canada, Caribbean and Mexico.
A member of the Trip Advisor Hall of Fame, the hotel earned a Trip Advisor Certificate of Excellence for lodging and dining from 2011 through 2019.
For all of its awards and accolades, however, North has a simple wish for the hotel visitors.
"I want our guests to get a sense of rejuvenation and feel that they've truly gotten away," she says. "Hopefully, they get back to something that matters to them."
By Morgan Davis