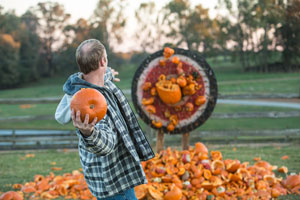 Lots of people love Halloween, but National Pumpkin Destruction Day is a smashing idea as well.
There's a fun way to get rid of all the Halloween candy around the house once the holiday has ended – eat it. And now there is an ingenious way to dispose of your lovingly carved jack-o'-lanterns or your plain old pumpkins as well. It's called National Pumpkin Destruction Day.
The first Saturday after Halloween has been designated National Pumpkin Destruction Day by no less of an authority than Chase's Calendar of Events, the go-to reference guide on all special events, holidays, federal and state anniversaries, historical milestones and more that are celebrated worldwide.
And National Pumpkin Destruction Day got its humble beginnings at The Rock Ranch, founded in The Rock, Georgia by the late S. Truett Cathy of Chick-fil-A fame.
'Smash It, Don't Trash It'
The event started in 2007, the second year of the property's efforts to promote agritourism, after hundreds of the ranch's pumpkins did not sell before Halloween. The concept was the brainchild of Adam Pugh, senior director of operations and marketing at The Rock Ranch.
"We're all about good stewardship and taking care of the land, and we thought it would be a good way to recycle pumpkins," says Pugh. "We were going to compost the pumpkins and see if the cows would eat them. Before we compost them, we have to smash them up anyway."
So why not get a little creative with the process and invite people to share in the fun?
After Pugh talked things over with Jeff Manley, the general manager, The Rock Ranch held the inaugural event the Saturday after Halloween.
They initially came up with several inventive ways to destroy pumpkins. Smash them to smithereens with a giant mallet – check. Pulverize them with a vibratory packer – check. Flatten them with a steam roller – check. Knock them to bits in a game of pumpkin bowling – check. Drop them from a 40-foot lift crane and watch them splatter on the ground – check.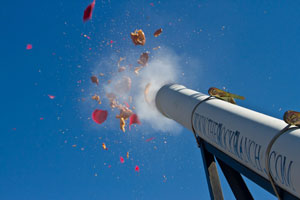 "There are a whole lot of fun ways to pick on pumpkins," say Pugh.
Their ingenuity has grown through the years, and The Rock Ranch has expanded its repertoire to about 15 ways to smash pumpkins. Now, they also take pumpkins up in an airplane and bomb an old tour bus with them. They blow them up into an explosion of orange; they shoot them from a cannon that propels them for half a mile – and then shoots out candy for children to scoop up at the end of each blast. They put them atop junk cars and ride over them with professional monster trucks. Or people can puncture them with darts or arrows in spirited rounds of pumpkin darts or pumpkin archery. Many of the pumpkin-smashing activities take place all day long, but some of the demolition takes place during scheduled events.
At the end of the day, ranch personnel scoop up the smashed pumpkins with tractors and feed them to the cattle or compost them into fertile soil.
"We encourage people to bring their own pumpkins, and we gather them up from area pumpkin patches," Pugh says. "Smash it; don't trash it."
In other games, children can reach into a receptacle and see what they pull out – a handful of candy or a handful of pumpkin guts. For $6 per person, visitors also can ride in a monster truck.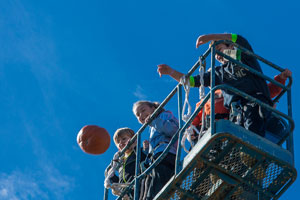 Making Memories
Last year the ranch pulverized more than 6,500 pumpkins, and more than a dozen places in the United States and Canada now celebrate National Pumpkin Destruction Day as well.
"I hope in the next 10 to 15 years, it becomes what you do with your pumpkin," says Pugh.
However, pumpkin smashing isn't the only attraction at the 1,500-acre working cattle ranch. Others include cow-a-bunga zip lines, a carousel, a locomotive train, Tiny Town, a giant jumping pillow, tractor wagon rides, a corn maze, pony rides, Farm Land animal zoo, a corn bin, a cow train, pedal carts, gemstone mining, cane pole fishing, a rock climbing wall and family tug-of war. The Rock Museum, which houses more than 5,000 Georgia gems and minerals and a fossil dig station, also is available for exploring.
The ranch, which grows fresh produce, is dedicated to "Growing Healthy Families" as well.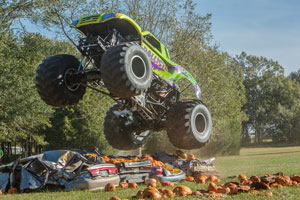 "We want people to get outside, be healthy and make memories. We trick them into exercising," says Pugh. "We try to make a positive impact with everything we do and use our property to benefit as many people as we can. Hopefully, when they leave, they'll be happier than when they got here. The Rock Ranch is a neat experience for families that want to escape for a day."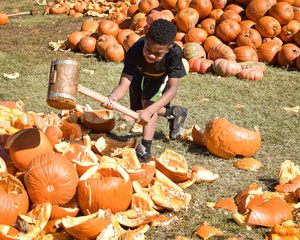 For overnight stays guests can reserve a limited number of Farm Stay houses or Conestoga wagons to sleep pioneer-style.
If You Go:
What: Pumpkin Destruction Day
When: 10 a.m. – 8 p.m. Saturday, November 2
Where: The Rock Ranch, 5020 Highway 36, The Rock, Georgia
How Much: $22.24 general admission; $20.01 per person for groups of 25 or more
More Info: (706) 647-6374 or therockranch.com
By Morgan Davis
Photos courtesy of The Rock Ranch