This collection of Elvis memorabilia, along with an Elvis tribute artist contest, will leave the King's biggest fans "All Shook Up."
There are Elvis Presley fans, and then there are those who have an unquenchable "Burning Love" for all things Elvis. Count Joni Mabe, director and founder of the Loudermilk Boarding House & Everything Elvis Museum, among the latter.
Deciding "It's Now or Never," she founded the museum in her great-grandparents' boarding house in Cornelia, Georgia in 1999 after spending 14 years on the road with her traveling Elvis show.
"It was fun," Mabe says of the traveling show, "but it was a lot of work."
The Loudermilk Boarding House, built in 1908 and listed on The National Register of Historic Places, features her Panoramic Encyclopedia of Everything Elvis on the third floor. Listed in Guinness World Records, the museum features more than 30,000 Elvis items including the Elvis wart and the "Maybe Elvis Toenail." No wonder the museum bills its Elvis memorabilia as "the largest collection in the world and the most unique."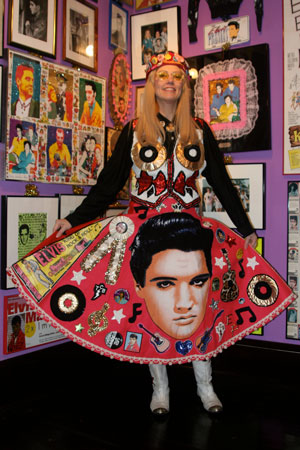 Music & Memorabilia
Mabe is the fourth-generation owner of the family's former boarding house, but she wasn't always an Elvis Presley fan.
"I became an Elvis fan the day he died – August 6, 1977," she says. "On the day that he died, they played Elvis music all day on the radio."
She was familiar with his '70s, country and rock 'n' roll music that the radio station played that day, but she also heard his gospel and early rockabilly songs for the first time.
"His voice really got me," she says, "especially his gospel songs."
Mabe, who was an art student at the University of Georgia at the time, says, "That night I made my first Elvis artwork."
She has been collecting and making Elvis memorabilia and art ever since. She primarily creates Elvis glitter mosaics with black and white images of him.
"Everything is covered in glitter except his face and his hands," Mabe says. "It makes it look 3D."
She also does Elvis acrylic paintings, collages and even prayer rugs. Some of her artwork is for sale, but she keeps other pieces in her permanent collection at the museum.
Other museum memorabilia includes whiskey decanters, shoes, shoelaces, clocks and plates with Elvis' likeness on them, black velvet Elvis paintings and roses that someone took off of his grave.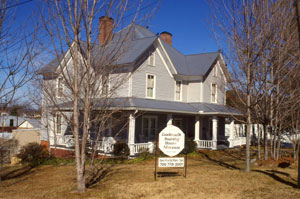 In addition, Mabe has a collection of autographed pictures of his movie co-stars including Ann-Margret, Ed Asner and Mary Ann Mobley as well as thousands of Elvis Presley albums.
"Everywhere I would go, someone would say, 'There's an Elvis thing at the store,' or they would bring me something," she says.
The second story of the house is decorated with antiques and artifacts from the eras when her grandparents and great-grandparents lived there. And of course, Elvis music plays constantly at the museum.
Mabe sends visitors up to the third floor for a self-guided tour of the Elvis museum, telling them to come back downstairs with questions for her. And they always have questions.
When did you become an Elvis fan? How long have you been collecting memorabilia? How did you get the Elvis wart?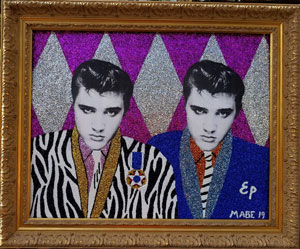 Warts and All
Mabe purchased the wart from a Memphis doctor who removed it in 1957 before Presley entered the Army.
"I kept looking at pictures, and I kept seeing this big wart on his right wrist," she says.
The wart is kept in a test tube in a red silk-lined case, which has an image of the wart on his wrist in the back. Mabe displays the wart and the "Maybe Elvis Toenail," along with other mementoes, in a special showcase. The other memorabilia includes bootleg vials of Elvis' sweat that supposedly was collected from his scarves and Elvis bubblegum cards from the 1950s.
Naturally, there's a story behind that toenail as well.
"I found it in the shag carpet in the Jungle Room at Graceland," says Mabe. "I just wanted to scan my hand where Elvis had walked. I felt something, so I picked it up and took it outside. It looked like a toenail."
The "Maybe Elvis Toenail" is contained in a case with a leopard-skin bottom and a picture of the Jungle Room in the background.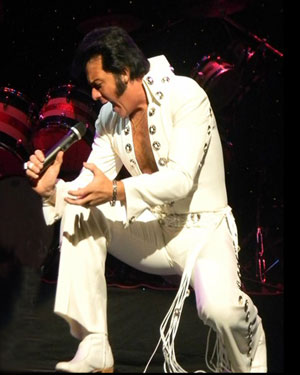 Big E Fest
In addition to the museum, Mabe has found another way to connect with Presley fans and share their love of his music with an Elvis tribute artist competition. The 17th annual Big E Fest will be held August 6 – 8 at the Rabun County Civic Center in Clayton.
"I started the Big E Fest at the museum to bring people to the museum," says Mabe. "We had it on the front porch for 10 years, but it got so crowded."
She moved it to the local Grant-Reeves VFW for two years and then to the Main Street Special Event Facility in Cornelia for two more years, but the festival outgrew both of those locations.
"It has a life of its own now," says Mabe.
This year the festivities will kick off at 5 p.m. Friday, August 6 with a Meet & Greet with the tribute artists in the Civic Center Rock 'n' Roll Café. Snacks and door prizes will be available. Friends of the Rabun Library will provide– what else? – peanut butter and banana sandwiches. Admission is $10.
Featuring past winners, the Championship Show starts at 7 p.m. General admission tickets are $20. "I bring back last year's Big E Fest winner," says Mabe.
The event was canceled in 2020 because of covid, but the 2019 winner, Jacob Eder of Abbeville, South Carolina, will perform. Only 19 years old, he represents a "young Elvis." David Lee, a two-time world champion Elvis entertainer who was named the 2015 Ultimate Elvis by Elvis Presley Enterprise, will be back for the fourth year in a row. He is a Conway Twitty tribute artist as well.
In addition, Mabe says, "I have a special surprise to start the show Friday night with an artist who does Johnny Cash songs."
The doors open at noon on Saturday, August 7 for the tribute artist competition, and the contest begins at 1 p.m. Lee will emcee the contest as Twitty.
A total of 18 tribute artists competed for the coveted title of Big E Champion in 2019, and Mabe expects a similar number this year. She also has added a youth division, which will include two young boys.
Competitors have come from throughout the United States including Georgia, South Carolina, North Carolina, Florida, Kentucky, Missouri and Indiana. One competitor has come from Australia.
"This year we'll have at least six tribute artists that have never competed before," Mabe says.
Three judges will determine the winner, and Mabe gets new judges every year. The 600-seat venue has sold out to a standing room only audience the past two years. General admission is $20, and VIP tickets are $35.
Audience members also can pay $1 each to vote on the People's Choice Award winner, and the proceeds benefit the Rabun County Public Library. A raffle benefits the Habersham County animal shelter.
"One year I took them a check and came back with a dog," says Mabe.
The contest wraps up in the late afternoon, and this year the event also will feature a new Sock Hop Dinner.
Beginning at 7 p.m. on Saturday night at the Civic Center Rock 'n' Roll Café, the catered meal will be available at the 1950s-style diner featuring a black-and-white tile floor and a jukebox. Entertainment will include Lee as Twitty, Michael Florence as Johnny Cash, Jessica Nash as Patsy Cline, karaoke music and more. Tickets are $35.
"It will be like an after-party," says Mabe. "The last year every restaurant was so crowded after the show, so I decided to add the Sock Hop."
The weekend will conclude Sunday, August 8 with a Gospel Brunch, featuring award-winning Southern cooking and gospel songs performed by Lee. The brunch will begin at 11 a.m. at Clayton Café on Main Street. Tickets are $35.
"I love bringing people together. I love showing my collection and sharing the history of the house," Mabe says. "I'm not one of these people who believe Elvis is still alive, but some people do. I meet some characters. I love their stories. The fans are great. Some of them have Elvis tattoos. Everyone remembers what they were doing when they heard that Elvis died."
By Morgan Davis