Tis the season to celebrate anew the prized poultry of Fitzgerald, Georgia.
For the last 24 years (excluding 2020 because of the coronavirus pandemic), the small town of Fitzgerald in south central Georgia has strutted its stuff with its annual Wild Chicken Festival.
While event organizers aren't counting their chickens before they hatch, they plan to hold the festival, as long as conditions allow, on March 19 and 20 this year.
"We're diligently planning as if we're going to have it, and we're praying that fate, luck and God shine on us," says Barry Peavey, the festival chairman.
Even if the town has to cancel the festival again this year, every self-respecting Georgian should know about this one-of-a-kind event because it will be back – sooner, hopefully, rather than later.
First, though, a little history.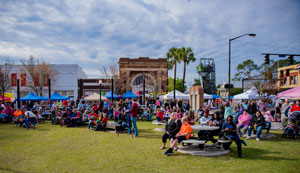 Fair or Fowl
The forerunner to the Wild Chicken Festival was the Rattlesnake Roundup, which lasted 30-some years, but that's another story for another day. (Let's just say the nice folks at the state Department of Natural Resources asked the fine citizens of Fitzgerald to please refrain from catching the snakes.)
Instead, chickens have ruled the roost in Fitzgerald since the 1960s when the Georgia DNR stocked Burmese wild jungle fowl, native to India, all across the state as an additional game bird to be hunted like pheasant or quail.
Flocks of these tiny colorful birds, which resemble fighting game chickens with their orange and yellow ruffs and black tail feathers, were released several miles from Fitzgerald at the Ocmulgee River.
Populations of the bird never took hold in other parts of the state. For some reason, however, they left the river site and made their way to downtown Fitzgerald, where they have propagated and prospered ever since.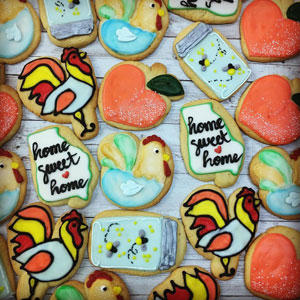 "One of the DNR employees hatched eggs under bantams and started the whole population. They just walk around downtown," says Peavey. "The population has ebbed and flowed through the years. The red-tailed hawk also has made a comeback as a predator, particularly for the chicks."
Predators such as foxes and bobcats likely had something to say about the presence of the interloping chickens as well, but the exotic jungle fowl might be smarter than the average bird.
After all, if drawn into a fight, these chickens are known to channel their inner Muhammad Ali and think out their moves. Other birdbrained breeds step straight into the ruckus.
Peavey estimates that the current wild chicken population is more than 500 but less than 1,000, and Fitzgerald residents have a fair or "fowl" attitude toward their Burmese chicken brethren.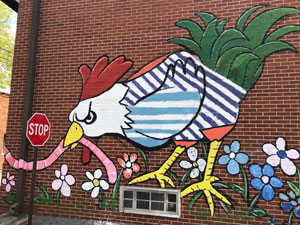 According to the festival website, "Some folks buy seed and feed them regularly; others chase them out of their yards and gardens with a broom and a few choice words."
The chickens wake up residents in the morning and create minor traffic jams, but some people claim that they also keep away bugs. For several years, the local Humane Society even had a fundraiser where people could drop donations in a love jug or a hate jug to express their sentiments about the chickenss
"The love jug always won," says Peavey.
So, naturally, Fitzgerald wants to celebrate its favorite feathered friends.
"They're way more interesting than squirrels," Peavey says. "To my knowledge, no one eats them for food. That's not to say that one of them hasn't landed in a pot."
Something to Crow About
Fitzgerald will have something to crow about when the Wild Chicken Festival kicks off Friday night with a dance party and a concert featuring The Bushmen.
However, if you're going to a festival in praise of prized poultry, then you might as well wake up with the chickens for the 6 a.m. pancake breakfast on Saturday as well.
Other activities include a 5K and 1-mile fun run; pine wood derby; an artisan market with upscale, handmade wares; a juried art exhibit called Wild Chicken Soup (because, why not?); classic car cruise; street vendors; bungee jumps; kids' characters and of course, a chicken crowing contest.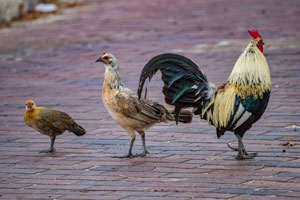 Judged by local dignitaries, the crowing contest has a children's and an adults' division.
"You should see some of the adults get into it, complete with theatrics and strutting," says Peavey. "And there's nothing like seeing a five-year-old girl with curly blonde hair walk out on stage and say, 'Cock-a-doodle-doo.'"
The Poultry Palace, a traveling trained chicken "Eggzibit" based in the Albany, Georgia area, will be on hand as well. "They will bring a portable chicken coop full of exotic chickens that you don't see in the barnyard like silkies and a Rhode Island red rooster," Peavey says.
People can have their pictures made with the chickens and watch the birds peck out tunes on a piano.
This year, to lessen the chances of transmitting covid-19, vendor booths will be more spaced out. Masks and social distancing also will be encouraged. Otherwise, the festival should carry on as usual.
"We're going back to our roots and have some local musicians and a good, old-fashioned downtown street festival," Peavey says. "Folks seem to be shifting their travels to smaller towns. We're going to celebrate small town life, get together and have fun, and eat funnel cakes and sausage dogs."
Small Town Charm
Families and their broods can perch overnight at one of several area motels or a variety of Airbnbs. In the future, a giant chicken topiary that is under construction also will include a rentable room for overnight stays. At more than 62 feet in height, the steel-framed chicken with a copper wattle and crest will be the world's tallest topiary upon completion.
"He hasn't grown in yet," says Peavey, "but he'll put Fitzgerald on the map."
Rich in history and small town charm, Fitzgerald isn't just chicken-centric.
"Fitzgerald has brick streets in the historic district and varying architectures because the founders were from all different parts of the United States," says Brandy Elrod, the director of Tourism, Arts & Culture. "We also have a lot of cute Mom and Pop shops downtown."
Visitors can take a self-guided walking, biking or driving Architectural Treasures Tour or see the 1936 art deco Grand Theatre. The Depot houses the Blue & Gray Museum, which has been renovated and redesigned to tell the founding story of Fitzgerald and its Civil War roots. The Vintage Kitchen Museum displays kitchens from the mid-1800s to the present day.
"Fitzgerald is a quirky little town. The people are friendly, and there is a lot to see and do here," Elrod says. "It's worth the drive."
The Wild Chicken Festival just might be the perfect catalyst for a road trip.
"I want to see friends and neighbors and strangers. Eating a funnel cake in a mall just isn't the same. It's way more fun to spill powdered sugar down the front of your shirt at a festival," Peavey says. "After 24 years, we're an overnight success."
If You Go:
What: Wild Chicken Festival
When: 7 p.m. – 10 p.m. Friday, March 19 and all day Saturday, March 20
Where: Historic Downtown Fitzgerald, Georgia
How Much: Free admission
More Info: wildchickenfestival.com or fitzgeraldga.org
By Morgan Davis