From locally sourced brews at a boutique craft beer bar and festival to an instructional tandem hang gliding experience, it's easy to have a nice flight – or two – in western North Carolina.
On North Carolina license plates, "First in Flight" is stamped across the top. These words, of course, refer to the Wright brothers first successful airplane flight in Kitty Hawk on the Outer Banks. On the other side of the state, however, travelers have license to enjoy flights figuratively and literally in the Appalachian Mountains foothills.
Brewing Up Fun
To sip flights of beer, craft brew connoisseurs can hop to Morganton (about 60 miles east of Asheville) to visit Fonta Flora, a brewery that uses local, seasonal ingredients to make award-winning, artisan beer. The brewery earned back-to-back gold medals at the Great American Beer Festival in 2014 and 2015.
While their peers clearly share an appreciation for their artistry, the brewers are happy to showcase the talents of other craft beer breweries as well. Four years ago the Fonta Flora owners created the State of Origin Craft Brew Festival, which is held each June. People must be age 21 or older to attend. The festival focuses on boutique breweries that embrace distinctive flora and fauna in the creation of craft beer. Every brewery must bring craft beer that uses ingredients grown in its "state of origin."
"The entire event is a celebration of local ingredients," says David Bennett, Fonta Flora co-founder. "One of our main focuses at our brewery is local culture and local agriculture. We practice what we preach every single day, and the festival is a natural extension of that."
More than 20 breweries will be on hand including North Carolina-based Free Range Brewing, Lenny Boy Brewing Company and Salud Beer Shop in Charlotte; Wicked Weed Brewing in Asheville and Newgrass Brewing Co. in Shelby. Another Morganton brewery, Catawba Brewing Co., will be at the festival as well. To enjoy more flights of craft beer, festival-goers also can stop by the local downtown bar. In 2010, Catawba Brewing became one of the first breweries in western North Carolina to can its beer.
"The can is like a small keg. The beer is completely sealed, so it stays fresher and oxygenation is low," says co-owner Scott Pyatt. "Cans are light, safe and portable. They can go anywhere, and they are environmentally friendly."
While most of State of Origin's participating breweries are in North Carolina, "ambassador" breweries from other states also will be represented. Out-of-state breweries include Arizona Wilderness Brewing Company in Gilbert, Arizona; Jester King Brewery in Austin, Texas; Scratch Brewing Company in Ava, Illinois; Carolina Bauerhaus Ales in Anderson, South Carolina; and Creature Comforts Brewing Co. in Athens, Georgia.
Food vendors will offer barbecue, Mexican dishes, sandwiches, coffee and ice cream. Brave Baby, a pop-influenced indie rock band based in Charleston, South Carolina, will provide musical entertainment.
Top Flight
For those who prefer literal flights to liquid flights, adventure awaits at Thermal Valley Hang Gliding (thermalvalley.net). Flights are available by appointment only on Friday, Saturday and Sunday afternoons from April through October. Hang gliders must be at least 18 years old, no taller than 6'3" and weigh 90 to 235 pounds.
To get to Thermal Valley, thrill seekers must travel along serpentine roads that twist and turn to Foothills Regional Airport near Morganton. The path takes one last turn onto a bumpy dirt road that ends in an open field, making the trip feel like a trek to a clandestine initiation. Secret handshakes are optional. Before and after the flights, however, hugs for pilot Craig Pearson, who owns the hang gliding business with his wife Laura, are mandatory.
Laura runs the ground game, offering a 15-minute, pre-flight hang gliding lesson. Once the basic instructions have been covered, it's on to the flight. Each student gets strapped securely into a harness above Craig, a certified glider pilot and 26-year hang gliding veteran. But not until that compulsory hug between pilot and passenger has been exchanged.
As Craig hums the theme from Rocky, a dragonfly plane tows the tandem hang glider off the ground and into the air to heights ranging from 1,500 feet to 5,000 feet. Flights last 12-20 minutes, depending on the person's weight and height. The hang glider is tethered to the light sport aircraft half the time and soaring in free flight the other half. It travels at 30 mph behind the plane and 25-30 mph on its own.
"Our situation is ideal because we get a tow and fly the hang gliders in a lot of different weather patterns, whereas mountain pilots always have to have a prevailing wind coming at them," says Laura. "Behind the tow plane, we have a lot more days we can fly."
With a bird's eye view of the meandering Catawba River and the majestic South, Grandfather, Table Rock and Hawk's Bill mountains, the scenery is spectacular. And once a slight jolt frees the hang glider from the tow plane, the peacefulness and calm of the airborne experience is palpable.
Craig quickly becomes his passengers' new best friend, chatting them up with amiable conversation and hang gliding instructions. He punctuates the running commentary with the occasional scream or Tarzan yell – just for fun – and implores his passengers to chime in with bird noises and screams of their own. Questions are welcome, too.
No, Craig has never landed in the trees. No, he certainly has no intention of ever landing in the trees. Yes, he is happy to simulate a roller coaster ride for willing passengers.
Thermals, rising air currents produced by heat from the underlying surface, lift the glider up in the air, and the hang glider is controlled by weight shift. A peek over the shoulder is all it takes to steer. Look left to go left; look right to go right.
Once the hang glider touches back on terra firma – where the legs may or may not feel a little wobbly – Craig accepts another hug from his grateful, exhilarated passenger.
The most popular package is the basic 1,500-foot flight, which lasts 12-14 minutes and costs $159. The next most popular package is the 2,000-foot, 15-minute flight for $199. Mile-high flights are $365. Students also can increase elevation in 500-foot increments for an additional $40 per altitude upgrade. For lasting memories – and to prove to their friends that they really did it – hang gliders can purchase HD videos of their flights for $40 or a USB 4GB disk for $5.
The Pearsons enjoy sharing their love of hang gliding and hope to re-ignite interest in a sport that was popular in the 1970s, when pet rocks, streaking, eight-track tapes and disco music were all the rage. However, Laura says hang gliding "has become more scientific and safer than those days in the 1970s."
The couple also realizes that many customers are tourists in search of a one-time experience.
"If a person just wants to experience it and see the scenery, that is totally OK. They're not required to do anything strenuous or hard," says Laura. "It's a way that families can share a memorable experience and walk away with a positive feeling for hang gliding."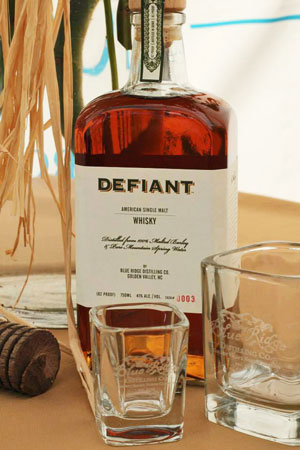 Kindred Spirits
Those who enjoy craft spirits can tour Blue Ridge Distilling Co., parent company of Defiant Whisky (defiantwhisky.com), in nearby Rutherford County. Tours are available 9 a.m. – 3 p.m. Monday through Friday and weekends by appointment.
Defiant Whisky has won multiple awards including the silver medal at the 2015 Craft Spirits Competition and bronze at the San Francisco World Spirits Competition. Tim Ferris, who founded the distillery after launching a successful underwater salvage company, also has showcased his whiskey at national events including the Savannah Food and Wine Festival.
Ferris started the distillery in 2010 when he was constructing a building to store his diving equipment. He soon realized the company didn't need the space, so he had to figure out something else to do with the partially constructed building. Naturally, he decided to build a distillery. After all, the remains of numerous illicit moonshine stills had been found on the family-owned property through the years.
Unencumbered by barrels or recipes or tradition, Ferris relies on Mother Nature and intuition to distill his single-malt Defiant Whisky. (He dropped the "e" in "whiskey" in homage to the scotches that inspired him.). He uses only four ingredients – premium toasted American white oak spirals, specially cultured yeast, two-row premium brewer's barley and on-site water from the Blue Ridge Mountains.
"The water comes out of the ground into the facility. It doesn't pass through a single filter," he says.
After being distilled in a custom, handmade still from Germany, the spirit is transferred to 1,000-liter stainless steel holding tanks (not oak barrels) for 60 days. Oak spirals, which have a higher surface-area-to-liquid ratio, are added to the tanks.
"We look at oak as an ingredient rather than a vessel. Water and oak are probably the two most important ingredients, followed by barley as a close third. Then yeast," says Ferris. "Barrels were made for shipping and storing, not aging. A lot of people think the barrels are the magic for whiskey. They're not. Air is the magic for whiskey."
From milling the grain to hand-labeling and corking the square bottles, Defiant does everything in-house. The entire process takes 120 days. Ferris wouldn't have it any other way. "You've got one chance to get people to take a second sip," he says.
Hunger Games
From testing flights of beer to hang gliding high above the Earth, it's easy to whet your appetite in a visit to western North Carolina. However, hunger is no game at the restaurants in Burke and Rutherford counties.
If you're pining for pork, then JD's Smokehouse, a popular barbecue restaurant in Rutherford College, is known for its brisket. The menu also includes pulled pork, ribs, chicken tenders and smoked chicken. A variety of sauces awaits on the tables, and sides include Brunswick stew, jalapeno cheese grits and sweet potato crunch.
Judge's Riverside, situated on the Catawba River, has barbecue, beef brisket, ribs, chicken tenders, fish and chips, burgers and sandwiches on the docket. Eat inside or on the deck overlooking the river.
In downtown Morganton, Root & Vine focuses on seasonal produce and local seafood (think North Carolina mountain trout). Prepared from scratch, the fare combines Southern sensibilities with traditional French culinary techniques. Located in a building that dates to 1901, the restaurant offers an extensive craft beer and wine list. The outdoor patio is as inviting as the comfort food on the menu.
For more fine dining, King Street Café offers nightly specials in the intimate setting of a Victorian home. Fresh herbs and spices as well as freshly made sauces accent the seasonal fare of wild game, fowl and seafood. Don't miss the French onion soup or homemade desserts.
If You Go:
What: State of Origin Craft Brew Festival
When: 5-9 p.m. Saturday, June 10
Where: Courthouse Square, Morganton, North Carolina
How Much: $50 general admission; $20 designated drivers
More Info: fontaflora.com/festival, discoverburkecounty.com or 888-462-2921
By Betsy Gilliland
Photos courtesy of Burke County Tourism Development Authority