Love to get away from it all? Explore secluded Lovers Key, where waves and wildlife are the main attractions.
Nestled within the islands of Southwest Florida is a tropical oasis known for its impeccable beauty and amazing wildlife. Lovers Key State Park, located between Florida's Fort Myers Beach and Bonita Springs, is an outdoor enthusiast's pristine playground, where visitors can swim in the turquoise-green Gulf of Mexico waters, sunbathe, look for shells, go for a stroll on the powdery white sand, picnic, fish, canoe, kayak, hike, bike or simply relax.
Once slated for development of luxury high-rise condos, the island was donated to the state and has become one of southwest Florida's most visited destinations. One of four barrier islands that make up the park, its name dates back to the early 1900s when the islands were accessible only by boat. It was said at the time that only lovers made the effort to go to the remote, romantic island.
Even though a road to the island was built in 1965, it's still secluded. However, even though it's away from the crowds and the bustling city, Lovers Key is visitor-friendly and provides plenty of things to do.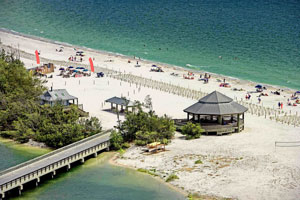 By Land
According to the Travel Channel, Lovers Key ranks fifth among the best beaches in Florida for its secluded beauty, wildlife and minimal commercial development. A quarter of the island is a sandy, serene beach where visitors can leisurely stroll on the unspoiled 2.5-mile shore, skip shells, swim in calm waters or simply lie out in the sun and enjoy the breeze.
A tram takes beach lovers to a picnic area and gazebo on the south beach, while a scenic walk takes visitors to the less-developed middle of the beach. The north beach is accessible though a gate at Big Carlos Pass.
Shelling opportunities abound on the tranquil beach along the Gulf of Mexico. After high tide, dozens of shells, fossils and the occasional sand dollar wash up on the shore. Empty shells are there for the taking, but it's illegal to take sea stars or shells with an animal living inside.
For those who aren't content to simply lounge on the beach, Lovers Key offers more than five miles of hiking and biking trails along terrain that is reminiscent of old Florida. The trails are well-marked with maps and signs to help intrepid explorers find interesting points along the way.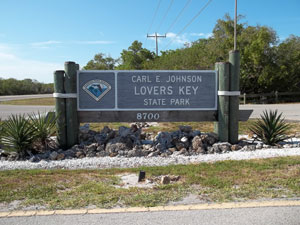 The Black Island Trail stretches for 2.5 miles along canal banks through a maritime hammock, and several overlooks with benches offer optimum wildlife viewing. The 1.1-mile Eagle Trail takes hikers and bikers along Black Island's inner waterways.
The winding trails transition from hard packed sand to grassy trails and challenging sugar sand. Several shortcuts allow explorers to create new routes so they never have to experience the same ride, and one leads to a freshwater pond where the resident gator lives with her family.
Bicycles are available for rent, and state law requires helmets for cyclists 16 and younger.
The island even offers a a seven-cache geo-challenge, courtesy of the Friends of Lovers Key. This non-profit volunteer group helps maintain Lovers Key State Park and coordinates many activities for visitors.
The geo-challenge is designed to help visitors experience the environment and learn about the significance of the state park's ecosystem. Six of the challenges involve a riddle or a question that explorers must answer to retrieve the coordinates for the final bonus challenge.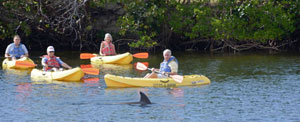 By Sea
Canoes, kayaks and standup paddleboards are available for rent to explore the 2.5-mile estuary. If you prefer to travel with knowledgeable companions who can point out wildlife and share the history of the island, then guided canoe, kayak and SUP tours are offered, and private vendors also take visitors on boat and fishing tours.
In addition, the Lovers Key boat ramp is one of the best places to launch a kayak or canoe to paddle to Mound Key. Mound Key is about a 45 minute paddle from the boat ramp through the open waters of Estero Bay.
Fishing enthusiasts will fall for Lovers Key hook, line and sinker. They can fish from a boat, canoe or kayak; the shoreline; or the beach's fishing pier. Trout, redfish, snook and tarpon are plentiful when they're in season. Some anglers even have caught sheephead, flounder, Spanish mackerel and grouper. Visitors also can cast their nets for mullet in the bay.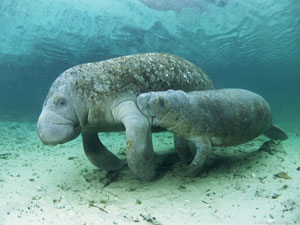 Wildlife Watch
Because three-fourths of Lovers Key is a natural preserve, the wildlife-viewing opportunities are endless. Adventure guides will point out wildlife and explain the background of each species including the plants, trees, and flowers that still grow as wild as they did before early settlers began the transformation of the Sunshine State.
Paddling through the mangrove protected trail, visitors can observe manatees, ospreys, dolphins, bald eagles, pelicans, egrets, shorebirds, gopher tortoises and other fauna in their natural habitat.
Don't be surprised if manatees swim alongside while you paddle, dolphins jump out of the water or osprey swoop down to catch fish that they take back to their nests.
To maintain the pristine habitat, visitors must walk a long, narrow path or take a ranger shuttle to get to the preserve. Repeat guests to the islands tend to see different animals each time they visit the state park, and photographers should be sure to bring a camera. In fact, shorebirds seem to be so acclimated to people that a long lens isn't required to photograph them.
Whether you want to join a naturalist for a tour, or you want to explore on your own, there is no shortage of things to do at Lover's Key Florida State Park. For more information, floridastateparks.org.
By Morgan Davis