The north Georgia community of Dahlonega overflows with Christmas charm and cheer.
There is always much to see and do in Dahlonega, Georgia, a picturesque community in the Blue Ridge Mountains foothills and the site of the country's first major gold rush.
During the holidays, Dahlonega decks the halls for its Old-Fashioned Christmas celebration Friday, November 29 through Tuesday, December 31. Whether you want to turn a trek to Dahlonega into a day trip or a weekend outing, it makes no difference. Some events are held throughout the season, while others are limited to a single day.
Shopping, Santa & Sleigh Rides
The festivities kick off Friday, November 29 with a sleighful of family friendly activities. Strolling entertainers will be on hand from 4:30-8 p.m. If hands-on activities are more to your liking, people can create an ornament for the children's tree in the Historic Square from 5-6 p.m.
The countdown to the Lighting of the Square and the Festival of Trees will begin at 6 p.m. During the tree-lighting ceremony, a winner for a hand-crafted dollhouse will be selected. Raffle tickets, which are $5 each, are available at United Community Bank or Community Helping Place before the drawing.
At the Historic Square, the limited edition Dahlonega collector's ornament will be unveiled during the ceremony as well. The ornaments, which cost $25, can be purchased at The Fudge Factory, Amy's Attic, Hair Works, Humble Candle and Studio Jeweler.
The Plaids also will perform a selection of Christmas songs from their "Plaid Tidings" show around Visitor Center Plaza. Then, "Forever Plaid: Plaid Tidings Benefit Performance" will take place at Holly Theater at 9 p.m. when the quartet spreads yuletide cheer with its holiday sequel to the popular "Forever Plaid." The classic music, sung in perfect harmony, is sure to fill audience members with nostalgia for a bygone era.
Specialty food trucks will be on hand in Hancock Park, and of course, Santa Claus will welcome children at Visitor Center Plaza from 5-7 p.m. In fact, he will be in town Fridays (5-7 p.m.), Saturdays (noon-7 p.m.) and Sundays (1-5 p.m.) before Christmas.
To round out the weekend activities, another "Plaid Tidings" performance will take place at 8 p.m. Saturday, November 30.
The weekend will launch holiday activities that will last throughout the season as well. For instance, there will be plenty in store for shoppers when downtown merchants hold extended hours on Fridays and Saturdays from 10 a.m. – 8 p.m. A Christmas Market, featuring holiday arts and crafts and baked goods, will be held at the Community House across from Hancock Park Pavilion Fridays and Saturdays, December 6-7 and 13-14 from 10 a.m. – 5 p.m. The food trucks also will return December 7 and 14.
For adventurous youngsters ages 5-12, Escape from the Gold Museum will test their sleuthing skills. The event costs $15, and reservations are required. Sessions, which will be held on Saturdays, begin at 5:30, 6:15, 7 and 7:45 p.m.
To explore the historic town and get in the holiday spirit, horse-drawn carriage rides will be offered Thursdays (4-8 p.m.), Fridays (3-8 p.m.) and Saturdays (1-8 p.m.) from November 29 through December 21, weather permitting. The cost is $10 for adults and $5 for children under age 12, and carriages will embark from Visitor Center Plaza and Hancock Park.
Dahlonega in December
When the calendar page turns to December, visitors can drink in even more festivities with High Tea Tuesdays (December 3, 10, 17) and Winter Wine Walk Wednesdays (December 4, 11, 18). High Tea Tuesdays will be held from 3-4:30 p.m. at various venues. Admission is $28 for adults ages 16 and older, and reservations are required.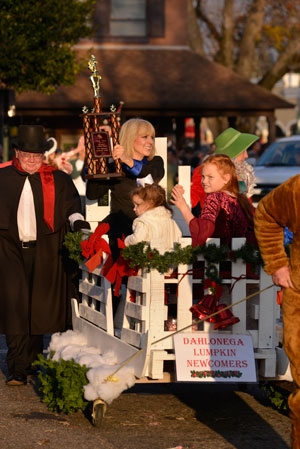 During Winter Wine Walk Wednesdays, wine lovers can enjoy wines and Charcuterie board hors d'oeuvres at five tasting room around the Historic Square from 5-8 p.m. Participating tasting rooms include Canvas and Cork, Dahlonega, Georgia Winery Grapes and Ghosts, Kaya Vineyard and Winery at Dahlonega Square Hotel and Naturally Georgia. Reservations are required, and tickets, which cost $35, include a commemorative wine glass. After all, Dahlonega is situated in the heart of Georgia wine country.
An Ugly Sweater Wine Tour on Thursday, December 5 will take wine connoisseurs to three wineries from 11 a.m. – 6 p.m, and of course, the winner of the Ugly Sweater contest will win a prize. The cost is $60.
Fans of the movie, A Christmas Story, can see a stage version of the nostalgic comedy at Holly Theater Fridays, Saturdays and Sundays (December 6-8, 13-15, 20-22). Evening performances on Fridays and Saturdays begin at 8 p.m., and Sunday matinees start at 2 p.m. Tickets are $25 for adults and $15 for students and military personnel.
On Saturday, December 7, the Old-Fashioned Christmas Parade will take place 4-5 p.m., rain or shine. A Christmas concert, featuring Radford Windham & Step Back Cadillac, in Hancock Park will follow the parade. The North Georgia Chamber Symphony also will hold a free holiday concert at Dahlonega United Methodist Church at 7:30 p.m.
As the holiday gets closer, the community adds even more old-fashioned fun to the festivities. The Holly Jolly Day of Family Fun, scheduled for 1-5 p.m. on Saturday, December 14, will feature various activities, games and crafts for all ages. Activity tickets can be purchased at the Visitor Center. Movie lovers can stick around for Christmas Movie Night at Hancock Park from 6-8 p.m. The event is free, but don't forget to bring blankets or chairs.
A free luminary walk will start at 6 p.m. at Dahlonega United Methodist Church, and the church will have a live nativity onsite December 14 and 21 from 6-8 p.m.
To honor the city's roots, a free Dahlonega Gold Museum Open House will take place on Saturday, December 15 from 10 a.m. – 4 p.m. Twenty years before the 1849 gold rush in California, thousands of prospectors flocked to north Georgia, marking the true beginning of the country's gold rush. The museum is located in the 1836 Lumpkin County Courthouse, where visitors also can see courthouse features and a film about the history of Dahlonega.
A Sleigh Bell Tour of the Inns of Dahlonega will take visitors to six local inns through the heart of North Georgia Wine country. The self-guided driving tour will be offered from 1-6 p.m. Reservations are required, and tickets, which are available at Dahlonega Lumpkin County Chamber of Commerce & Visitor Center, cost $12.
On Saturday, December 21, children of all ages can participate in The Christmas Box, an interactive musical story time, in Hancock Park. The cost is $15, and story times begin at 11 a.m., 2 p.m. and 4 p.m. Parental attendance is required for children under age 13.
In addition, the free Elvis and Patsy Cline Christmas Show will be held at the Historic Square from 4-7 p.m. Tribute artists Barry and Donna Humphries will perform Christmas songs in the country style of the music icons.
The Festival of Trees will continue each Saturday before Christmas. However, for those who just can't let go of the holiday season, the Christmas tree lights and decorations will stay up until January 12.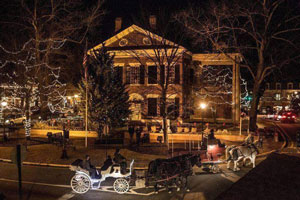 Anyone who misses the pre-Christmas festivities can celebrate New Year's Eve in Dahlonega. Horse-drawn carriages rides will be offered from 5-10 p.m.
The alcohol-free First Night Dahlonega New Year's Celebration will take place from 6:30 p.m. – 12:30 a.m. Live entertainment will be held at indoor and outdoor locations around the square, leading up to the midnight "nugget" drop to ring in 2020. An early children's nugget drop will occur at 9 p.m. Tickets are $10 for adults and free for children 12 and under as well as active duty military personnel.
A New Year's Eve party at Holly Theater will feature the music of Chicago by the Chi-Town Transit Authority, food, drink and a ball drop at midnight. The celebration begins at 7:30 p.m. and tickets are $27 or $35.
Overnight accommodations in the Dahlonega area include B&Bs, mountain cabins, cottages, historic hotels, resorts and RV parks and campgrounds. For more information, visit dahlonegachristmas.com.
By Morgan Davis