There's a lot to unpack at the Unclaimed Baggage Center – a 40,000-square-foot mecca for bargain hunters.
Sell it, clean it, give it away or trash it.
That's the mantra of the Unclaimed Baggage Center in Scottsboro, Alabama, where lost luggage goes to find new life or to meet its final reward.
Since the Center first opened in 1970, this shopper's paradise has become one of the top tourist attractions in Alabama. After all, where else could you find a shrunken head or 50 vacuum-packed frogs or a full suit of armor in 40,000 square feet of retail space?
Evans residents Cindy and Tim Bufford have made the five-hour trip to the Center in the northeast corner of Alabama three times in the last six years.
"I just look at it as a big adventure," Cindy says. "You don't know what you're going to find at a bargain price."
Lost and Found
According to the Center's website, more than 99.5 percent of domestic airline's checked bags are picked up at the baggage carousel. With the remaining 0.5 percent of unclaimed bags, the airlines conduct an extensive three-month tracing process in an effort to reunite them with their owners. Claims are paid on these remaining lost bags, and only then do the airlines sell the remaining unclaimed baggage property to Unclaimed Baggage Center.
"A lot of stuff comes from carry-on baggage because airlines do not have to try to find passengers if they lose their carry-ons," says Tim.
The Center sells merchandise such as women's, men's and children's clothing; footwear; formal wear; electronics/cameras; sporting goods; fine jewelry; books and luggage.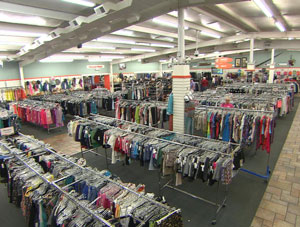 All clothing is professionally cleaned. In fact, Unclaimed Baggage Center, which has the largest known commercial dry cleaning and laundry facility in Alabama, washes or dry cleans more than 20,000 items per day. That's more than most professional dry cleaners handle in a year.
Electronic equipment is thoroughly tested and cleared of all personal data before it is sold. Fine jewelry is cleaned and appraised.
The Etc. building, next to the main store, offers three stories of children's merchandise, household goods and beauty supplies as well as special clearance deals in the Last Chance department. The Center also holds demonstrations where a staff person opens up a suitcase and – oftentimes, with the aid of a customer – shows people how they go through luggage and evaluate its contents.
"They're constantly bringing out stuff onto the floor, so you never know what you're going to find," Tim says.
The unclaimed baggage has produced other unusual items – yes, besides shrunken heads and frogs and armor – through the years as well. Think moose antlers; a giant tortoise shell; a South American snake skin; a live rattlesnake; a bear skin packed in salt; a zebra skin complete with ears and tail; a Versace gown, straight off the runway; a Las Vegas show girl costume; a full Scottish kilt; an aluminized fire suit; someone's ashes; a coffin; an ancient Egyptian burial mask dating back about 4,000 years and an engraved headstone (someone bought it and made it into a coffee table).
However, Cindy says, "It's not like a rummage sale store. It's more like a department store that takes up two city blocks."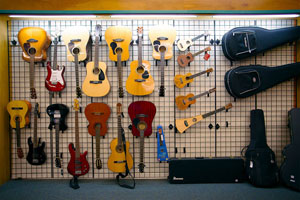 The Price is Right
Fine jewelry discoveries include a 5.8-carat diamond set in a platinum band (it was packed in a sock), a 40.95-carat natural emerald and a platinum Rolex valued at more than $60,000. A Limoges vase that sold for $80 later was valued at $18,000. A painting tagged at $60 subsequently proved to be worth $25,000.
No wonder Tim says he likes the prices, particularly on electronics. He has purchased iPads valued at $400 for $125. And, he advises, don't look for ski boots in the summertime. "It's seasonal, like a regular store," he says.
The Buffords, who usually make a weekend trip out of their shopping spree, initially traveled to the Center in search of electronics such as iPads and cameras. They also have purchased items including perfume, costume jewelry, books and office supplies.
"You need to plan on spending a whole day there. We go in the morning, break for lunch and then go back in the afternoon," says Tim. "If you see something you like, you need to get it then because somebody else might decide they like it, too."
Surely, however, savvy shoppers are bound to find something to take home with them. After all, the Center rolls out more than 7,000 new items daily.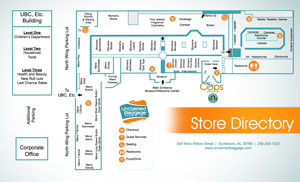 "If you're a true shopper, you need to spend some time there," says Cindy. "We've enjoyed it every time we've been there."
Not all of the unclaimed baggage that arrives at the Center is suitable for sale, but that doesn't mean it goes to waste. Through its relationships with dozens of local, national and international charity organizations, the Center also finds uses for more than half of the merchandise that doesn't make it onto the retail floor.
The Unclaimed Baggage Center, 509 Willow Street, Scottsboro, Alabama, is open 9 a.m. – 6 p.m. Monday – Friday and 8 a.m. – 7 p.m. Saturday (Central Time). For more information, visit unclaimedbaggage.com.
By Morgan Davis