Pack your dancing shoes and get ready to have the time of your life during Dirty Dancing weekends.
It's easy to fall in love at first sight with Mountain Lake Lodge, a historic inn nestled in the New River Valley of the Appalachian Mountains in southwest Virginia. The place can feel familiar even when visiting for the first time. After all, it appeared as Kellerman's Resort in the 1987 movie Dirty Dancing, which starred Patrick Swayze as Johnny and Jennifer Grey as Baby. Recently named a "Top Movie Destination" by TripAdvisor, Mountain Lake Lodge celebrates its film heritage on multiple weekends each year with a Dirty Dancing package that combines nostalgia and festivity.
Mountain Lake Lodge is part of the 2,600-acre Mountain Lake Conservancy. Its namesake lake is one of only two natural fresh-water lakes in Virginia and is the highest elevation lake east of the Mississippi River at nearly 4,000-feet above sea level. Mountain Lake drains and fills itself, a mysterious phenomenon that is unique in the world. "Scientists come to study our lake and lakebed," says general manager Heidi Stone.
In terms of pure nature, these 2,600 acres are a treasure with elevation ranges from 2,200 to 4,365 feet. A network of 22 miles of hiking and biking trails offer various challenges. In movie terms, Mountain Lake is where the movie's famed lift training scene was filmed—and, according to the resort's behind-the-scenes revelations, it was so cold during filming that no close-ups are included in the final edit because Grey's lips were blue.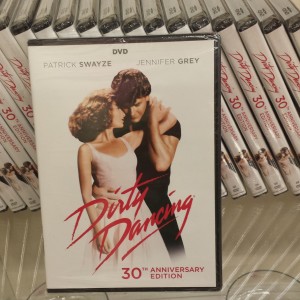 What Happened Here?
Dirty Dancing was set in New York's Catskills, but to save production costs filming took place at two locations: North Carolina's Lake Lure for one week and Virginia's Mountain Lake Hotel (as the property was then named) for the majority of filming. Any familiarity with the movie makes it easy to experience a déjà vu vibe while walking around the resort. Getting answers to inevitable "What happened here?" wonderings is a snap anytime you visit since signposts across the property detail scene settings, plus a brochure with a self-guided tour map is available at the registration desk.
You'll find well-known settings like the dance lesson gazebo, Baby's family cottage and the dining room corner where nobody puts Baby, along with lesser-known spots like the road where Johnny smashes a car window and the lawn where games are played. A building near the Main Stone Lodge serves as a "Remembering Dirty Dancing" mini-museum that offers a peek at production details and cast member biographies.
For fans of the movie, themed weekends are an added incentive to come enjoy the resort's fresh mountain air, casual ambiance, tasty food and abundant activities that range from archery to yoga. Movie-inspired social activities encourage mingling and building camaraderie with fellow enthusiasts, plus offer ongoing excuses to get up and dance to the beat.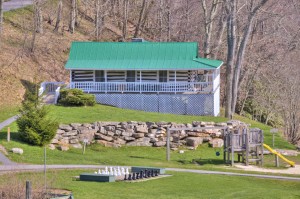 Who is That?
A movie screening is always part of the weekend itinerary; watch while nibbling on popcorn and sipping mimosas. Join the audience or not as suits your mood since all of the themed activities are options, not requirements. Once familiar with the resort, it's easy to spot which scenes were filmed at Mountain Lake Lodge and which were filmed in Lake Lure.
Dance parties invite you to "come dressed as your favorite character," and many folks leap at the chance to do just that. You might spot several folks dressed as Baby, a duo channeling the Schumacher couple, someone dressed as "Dancing Penny" in skin-tight red and black tights, or even a woman dressed as "Devastated Penny" with mascara running down her face.
There's no need to feel like you're tripping over your own toes on the dance floor. Group and private dance lessons are led by people who know what they're doing, want to help you improve your skills and yet aim to make the whole thing more fun than intimidating. Music selections include tunes from the movie as well as other era- and beat-appropriate picks.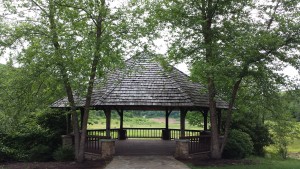 What's Next?
Several different accommodation options are available, many of which were renovated in 2012. Blueberry Ridge Homes are upscale cottages with one to four bedrooms (each with a private bathroom) plus full kitchens, fireplaces, decks, laundry facilities and living/dining common areas. Located near a state-of-the-art conference center, these homes are ideal for groups.
In the Chestnut Lodge, built in 1944, each of the 16 rooms features a sitting area with wood-burning fireplace, private balcony, kitchenette, one king or two queen beds and private bathrooms.
The Main Stone Lodge was built in the 1930s, and the guestrooms in this historic building are basic with contemporary amenities – though corner suites boast romantic fireplaces. While on site for filming, Swayze stayed in room 232, a moderately furnished king guestroom that's best suited for couples or solo travelers. Rooms and suites in the Main Stone Lodge do not have televisions "to fully ensure an unplugged and relaxing experience," according to the website. You may not even notice their absence since there are so many different activities to enjoy.
Harvest Restaurant is billed as a farm-to-table restaurant that showcases local ingredients and flavors on its seasonal menus. Breakfast options are tasty standard American fare. Lunch and dinner shine with the chef's creativity. Think local black angus with fresh chimichurri, lobster mac and cheese, baby spinach ravioli with wild mushrooms and light cream, smoked chicken confit with sweet potato apple hash and coffee molasses pork chop with fingerling sweet potatoes. During Dirty Dancing weekends, meals are served buffet style with dozens of options at the ready so you can easily find tastes that please your palate.
Dirty Dancing weekends offer a chance to meet and mingle with fellow fans, but any visit to Mountain Lake Lodge can offer a true retreat: You need not leave the property during your stay. Or you can set up home base then get out and explore Giles County, the Appalachian Trail, the New River Water Trail or whatever most sparks your interest in the area.
In one emotional Dirty Dancing scene, Baby tells Johnny, "Most of all I'm scared of walking out of this room and never feeling the rest of my whole life the way I feel when I'm with you." The feeling you get at Mountain Lake Lodge is easy to rekindle: Just return for another stay.
If You Go
What: Dirty Dancing weekends
When: June 22-24, July 27-29 and August 24-26
Where: Mountain Lake Lodge, 115 Hotel Circle, Pembroke, Virginia
How Much: Prices vary
More Info: (540) 626-7121 or mtnlakelodge.com; (540) 921-2079 or virginiasmtnplayground.com
Dirty Dancing Weekend Itinerary
Specifics may vary slightly, but on a Dirty Dancing weekend at Mountain Lake Lodge, you can expect a lineup of themed activities. The weekend package includes accommodations, all meals and activities during your stay.
Friday
Lawn Games
Dinner
Dance Party
Saturday
Breakfast
Dirty Dancing Movie Screening
Lunch
Dirty Dancing Film Location Tour
Group and Private Dance Lessons
Dirty Dancing Trivia Contest
Dinner
Dance Party
Sunday
Breakfast
Dirty Dancing Scavenger Hunt
By Hope S. Philbrick