Indulge your taste buds and learn tips from renowned chefs at the Asheville Wine & Food Festival.
Some people might feel like they've reached the mountaintop when they have good food and good wine on their table. They certainly can drink in that euphoric sensation at the ninth annual Asheville Wine & Food Festival August 18 and 19. The outdoor festival will feature regional, national and international wines; craft beer; spirits and handcrafted artisanal foods at Pack Square Park in the center of downtown.
"We try to balance our small town feel with the lovely cuisine we have to offer," says Melissa Mathews, the event media coordinator. "You've never tasted fusion like this."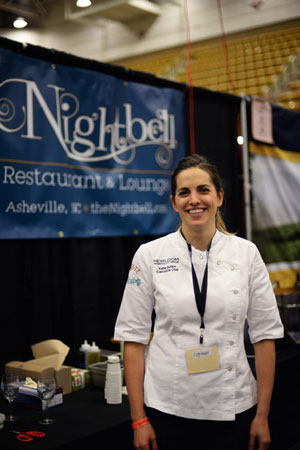 Culinary Adventure
The festival, which was named a Top 20 event by the Southeast Tourism Society last year, will provide plenty of entertainment, but it also will be held steps away from vibrant shops, restaurants and the South Slope Breweries. In addition to an array of independent farm-to-table restaurants, festivalgoers can find a colorful street performer on every corner.
The culinary adventure begins at 11 a.m. Friday when revelers can meet Christopher Prieto, a celebrity barbecue pit master, and enjoy music, wines, spirits, beer and food from local award-winning chefs. The festivities continue during the Grand Tasting from noon until 5 p.m. Festivalgoers can visit downtown restaurants, breweries and bars Friday evening when they offer special opportunities to learn more about Asheville and its food scene.
The fun continues Saturday with the Grand Tasting from 11 a.m. until 4 p.m. when festivalgoers can sip, taste and meet the participating winemakers, chefs and culinary authors. They also can hear talented chefs share their "secret sauces" about Asheville food. In addition, they can visit any vendors and exhibitors they missed on Friday and experience samples from new restaurants, wineries, distilleries, breweries and hand-crafted artisan food venues.
From 4 p.m. until 7 p.m. Saturday, the festivities will move to the Renaissance ballrooms for "Sweet & Savory," where desserts, restaurant dishes, wines, brews and cocktails will be served. Everyone is a VIP at this gala event, which is reserved for ticket holders of the full weekend admission or the early bird special.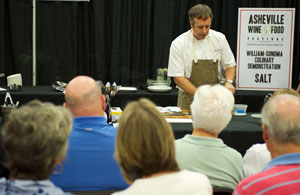 As part of this year's event, a Chef Highlight Series will introduce festival foodies to eight regional or national chefs. These kitchen wizards will offer tips and demonstrate how to make their renowned gourmet dishes during 30-minute demonstrations on Friday and Saturday.
"In the past we had a Chefs' Challenge where they had to make something with a surprise ingredient," Mathews says. "This year the chefs can showcase what they can do with their signature dish."
National Reputation
A group of friends started the festival in 2009 to bring together local restaurants, wineries and food producers by the French Broad River. Through the years it has grown to attract more than 4,000 people from Atlanta, Miami and all across the Southeast. A faithful contingent from Austin, Texas attends the event as well. "Locals also come year after year," Mathews says. "We like to mix things up for our regulars."
The city certainly has the means to do it. North Carolina is home to more than 100 wineries, and 20-plus of them are located in the mountains. Varietals near Asheville include Cabernet Sauvignon, Cabernet Franc, Merlot, Syrah, Chardonnay, Viognier, Sauvignon Blanc and Riesling. While the Biltmore Estate winery is the largest in the area, newcomers such as Burntshirt Vineyards and Overmountain Vineyards also are making a name for themselves.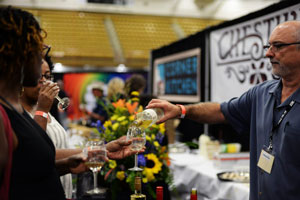 Asheville is building a national reputation as a food and wine destination as well. The Travel Channel ranked Asheville No. 1 this year on the list of "New Top Cities for Wine in the United States," and Southern Living has listed Asheville among the "Tastiest Towns in the South." In its Travelers' Choice Food and Wine Destinations Awards, TripAdvisor placed Asheville in the esteemed company of New York City, San Francisco, New Orleans and Chicago.
Festival tickets are available for a single day or for the full weekend. Festivalgoers must be at least 21 years old to attend. The cost of admission allows people to sample food and drink from restaurants, wineries and breweries at no additional cost. However, they also can purchase wine by the glass, bottle or case; prepackaged foods and handcrafted mountain products.
If You Go:
What: Asheville Wine and Food Festival
When: Friday, August 18 and Saturday, August 19
Where: Downtown Asheville, North Carolina
How Much: $45 – $140
More Info: ashevillewineandfood.com
By Morgan Davis