Creativity and imagination take shape at the Breckenridge International Snow Sculpture Championships.
Breckenridge, Colorado is known for many things – mountain living and its historic mining past, ski resort, après-ski offerings and quirky festivals. Revelers at Ullr Fest in December, for instance, give praise to the Nordic God of Snow in hopes that he will bless the community with a snowy ski season.
Bringing an average of 300 inches of snow to Breckenridge annually, Ullr usually delivers. However, he never fails to drop plenty of white stuff on the town for the annual Breckenridge International Snow Sculpture Championships, which will be held January 20-29. During this annual free event, 16 teams from around the world descend on the mountain community to hand-carve 20-ton blocks of snow into enormous, intricate, three-dimensional works of art.
To create their sculptures, artists can use only hand tools (sorry, no power tools), their creativity and their imagination. The teams spend countless hours (if you're counting, sculpting time adds up to about 96 hours) across five days to create the masterpieces that results in a temporary outdoor art gallery in downtown Breckenridge.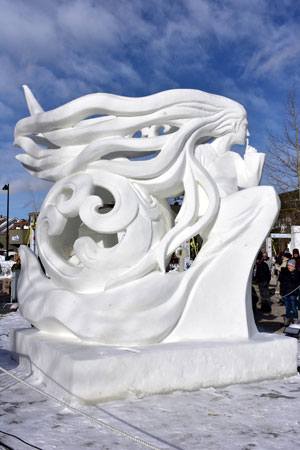 This year's teams include USA-Alaska, Argentina, USA-Breckenridge, China, Ecuador, France-Normandie, Germany, Great Britain, India, Mexico, USA-Minnesota, Mongolia, Switzerland, Turkey, USA-Wisconsin, USA-Vermont.
Snow Job
The activities unofficially get underway January 16-20 when huge earth movers start filling 10-foot-by-12-foot tall cubes with compacted snow. The enormous blocks of snow then are allowed to settle and compact under their own weight, allowing for a more consistent medium for the sculptors to use. Observers can get in on the act as well by serving as volunteer stompers to help compact the snow.
Sculpting Week runs from January 20 – 24, and the competition gets underway with a cannon shot at 11 a.m. Monday, January 20. Sculpting ends Friday, January 24 at 9 a.m. when judging begins and awards are announced. Sculpting and Viewing weeks are held in and around the Riverwalk Center in the heart of Breckenridge.
It's fun to watch the sculptures evolve with each passing day, but here's a hint: Thursday, January 23 will be one of the best days to visit. The atmosphere will be celebratory as artists prepare to pull an all-nighter to add the finishing touches and detail work to their sculptures.
On Wednesday, January 22, People's Choice voting begins at noon, and voting continues until 2 p.m. Saturday, January 25. Festivalgoers can text the name of the country of their favorite sculpture to cast their ballot. Text numbers can be found at each sculpture.
The Grand Illumination will take place on Friday evening when the sculptures are lit up with an ever-changing lighting display. The display will include 10 minutes of white light on the hour and half-hour.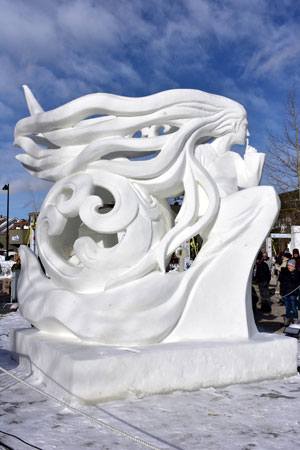 Viewing days will run 24/7 from Saturday, January 25 until 7 p.m. Wednesday, January 29 when the sculptures will be taken down. By day, the sculptures will pop against the Colorado sky. From dusk to dawn, they will glow under the lights.
Adventurous types also can download a "Let's Roam" app anytime between January 25 and January 29 to explore the snow sculptures with a free, interactive scavenger hunt.
Throughout the week, festivalgoers can duck inside the Warming Hut to take a break from the snow and warm up. Located inside the Riverwalk Center, the Warming Hut will include an exhibit of the event's more than 20-year history and a souvenir shop. Volunteers also will be on hand to answer any questions from inquiring minds.
Go to Town
Breckenridge has plenty to offer visitors with or without the ISSC, however. While the mountain has five peaks and 2,908 skiable acres to explore, the town, situated at the base of Breckenridge Ski Resort, has hundreds of restaurants, galleries, cafés, boutiques and more.
After all, long before ski bums started hitting the slopes, Breckenridge was a mining town that got its start in the 1800s. The community's historic district, a defining element of its identity, is one of the largest in Colorado, and its colorful history is full of gold finds and mining, brothels and saloons, booms and busts.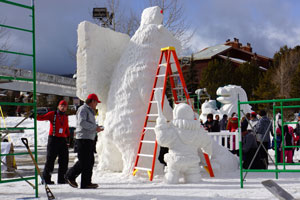 Founded in 1859 by a small group of prospectors, the town's gold rush attracted droves of settlers seeking their fortunes. Visitors can learn more about Breckenridge's early days at one of the town's museums or by taking a historic tour on foot, horse drawn carriage or sleigh.
The locals have worked hard to preserve the history and feel of this Victorian-themed town, and many of the buildings lining Main Street are originals from the old mining days.
Breckenridge also is known for its walkability. Most of its lodging properties are within walking distance of Main Street, which spans eight blocks. Free bus service serves most of the town, and a free trolley service on Main Street makes it easy to hop from one spot to the next.
From the ISSC to the community's casual mountain charm, Breckenridge makes any visitor feel like a local. For more information, visit gobreck.com or skicountry.com.