A Taste of Beaufort gives festivalgoers a sample of life in the Lowcountry.
It's hard to find a better way to spend a Friday night or a Saturday afternoon than by gathering at the water's edge to eat culinary delights, listen to live music and play a variety of lawn games.
And A Taste of Beaufort has had plenty of practice delivering all of these simple pleasures and more. The festival, which typically attracts 8,000 – 10,000 people, has been held for more than 20 years.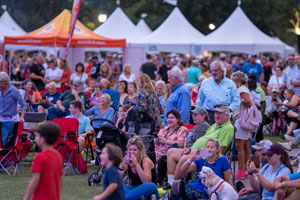 Foodie's Delight
This two-day foodie's delight is returning to downtown's Henry C. Chambers Waterfront Park on May 6 and 7. Six local restaurants will gather in the grass at the park to cook up some of their best Lowcountry cuisine and showcase what it tastes like to be in Beaufort, S.C.
Festivalgoers can enjoy the aroma of fresh grilled shrimp in the air while savoring local seafood favorites such as shrimp and grits and crab cakes as well as decadent desserts and other Lowcountry cuisine. Each vendor will sell a variety of dishes to highlight their talents. Beer and wine will be sold at two locations in the park as well.
"The food will be a mix of everything you can imagine," says Andrea Hackenberger, Beaufort's downtown manager and events coordinator. "It will run from A to Z."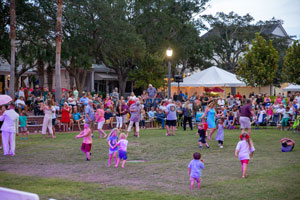 Admission to the event at Waterfront Park is free, and festivalgoers can purchase tickets for $1 each to use at food and beverage vendor booths. While beverages will cost $3 – $4, the food offerings will range from $3 – $15.
Arts & Entertainment
The festival has more than good food on the menu, however. At an arts and crafts market, vendors will set up tents to sell their wares. An emphasis will be placed on local, handmade items.
Children of all ages also will have lots of fun as this year's event in the kids' corner, which will include arts and crafts.
While younger children can get their face painted by local artist and gallery owner Mary Thibault, their older friends and siblings can learn to airbrush with the folks from Coastal Art Supply. This locally owned business operates under the belief that art connects us as humans and as a community.
Guests also are invited to stop by the gallery, which showcases original art, and the art supply company.
Entertainment will include live music throughout the festival as well.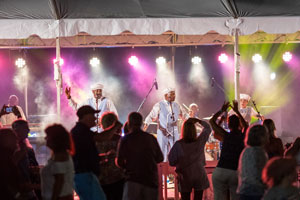 The Friday night show will begin at 7:30 p.m. and star Departure, the popular Journey tribute band from Atlanta. Performing more than 100 shows nationally per year, Departure brings the very best of Journey to audiences of all ages.
Saturday's lineup will feature local musicians such as rockabilly artist Chris Jones at 11:15 a.m., the Parris Island Marine Band at 12:30 p.m.; vocalist and guitarist Liz Jane, who plays jazz and acoustic folk music, at 1:45 p.m.; and Tricky Lick Blues Band at 3 p.m.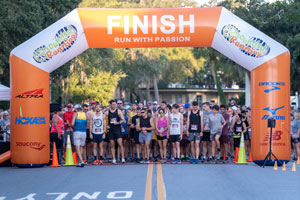 Working Up an Appetite
Of course, festivalgoers should work up an appetite before they arrive, and one way to ensure that they come hungry is to participate in the City of Beaufort's 2022 Run to the Table 5K Run/Walk.
The event will begin Saturday at 8 a.m. on Bay Street at Newcastle Street. The 5K course is USATF-certified, and the race start/finish line is on Bay Street between the Marina and Best Western.
The run travels through historic downtown Beaufort and across Woods Memorial Bridge and back.
"Before you eat, you have to run," says Hackenberger.
In a ceremony immediately following the race, the top three overall male and female winners, along with the top three male and female runners in each age group, will receive awards.
If running isn't on your plate, then the festival will offer games such as cornhole, Connect 4, chess and other yard games.
This year five nonprofit organizations also will be on hand to educate festivalgoers about their work.
"This is who we are," Hackenberger says. "This is what being part of Beaufort is like."
If You Go:
What: A Taste of Beaufort
When: 5 p.m. – 10 p.m. Friday, May 6 and 11 a.m. – 4 p.m. Saturday, May 7
Where: Henry C. Chambers Waterfront Park, Beaufort, S.C.
How Much: Free admission; food and beverage tickets $1 each
More Info: beaufortsc.org
By Morgan Davis