Vine-ripened, sun-warmed and ready to burst. Is there anything better than a juicy red tomato in the summertime? Well, how about a whole bunch of juicy red tomatoes, featured in a variety of delicious dishes and drinks, together all in the same place?
All Things Tomato
The 11th annual Attack of the Killer Tomato Festival is the perfect event for anyone who loves all things tomato. Founded by chef Ford Fry, who has 16 restaurants in Atlanta, Charlotte and Houston – plus four restaurants that are set to debut in Nashville this year – the festival will showcase the creativity of about 70 top chefs and mixologists from Georgia and Alabama. These tomato titans are teaming up with dozens of farmers to create tasty tomato concoctions.
The indoor-outdoor festival will be held 1 p.m. – 5 p.m. Sunday, July 14 where it all started – JCT. Kitchen & Bar in the Westside Provisions District of Atlanta.
Every participating restaurant will purchase tomatoes from local farmers to make their dishes or drinks for the festival. Last year they used almost 250,000 tomatoes to create new and innovative tomato-based bites and cocktails such as tomato jam doughnuts, BLT tostadas, tomato tartare and roasted tomato tacos.
The culinary lineup for this year's festival includes chefs Todd Ginsburg of The General Muir, Michael Burtozzi of Bully Boy, Ron Hsu of Lazy Better and Josh Coker of the Optimist as well as mixologists Josh Washburn of Gunshow and Daniel Keith of Tiny Lous.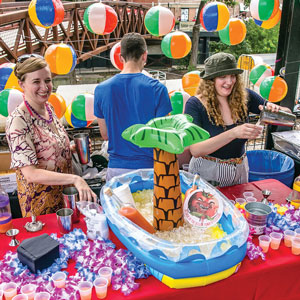 Silly, Fun & Light-Hearted
In addition to tantalizing tomato creations, the event will feature '80s music from The Spazmatics and Fry's chef band, the Foo'd Fighters. The Spazmatics will take the stage with a live, must-see Revenge of the Nerds-inspired performance. A live auction will feature various prizes including a private dinner by chef Fry.
The festival got its start after a conversation between Fry and local farmers, who mentioned that they were losing money because they had a surplus of tomatoes. Fry decided to buy all of the extra tomatoes and throw a party with local chefs and mixologists to support the farmers.
"In the summer, tomatoes grow in abundance in Georgia," says Shireen Herrington director of events. "Ford wanted to help the farmers with their surplus of product in a fun way that would also help give back to the farmer community."
The name of the festival came from the film, Attack of the Killer Tomatoes, in which a group of scientists banded together to save the world from mutated killer tomatoes. And the festival is carried out in the spirit of the movie. After all, there are lots of serious events for serious foodies, but Fry wanted this festival to be silly, fun and light-hearted.
VIP tickets include access to the festival an hour before it begins, a Meet and Greet with Fry, a VIP lounge with exclusive chefs and mixologists, specialty beer and wine, luxury restrooms and a swag bag. Ford Fry's Tex-Mex Cookbook Package offers all of the VIP perks, plus an autographed cookbook. VIP and Cookbook Package tickets are available in advance only.
All proceeds from the festival are donated to Georgia Organics, a nonprofit organization that helps farmers thrive, fosters educational farm-to-school programs, and makes organic and local food accessible to Georgia families.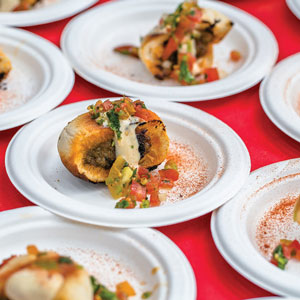 Organizers hope that the event gives festivalgoers "an appreciation for local farmers and tomatoes, as well as a fun time with good music and great food and drinks," says spokeswoman Stephanie Ackerstein.
If You Go:
What: Attack of the Killer Tomato Festival
When: 1 p.m. – 5 p.m. Sunday, July 14
Where: JCT. Kitchen & Bar, 1198 Howell Mill Road, in Atlanta's Westside Provisions District
How Much: $75 general admission; $175 VIP ticket; $205 Ford Fry's Tex-Mex Cookbook Package
More Info: killertomatofest.com
By Morgan Davis