Want to make a splash? Unleash your inner Ariel at mermaid school in Maui.
There are any number of reasons to visit Hawaii. Sun, sand, surf, swimming, snorkeling, school. Yes, school. Specifically, mermaid school, aka, Hawaii Mermaid Adventures in Maui. But don't worry — Maui is more than 100 miles away from the active lava on the Big Island of Hawaii.
"Many people have dreamed their whole life of becoming a mermaid. Doing it on Maui with year-round sunshine, warm water and uncrowded beaches make this the perfect location to transform into a mermaid," says Rebecca Pang, spokeswoman for the company.
Timothy Lara, owner of Hawaiian Paddle Sports, started Hawaii Mermaid Adventures in 2016 after seeing mermaid photo shoots on the beach and at pools. Instead of merely letting people dress up as mermaids, he decided to give them the opportunity to become mermaids and combine it with a swimming lesson and a snorkel tour to create a memorable ecotourism experience. Could there be a better way to get your "sea legs" than with a mermaid tail?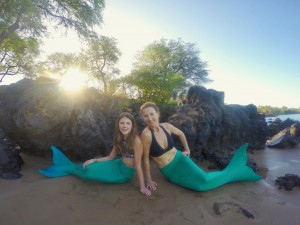 Telling the Tale (with a Tail)
At Hawaii Mermaid Adventures, wannabe Ariels of all ages – males or females ranging from 50 to 210 pounds – can learn to swim like a mermaid or a merman. The year-round sessions are offered in the early morning when the water is calmest.
Instructors teach participants how to swim in a monofin tail suit and then lead the new mermaids on a tour of the reef where free underwater photography is provided. The lifeguard- and CPR-certified instructors, who also are certified marine naturalists, begin with a land lesson and an educational safety briefing.
Before entering the ocean, the instructors demonstrate proper etiquette in the water and around wildlife. Guests learn to keep a respectful distance from wildlife – tropical fish, corals and green sea turtles commonly are spotted, and the company has a strict "no touch" policy. Mermaids are encouraged to watch, but not chase, marine life. In fact, marine animals want to spend more time around their mermaid visitors when they are not being disturbed. The guides also teach guests how to identify native fish species and highlight important ocean conservation issues.
After their land lessons, guests can practice swimming through hula hoops and splashing around in their mermaid tails. They also learn about different types of mermaids – sirens, deep sea mermaids, whale singers and reef mermaids – and can play the role of their mermaid of choice.
"In the winter humpback whales flock to Maui, and our mermaids can actually hear them singing in the ocean," Pang says.
The aspiring mermaids and mermen find that the fin-powered dolphin kick gives them a powerful push through the water, and most people learn how to use the tail quickly. "It feels unnatural at first, but by the end of the lesson feels more comfortable," says Pang.Stories and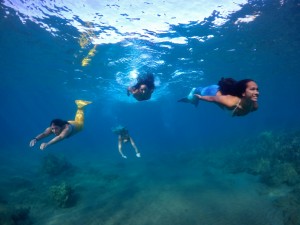 Stewardship
Immersing students into the ocean habitat, the guides teach them all about life as a mermaid, mermaid mythology, sailors' tales, various marine animals, coral, marine conservation and the importance of keeping the ocean clean.
The mermaids of ancient myths were not afraid to use their voices, often leading sailors astray or luring them to dangerous shallows with their songs. Contemporary mermaids can use their voices as well. However, instead of endangering their listeners, they can advocate for the environment and promote positive changes for the world's oceans.
"Mermaid swimming is an unforgettable experience, but our ultimate goal for guests is to help them learn about ocean conservation and to take away a sense of action to care for environment," Pang says.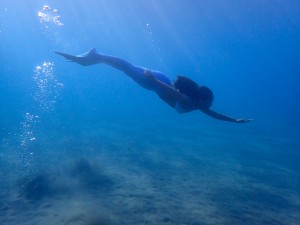 The mermaid instructors conduct mini beach cleanups before each lesson to give guests an idea of the things that get left behind on the beach. Note to students: mermaids hate to find trash in the ocean. The instructors hope to inspire mermaids and mermen to take small actions that will result in a big wave of positive change.
"Ocean stewardship is an important part of living in and visiting Hawaii. Whether you're snorkeling, surfing or relaxing on the sand, it is our kuleana, or responsibility, to ensure that we maintain healthy, thriving oceans for future generations," Pang says.
The 1.5-hour classes are $199 for a private lesson and $139 for two to five guests with a single instructor. Special arrangements are available for groups of six or more. For more information, visit hawaiimermaidadventures.com or call (808) 495-8919.
By Morgan Davis