Get a dose of late summer R&R at Daufuskie Island.
We're all looking for less stress and more peace of mind these days, and Daufuskie Island, just off the South Carolina coast between Hilton Head Island and Savannah, delivers both.
After all, with a population of less than 400 people, no hotel and no way of getting there other than by ferry or private water taxi, the island escape is the perfect place for day trippers to get a 24-hour fix of surf, sand, seafood and fun.
Many people first became acquainted with Daufuskie Island as the setting of author Pat Conroy's novel, The Water is Wide. However, one rotation of Earth on its axis probably is not enough time for a proper introduction to this island oasis. Fortunately, the hotel-free Daufuskie offers rental properties and other charming accommodations for overnight stays.
The 1873 Lighthouse on Daufuskie Island, which operated until the 1930s, opened bookings to the public last year. The waterfront accommodations, where waves gently roll right outside the front door and bottlenose dolphins leap out of the water by the dozens, sleeps four people. In addition to the 40-foot tower, the lighthouse includes a fireplace, a clawfoot bathtub and a rocking chair-lined porch that overlooks Calibogue Sound.
Guests also can stay in the Strachan Mansion in Haig Point, a gated private community on the northern tip of the island. Originally built in 1910 on St. Simons Island as a summer retreat, Strachan Mansion was moved to Haig Point by barge in 1986. Each of the mansion's four suites is appointed with antique furnishings and has a tie to Haig Point history. The mansion also features a bar, a billiards room and a general store.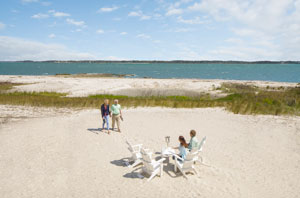 Exploring Daufuskie
No cars are allowed on the 5-mile-long island that consists chiefly of undeveloped conservancy land. For residents and visitors alike, the only methods of transportation are bicycles and electric golf carts.
Those who prefer not to travel Daufuskie's mostly unpaved roads on wheels can take advantage of the island's equine culture. The 3-acre Equestrian Center at Haig Point features a 12-stall barn where guests can take lessons and horseback tours of the island in English and Western style.
For visitors who would like to enjoy the serenity of riding horseback along the coastline, the equestrian center at Melrose community serves as the home base for Daufuskie Island Trail Rides. Six horses are housed there including a Native Marsh Tacky, a rare breed of horse that dates back more than 500 years in the area.
In addition to cantering on Daufuskie's 3 miles of white, sandy beaches, experienced equestrians can ride through the undeveloped land that is teeming with natural wildlife. The island is home to deer, storks, egrets, pelicans, osprey, whales, gators and other reptiles. Loggerhead turtles nest on the shore in the spring. To protect the turtles, visitors should use only red flashlights at night from May through October and never drive golf carts on the beach.
Beach-goers can take a walk to Bloody Point, a historic battleground between Native Americans and English settlers. Bloody Point also is the island's local fishing hole, so anglers can go there to try their luck.
Guided kayak tours and customized, guided golf cart eco-tours are available as well. Golfers also can enjoy Haig Point's 20-hole, Rees Jones Signature course, which has seven oceanfront tee boxes and greens.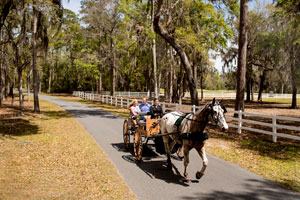 Peering into the Past
Rich in history and culture, Daufuskie Island offers a step back in time.
The first recorded inhabitants of Daufuskie are the Creek, or Muskogee, Indians, but most of the island's native residents are Gullah/Geechee people who are descendants of freed slaves. These various ethnic groups from west and central Africa have retained many aspects of their African heritage, creating the celebrated Gullah culture on the island.
Up until the mid-20th century, the population of Daufuskie, a Creek word that means "land with a point," was made up primarily of Gullah families. Oystering, farming and logging were the main industries on the island, but many people ultimately left in search of other work.
Developers came to Daufuskie in the 1980s and 1990s, and Haig Point, Bloody Point and Melrose were developed as resort communities.
However, many original Gullah-constructed homes, churches and schools remain on the island, and its historic district is named in the National Register of Historic Places. Some of Daufuskie's historic sites include:
First Union African Baptist Church – This historic church was established in 1881 and rebuilt in 1884 after a fire burned down the original sanctuary. Still active as a non-denominational community church, the congregation holds Sunday services at 10 a.m.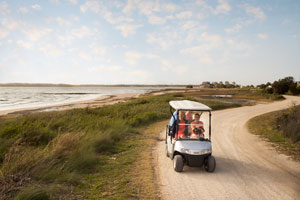 Mary Fields School – Built in the 1930s, this school was created for the Gullah children on the south end of the island. Transportation from the north end began in 1950, making Mary Fields the primary school for Daufuskie students. This is the school where Conroy taught in the late 1960s, and he based The Water is Wide on his teaching experience at Mary Fields. The school now is home to Daufuskie Blues, which makes indigo-dyed scarves and fabrics.
Billie Burn Historical Museum – This small museum was named after Billie Burn, known as the first true "Daufuskie historian." She is also the author of An Island Named Daufuskie, which documents details of the island's past. Island artifacts such as arrow heads and pottery shards are displayed in the museum, which previously was Mt. Carmel Baptist Church.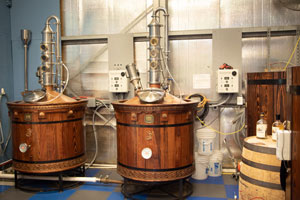 Gullah Learning Center – This quaint museum is full of Gullah artifacts, writing, clothing and more. Originally, the building was the Jane Hamilton School, which children on the north end of the island attended in the 1940s before transportation took them to Mary Fields School.
Frances Jones House – Painted bright blue and adorned with centuries-old live oak, the Frances Jones house is a picturesque favorite for visitors. Jones was one of the first teachers at Mary Fields School and eventually became the principal. Sometimes called "Daufuskie Mayor," she was a prominent fundraiser for the reconstruction of First Union African Baptist Church.
Moses Ficklin Cottage –Moses Ficklin was one of Daufuskie's undertakers, and the Gullah-constructed home is positioned under a giant oak tree. Although privately owned, the house is worth a drive-by.
Bloody Point Lighthouse – Erected in 1882, the lighthouse had a rear-range and a front-range light to keep boaters out of the Savannah River. The tower was deconstructed due to erosion, and the keeper's house, which has been converted to a museum and gift shop, was rolled back on logs to its current location. A "Lowcountry Heritage Walk" on the property showcases some historically-significant crops such as sea island cotton and indigo blue.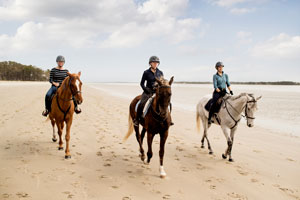 Shop Talk
If visitors still are shopping around for ways to entertain themselves on Daufuskie, then why not stop by some of the island's quaint and quirky shops? Don't miss:
Iron Fish Gallery – American Made Award-winning metal sculptor Chase Allen owns this remote studio gallery. He specializes in handcrafting coastal fish, mermaid, crab, sea turtle, lobster and stingray sculptures. This self-taught, world-renowned artisan, who began creating coastal décor from sheet steel in 2001, has been featured in numerous national and local publications. Allen is a member of the "million-dollar club," a select group of artists or artisans with lifetime sales of more than $1 million. His handcrafted, coastal-inspired metal sculptures can be found on the walls of clients and collectors from around the globe.
Anyone who wants to buy one of his pieces but can't find him, however, need not worry. At Iron Fish Gallery, which is open seven days a week, art is sold on an honor system. When Allen is out, customers simply can drop their money in the mailbox slot and take their artwork home with them.
Silver Dew Winery – The tiny, historic Silver Dew Winery building dates back to 1883. Originally, the structure was built as a "wick house," which was used to store oil, wicks and even the lamp for Bloody Point Lighthouse. In the early 1950s this Daufuskie Island icon was converted to a winery by Arthur "Papy" Burn, who made wine from grapes, scuppernong, pears, elderberries and other fruit. Locals soon dubbed the old wick house the Silver Dew Winery.
The winery closed in 1956, but the old wick house still carries the sign of Silver Dew Winery. Now, it is a gift shop where visitors can pick up a playful trinket or a bottle of wine. In addition, wine lovers can sample some of Silver Dew's sweet scuppernong wine at the Bloody Point Lighthouse keeper's house.
Spartina 449 – Named as an Inc. 5000 Fastest-Growing Company, Spartina 449 is a Daufuskie Island-based women's handbag, accessory and jewelry business. The collection is available in general stores around town, and the high-quality linen and leather products reflect the color and beauty of Daufuskie Island and the Lowcountry. Spartina 449 also contributes a portion of its proceeds to the Daufuskie Island Historical Foundation, a nonprofit organization that preserves the island's cultural heritage.
Food & Drink
With everything that Daufuskie has to offer, including restaurants, there's no reason to go hungry. Visitors can feast on island fare at:
Old Daufuskie Crab Company – Deviled crab, the island specialty, is a must-try, and Old Daufuskie Crab Company is the place to try it. Offering some of the freshest seafood in the Lowcountry, this Island treasure features a variety of entrees such as shrimp and fish – with all the fixin's, chicken quesadillas, steaks and burgers.
Diners can shuck their own oysters right off the roasting pit in season, and the restaurant serves its original Scrap Iron moonshine at the indoor and outdoor bars. Every evening meal comes with a side of Daufuskie's magnificent sunset on the Cooper River.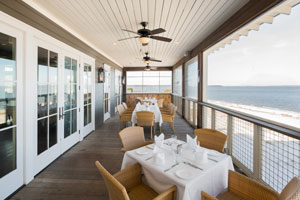 Lucy Bell's Café –Featuring a wide array of dishes, Lucy Bell's focuses primarily on farm-to-table ingredients for its fresh local seafood, beef, poultry, appetizers and decadent desserts. Menu items range from simple Southern fried chicken to sophisticated delicacies such as lobster thermidor, tournedos oscar and herb roasted prime rib of beef.
School Grounds Coffee – Located in the back of Mary Fields School, this quaint coffee shop has a variety of options from cinnamon bun lattes to raspberry mochas to tried-and-true coffee blends. The shop also sells iced lemonades and teas.
Daufuskie Island Rum Distillery – One of only two American rum distilleries located on an island, Daufuskie Island Rum Company sits on 12 acres off Haig Point Road. Each bottle of Daufuskie Island Rum is distilled, bottled, labeled and packed by hand. The micro-distillery is open to the public from 10 a.m. to 4 p.m. Wednesday to Saturday. Tours of the distillery show the entire rum-making process from fermentation and distillation to bottling and labeling.
For more information, visit tourdaufuskie.com.
By Morgan Davis