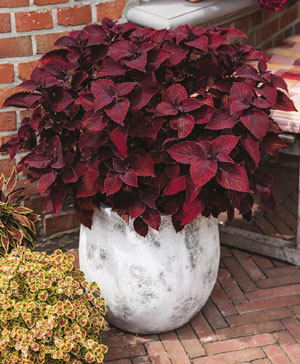 Perk up your garden with some of our favorite new All-America Selections award winners for 2020.
Coleus 'Main Street Beale Street'
Main Street Beale Street is the first coleus ever to be named an All-America Selections winner. An outstanding variety, its deep red foliage holds its color extremely well in the garden. The rich color doesn't fade, bleach or get spotty as the season moves into late summer. The lush, bushy plant grows uniformly and as a huge bonus, does not flower until very late in the season – up to six weeks later than the comparisons. A unique feature of this coleus is that it can be successfully grown from full sun to full shade, making it an ideal foliage item for anywhere in the garden. Landscapers and homeowners will appreciate the beautiful color and uniform height of this coleus.
Echinacea 'Sombrero Baja Burgundy'
With its vibrant, deep violet-red blossoms, this stunning coneflower will add a bold accent to sunny gardens. Birds and pollinators love to flock to this deer-resistant beauty, making it a dual-purpose plant. In addition to being a top specimen for color in a sunny border, Sombrero Baja Burgundy is one of the best echinacea for cut flowers. Gardeners will enjoy prolific blooms from mid-summer until first frost.
Rudbeckia 'American Gold Rush'
With bright, golden-yellow flowers, black centers and delicately curved petals, this compact, upright black-eyed Susan is destined to be the new rudbeckia staple for gardens and landscapes. Incredibly easy to grow, it's a gorgeous addition to any garden and pollinators love it. This cultivar has smaller foliage and shorter height compared to other rudbeckia varieties and will bloom from mid-summer to fall, with some color up until frost. American Gold Rush tolerates hot, humid summers — even drought once established — and loves to soak up full sun. Because it was bred for resistance to Septoria leaf spot, this hybrid shows no signs of the fungus even in wet, humid conditions. Deadhead spent flowers (if you can reach them) to encourage additional bloom.
Cucumber 'Green Light'
This new veggie is a great-tasting mini cucumber. The yield is higher than the comparison varieties with more attractive fruit, earlier maturity and superior eating quality. Grow Green Light on stakes or poles for a productive, easy-to-harvest vertical garden that will yield 40 or more spineless fruits per plant. Pick the fruits when they're small, between 3 to 4 inches long, and you'll be rewarded with great tasting cucumbers, even without peeling. Succession plantings will ensure a summer-long harvest.
Tomato, 'Apple Yellow'
If you've never tried an apple-shaped tomato, now is the time. This winner offers incredible garden performance, a uniquely dimpled apple-shaped fruit with a deliciously sweet citrusy taste and firm, meaty texture. Indeterminate 5-foot tall vines produce abundantly in clusters, resulting in up to 1,000 fruits per plant. The fruits are an eye-catching, bright, lemon yellow color reminiscent of the "Big Apple's" taxi-cab colors. Judges were excited that a non-splitting, long-holding, uniformly shaped tomato had such good eating quality. With just the right balance of sugar and acid flesh in a firm exterior, Apple Yellow would be perfect stuffed with a savory cheese for a delicious appetizer.
Tomato 'Early Resilience'
Early Resilience is a rounded Roma tomato with a deep red interior color, uniform maturity and good quality flesh for canning and cooking. Determinate, bushy plants can be staked, if you like, but it is not necessary. Judges noted that this variety was very resistant to Blossom End Rot, resulting in a high yield and less fruit loss. It is similar in taste as the comparisons, but a much healthier plant and fruits. Overall, this is an excellent variety that would be a home canner's dream. This could very well replace some of the other Roma varieties as a new standard in the arena, or maybe "Colosseum" of Roma tomatoes.