There's no disguising a lifelong love of Halloween – or a weakness for witches – in this West Lake home.
Ever since she was a little girl, West Lake resident Debbie Clark has loved Halloween. 
"I grew up in a small town, and Halloween was a lot of fun," she says. "We always had a big party at our school."
The party has continued into adulthood for Debbie, and her family and friends have joined in the fun along the way. Every year Debbie decorates her home, where she and husband Lee have lived since 2003, with Halloween decorations that she has accumulated for 30 years.
Surrounded by witches and pumpkins and candy corn every October, Lee has no choice but to love the holiday. And Debbie can decorate with no double, double toil and trouble because Lee has one job to perform each year.
"He brings all the stuff down from the attic and puts it back up in the attic," says Debbie.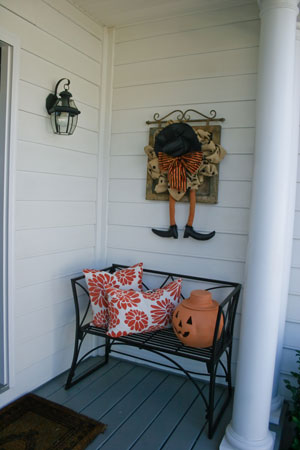 Witches, Ghosts and Pumpkins
Evidence that the Clark residence is a happening Halloween house is apparent before anyone even steps foot inside. Two pumpkins sit on the brick front porch, where a quartet of witches could hold a convention on four black rocking chairs. One pumpkin rests beside a witch while the other sits next to a trio of black cats. Six white columns stand in a row along the porch, but one of them is the true marker that Halloween has arrived at the Clark house. The column is the landing spot for a gray-haired, black-clad, pointy purple-hatted, broom-riding witch that has crashed into it.
"I have had the witch for the longest time," says Debbie. "That was my daughter's favorite decoration for Halloween. She's now 31, but I still put it up."
Healthy ferns – that look as if they have been fed a magic potion to help them grow – spill out of the sides of two black planters, which could double as cauldrons for a witch's brew. 
Across the threshold through the front door, even the pumpkins dress up for Halloween. At the foot of the stairs, two pumpkins clad in wedding attire greet guests. The "bride" wears a white veil and a white boa while her well-dressed "groom" sports a black top hat and black bowtie. Spider "rings" dangle from each of their hands. Debbie put the bride and groom pumpkins together for a fall wedding shower for a friend's daughter, and they fit in perfectly with her décor. The faceless couple are typical of the pumpkins – not jack-o'-lanterns – around the house. "I can sew a costume, but I can't carve a pumpkin," Debbie says.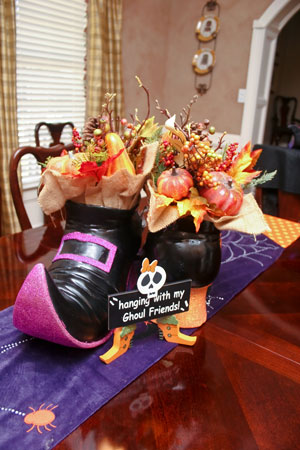 In the dining room, the table features an orange polka-dotted table runner underneath a shorter runner with spider webs on either end. A pair of black, oversized witch's shoes filled with burlap, gourds and pine cones serves as the centerpiece.
"I found the shoes several years ago. I fell in love with them. I thought, 'They have to go home with me,'" Debbie says. "I just thought they were cute and fun. I fill them with something different every year."
There are signs of Halloween throughout the house – literally – as well. A cloth banner on the back of a dining room chair says, "Come fly with me." On the dining room table, a small sign reads, "Hanging with my Ghoul Friends."
 Debbie really takes those words to heart. Every October she has a Halloween costume party for the women in her neighborhood bunko group.
On a small chest, ghost and witch candles keep a close eye on all of the Halloween happenings around the house. The candles are nestled in gobs of candy corn that fill clear candleholders of all sizes. Showing her practical side, Debbie saves the candy corn from one year to the next.
On the opposite side of the room, a three-tiered stand is covered with Halloween petit fours. Round orange pumpkin petit fours are mixed together with square cakes with white icing that are decorated with ghosts or pumpkins. 
"All of this is an accumulation of things," says Debbie. "Most of my friends know I love Halloween, so a lot of this stuff has been given to me through the years."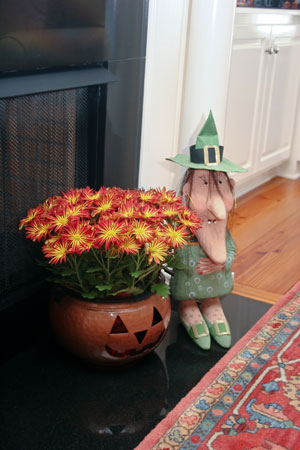 Words to Live By
A collection of witches can be found throughout the house – Debbie has a thing for witches –  and her favorite decoration is a papier mache witch stationed by the fireplace in the den. A jack-o'-lantern planter filled with spider mums sits next to the witch, which is dressed in green from her pointy hat to her pointy shoes.
Witch legs clad in silver-and-black-striped stockings and red heels poke out of two black cauldrons on the mantel, and an orange grapevine wreath, topped with a purple witch's hat, occupy the center of the mantel. A cluster of black or white painted pumpkins, decorated with polka dots or stripes, is grouped in front of the wreath. 
The den features hardwood flooring and built-in bookcases on either side of the fireplace. Using a bit of Halloween sorcery, Debbie wrapped orange netting around a stand that she topped with a witch hat and placed on the bookcase. "I thought the stand was kind of ugly, so I just wrapped it to make it look a little better," she says.
Gold pumpkins line the top of a secretary, and a Department 56 Halloween village is set up on the writing area of the secretary. Another witch, which was given to Debbie by a friend, dangles from the ceiling fan chain. Small orange, black and white painted pumpkins, also adorned with stripes and polka dots, fill a big bowl on the round glass coffee table in the den.
In the adjoining kitchen, which features granite countertops and hardwood flooring, a two-tiered stand on the counter is full of gourds. Orange pumpkins are scattered around the kitchen as well, and two wine bottles clad in witch and ghost costumes stand sentry on a side counter.
Of course, since Debbie has her practical side, the kitchen isn't as decorated as the rest of the house. "I can't work around all my decorations," says Debbie, who likes to cook.
A pumpkin filled with spider mums bring a touch of the holiday to the deck off of the den. On the side porch, a pumpkin, a witch hat and a sign that says, "Come On In My Pretties" add to the Halloween décor. The doormat reveals Halloween words to live by – "Eat, Drink and Be Scary."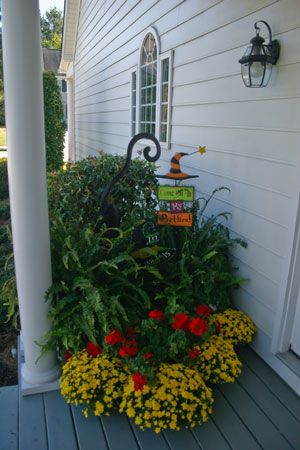 Tastefully Tacky 
The Clarks have lived in the area since 1979, and Debbie thought it would be fun to decorate for Halloween after they bought their first house. She starts decorating for Halloween at the end of September, and it takes her a couple of days to finish the décor. Of course, those boxes of Halloween goodies that Lee brings down from the attic are carefully labeled and stored. (He's better than waving a magic wand.)
And one of Debbie's favorite thing about her Halloween décor is that it doesn't have to be expensive. She gets a lot of her decorations from discount stores, and Fat Man's was one of her favorite haunts back in the day.
"I'm always on the lookout for things," she says. "I started with it because it can actually be tacky, and it's OK. It doesn't have to be perfect.
While Debbie celebrates the holiday all month long, the festivities come to a thrilling, chilling finish on Halloween night with a neighborhood block party on their cul-de-sac. "We set up tables and wear costumes, and we have lots of trick-or-treaters," says Debbie. "It's so much fun."
By Betsy Gilliland