With its festive yuletide décor, a West Lake home is filled with good tidings of great joy.
Maybe it's the soft glow of the single white candle nestled among the greenery and red bows in each of the windowsills. Or perhaps it's the bright lights on the multiple trees that shine through the windowpanes on the front of the house. Or it might even be Mae, the life-sized doll – with her Christmas attire, knowing expression and double chin – that greets everyone who walks through the door.
It's hard to say which of the holiday decorations best sets the tone for a season of festivities at the West Lake residence of Dianne and Larry Prather. However, there's no doubt that Christmas and all who love it are welcome in their home.
"It makes me so happy," Dianne says of the Christmas décor. "I walk down the halls once it's all done, and every room makes me happy."
All Dolled Up
Brandon May of Brooks Haven Floral & Flowers in Grovetown helps Dianne decorate the house, which was featured in last year's Augusta Ballet Tour of Homes, for the holidays.
"I just stand back and watch," says Larry, president of Prather Construction Co. and a former Columbia County commissioner.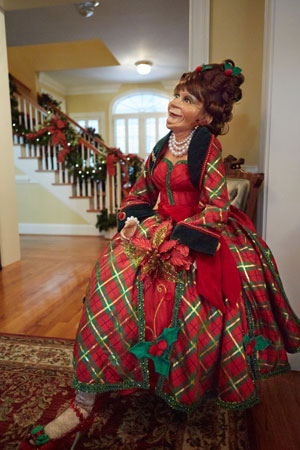 Seated in a chair in the foyer, the aforementioned Mae has been a fixture in the Prather house for at least 10 years. She exudes holiday spirit with her Christmas finery including her dress featuring a red bodice and a red, green and gold plaid skirt; sparkly ruby shoes; pearl necklace and bracelet; gold bell earrings; holly in the piles of brown curls on her head and poinsettia in her lap.
"Mae is a great hostess. She adds fun, whimsy and lightheartedness, but she only comes out at Christmas. She doesn't have different outfits," says Dianne. "I used to have a champagne glass in her hand. She was a lot more fun then, but she couldn't hold onto it."
One evening after the holiday decorations had been put away, however, Mae almost ended up with another decidedly un-festive accessory – a bullet hole between her eyes.
The Prathers thought they heard a noise upstairs, so Larry went to investigate with a pistol in hand. He opened the closet door – Dianne was armed with a cell phone, poised to call 911 – and out tumbled Mae.
Fortunately, Mae didn't become a ghost of Christmas past on that fateful night, but nods to yesteryear are mixed in with the Christmas décor throughout the Prather home.
An 1853 vase, which made by Dave the Potter of Edgefield, sits by the front door in the foyer. Dave, a former slave who was able to read and write, signed and dated his work. The stoneware pottery of Edgefield, Dianne's hometown, outshone earthenware pottery because it was stronger and impervious to water.
In the living room, family furnishings include an RCA Victrola, which belonged to Dianne's grandmother, and a secretary that belonged to Larry's mother. Larry's old school textbooks, as well as a pair of children's leather gloves that he wore when he was a boy, sit on the desk. His father's pocket watch is on a shelf, and a boyhood portrait of Larry, who grew up in Harlem, hangs on a wall.
An old photograph book with a lock, which contains silver plate pictures of Prather ancestors, sits on a table in the den. Their names are handwritten inside the front cover.
Around the Globe
However, it's not just tangible family heirlooms that were passed down from one generation to the next. As the holiday décor indicates, Dianne and Larry inherited a fondness for Christmas as well.
"My father always loved Christmas," says Dianne. "I used to decorate with live greenery – even outside. Daddy always loved to cut holly and mistletoe for me. He put holly across his mantel. There was a huge holly tree on his property since he was a little boy, and he loved to share it."
Two rows of eight live poinsettias – four on each side – climb up the stairs, and the handrails are wrapped with greenery and big red bows.
The Prathers start decorating for Christmas the day after Thanksgiving, and they put up six trees every year – one in the den, dining room, living room, sitting room, master bedroom and breakfast nook. The trees have no themes, but with their strategic placement in front of a window in each room, their white lights send out Christmas cheer to passersby.
Dianne decorates the Christmas tree in the den herself, and it is her favorite because of the nostalgia it evokes.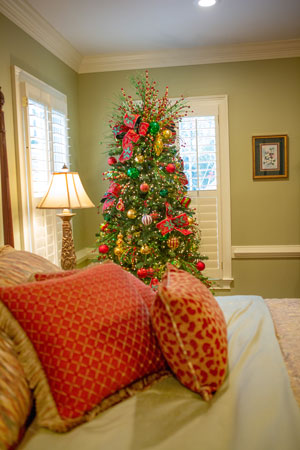 "We have traveled extensively, and the ornaments on the tree in the den are ones we have collected when we traveled," she says. "We also have ornaments that our children and grandchildren have made on the tree. They bring back such fun memories."
Cross stitch ornaments that Dianne made hang from the branches, and an ornament that her grown daughter, Emily, made as a kindergartner is front and center on the tree. Ornaments from their travels around the world include a small Monet painting on an easel from France, a sombrero from Mexico, a heart from Budapest, a camel and a King Tut figure from Egypt, a doll from China and a South African mask.
"In a lot of countries, you can't find ornaments, so you just pick up whatever you can and make it into an ornament," says Dianne.
Her mother made the quilt that is draped across a chair in the den. The quilt includes appliqués such as hearts, a gingerbread man and a teddy bear. However, Dianne's favorite –the quilt is folded so this one is on top – is the appliqué of a little girl with Emily's name stitched on her pinafore dress. "Emily always wore little pinafores," says Dianne.
Five large nutcrackers stand at attention on the raised hearth of the wood-burning fireplace in the den. All of them are golfers except for a Clemson nutcracker.
Greenery, ribbon and LED candles line the mantel, and a box with poinsettia-patterned fabric, which Dianne's sister made, sits in front of the fireplace.
"I like a real fire, even though we're usually outside playing basketball in shirtsleeves on Christmas," says Larry.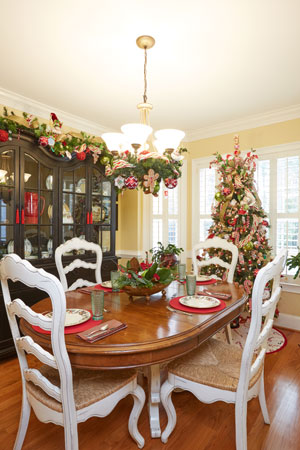 Color, Fun & Whimsy
A stack of children's Christmas books is piled high on the coffee table. Two Santas – one clad in a suit of Clemson orange and the other wearing UGA red to acknowledge the divided sports allegiances in the household – sit on the top shelf of the entertainment console. "When I buy a Clemson ornament for myself, I buy a Georgia ornament for Larry," says Dianne.
She also collects Christopher Radko ornaments and nutcrackers for their five grandsons that range in age from 3 to 21.
In the living room, her own collection of Christopher Radko snow globes sits on a blanket of "snow" on the built-in bookshelves. Inside the 2001 Macy's snow globe, the twin towers still are standing. A cane-bottom child's rocker sits by the tree.
In the master bedroom, more quilts that Dianne's mother made fill a basket by the Christmas tree. One of her favorites is a colorful quilt in which every piece of fabric has a circle on it.
"It's just fun. I'm all about color," Dianne says.
The master bedroom also features a four-poster bed, ceiling fan, trey ceiling and flat screen TV on the wall.
A wreath hangs on the window in the master bath, which also features tile flooring, granite countertops, a trey ceiling, a walk-in shower, two vanities and a window seat.
The sitting room, which was part of a 2011 addition to the home, was supposed to be Dianne's space, but the room is a wonderland for any child during the holidays.
Overflowing with wrapped packages, a pair of black Santa boots stands by the tree. Not a creature is stirring – not even a stuffed mouse, with a stocking cap on its head and a teddy bear under its arm, that is curled up fast asleep in a basket. A child's nativity scene is set up by the gas fireplace, where stockings are hung on the mantel with care.
The purpose of the sitting room – which also features a trey ceiling, chair rail, chandelier and two paintings of Edisto hammocks – was to keep Dianne from spending so much time in the kitchen. However, she says, "I still spend all my time in the kitchen."
Sweets and Treats
That's because she loves to cook, especially during the holidays when she bakes fruitcake cookies, date balls, cheese biscuits, pecan sandies, orange slice candy cake and caramel cake.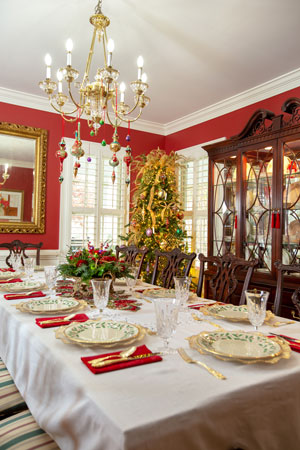 This Christmas, like they do every other year, the Prather family will celebrate together on Christmas Day, when Dianne prepares a pork crown roast. In opposite years they have family over at Thanksgiving and for Christmas Eve brunch, when she makes shrimp and grits.
"I just enjoy being with family and seeing the expressions on the grandkids' faces at Christmas," says Larry.
Full of fun and whimsy, the kitchen Christmas décor includes winged Mark Roberts fairies and Mark Roberts elves, with grins that reveal the gap between their two front teeth. The lights above the island are adorned with greenery and red ribbon as well as red, green and gold ornaments. A Lenox Holiday Tartan teapot, which is filled with greenery and berries and includes the lid as part of the décor, sits atop the range.
The table in the adjoining breakfast nook is set with Lenox Holiday Tartan china. Greenery, red balls and candy cane ornaments hang from the chandelier.
A gingerbread boy and girl sit in a chair in the corner by the bay window and sing "We Wish You a Merry Christmas" with the push of a button.
The Christmas tree includes balls, candy canes, gingerbread men and more Mark Roberts fairies with names like Candy Maker and Gift Giver. "When I take them out of the boxes, I love reading their names," says Dianne.
A bread bowl, which belonged to Larry's mother, serves as the centerpiece on the oval table.
"I used to make a gingerbread house every year, but I don't have the time anymore," says Dianne. "They lasted several years, and that inspired the gingerbread theme."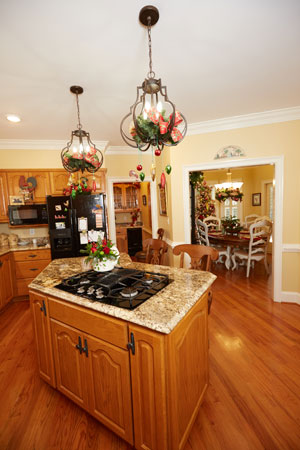 In the dining room, a watercolor by Beth Jones of North Augusta hangs on one wall. The painting depicts the vase of zinnias that normally occupies the center of the dining room table and the china cabinet in the background.
"I love zinnias, and I grow zinnias," says Dianne. "The dining room is a pretty formal room, so I wanted some whimsy."
On the dining room table, fluted chargers create a gold-rimmed layer beneath Lenox Holiday china. "It's just another one of those things that just makes me happy at Christmas," says Dianne. "I have been collecting the china for a long time."
Christmas ornaments dangle from the chandelier, and red tassels hang from the china cabinet. The dining room tree includes gold ribbon, small LED candles and a crown on top of the tree. "The crown has jewels on it just like the ornaments do," says Dianne.
However, everything in the Prather house sparkles like a gem at Christmastime.
"I just like colorful, happy things. That's what Christmas is supposed to be," Dianne says. "Everybody seems so happy. That's the way it should be all year."
By Betsy Gilliland