This family's home in Appling was designed to get better as it ages
When Kessler and Seth Davis were ready to build a home, they looked for land online for a year. They couldn't find a piece of property they liked, however, so they resorted to the old-fashioned way. They got in their car and rode around.
"We knew we wanted to be in Appling. We're lake people," says Kessler. "We met at age 15. When we first started driving, we would always go to the lake. We were young, so we had to be back home at night."
They found the 5 1/2-acre lot where they now live, but after a year it still was available. "When it didn't sell," Kessler says, "we wondered, 'What's wrong with it?'"
They kept going back, and as it turned out, nothing was wrong with it.
"Every time we came down this road, I just felt like it was home," Kessler says.
Although they originally were looking for open pasture land, they ended up on wooded property with a 1-acre pond. They even situated the house on their land to preserve a 140-year-old oak tree in the yard.
"That oak tree gives the land character," says Kessler.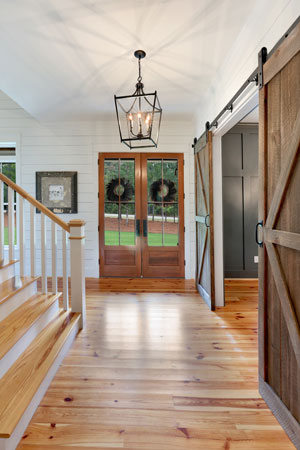 'Feeling and Movement'
The house also is the first one that Seth, a custom home builder, constructed under his own business, Ironwood Custom Homes. And along with the character that the oak tree lends to the property, the residence is taking on its own personality as well.
The heart pine floors throughout the house were not stained, for instance, so they will continue to change. "Aesthetically, we don't know what color they're going to turn," says Kessler.
She also says that Seth welcomes wear and tear on the floors. And it's not just their 4-year-old twins, Copeland and Knox, and dog Siri who are leaving their mark on the wood. Divots from high heels? Great. Knicks from a dropped knife? Even better.
"Everything about our house is about feeling and movement," says Kessler, who owns Mane 18 salon. "This house will look better the older it gets. Building is an art form to Seth. He is interested in seeing how the house will look over time."
The Davises have lived in the house for five years, and they don't plan on going anywhere any time soon – if ever.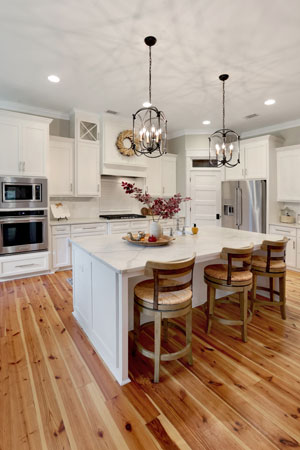 "This is our third house, but the first one we built. It's meaningful," says Kessler. "We don't know that we'll ever move. We put so much physical labor into the house that it would be too hard."
One of their favorite spaces in the home is the kitchen – both of them like to cook – and their shared input into the home design shines in the room.
"I knew I wanted an all-white kitchen," says Kessler. "I'm a very neutral person. I wanted it to have a homey feel."
She also chose a decorative basketweave backsplash for the wall above the cooktop. Although Seth initially wasn't so sure about the idea, Kessler says, he loves it now.
And just as they rethought the piece of property where they wanted to build, Seth did an about-face on the kitchen cabinets when he changed the design at the last minute. The day he was supposed to meet with the cabinetmakers, he called Kessler and said he had come up with another idea for the cabinets and drew up something completely different from the original concept.
Their telephone conversation went something like this:
"When do I get to see them?" she asked. "When I put them in," he answered.
"What if I don't like them?" she asked. "You'll just have to trust me,'" he replied.
It wasn't the first time she put her blind faith in him. In fact, he has been the guy with the go-to plan since they first met as teenagers on vacation in Hilton Head. A week after they returned home, Seth asked Kessler to go to the prom with him.
Kessler declined because (a) the prom was the next weekend and (b) Seth already had a date. However, he also had a solution. He set up his original date with his best friend, who is now his business partner, and they double dated.
With a relationship that thrived after such an unconventional start, how could she not trust him with the kitchen cabinets? And yes, she loves them.
The kitchen also features quartz countertops, white subway tile backsplash, a farmhouse sink, two pendant lights above the island and a transom window above the door to the walk-in pantry.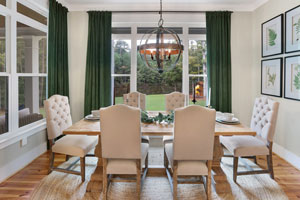 Natural & Neutral
Kessler was responsible for the home décor, and while she likes to decorate for every season, fall is her favorite. Her penchant for wood and neutral colors give the home a natural fall feel.
"It's hard for me to throw a pop of color in a room," she says.
However, Kessler designed the velvet green drapes in the breakfast area that adjoins the kitchen, getting her inspiration from Julep Barns, a farmhouse resort in Dillard, Georgia.
The breakfast area also includes a trestle farm table with upholstered chairs and an orb light fixture. The windows overlook the expansive backyard and the pond.
The kitchen and breakfast area also open into the living room.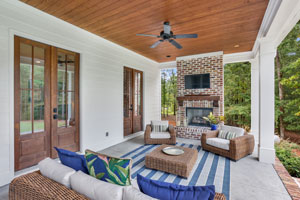 "We wanted an open concept with doors that open to the outside," Kessler says. "We spend a lot of time outside."
A pair of double doors in the living room opens onto the back porch, and a wood beam offers definition between the kitchen and living room.
The living room features a raised hearth, brick fireplace, and a TV hangs above the mantel that was made from reclaimed heart pine wood and beaten with a sack of chains and nails to give it character.
A wooden baguette dough bowl filled with decorative balls sits atop the mantel. Lanterns on one side of the hearth are filled with cotton balls and pumpkins, and a trio of pumpkins are grouped together on the other side. Black and white family photos hang on the walls. A studded wing chair is tucked in each of the two corners in the room, and an antique table sits behind the couch.
"I love antiques. I like to go antique shopping," says Kessler.
The fireplace on the back porch mirrors the one in the living room, down to the baguette dough bowl on another distressed reclaimed heart pine mantel. The space also features wicker furniture, a ceiling fan and a tongue-and-groove ceiling.
"We're definitely on the back porch the majority of the time we're home," says Kessler. "It's an owl sanctuary out here. They live in the trees behind the house, and they talk to each other at night. It sounds just like sound effects from a scary movie."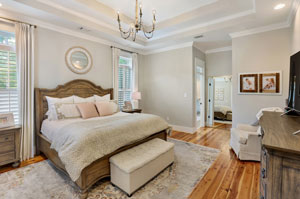 Kessler enjoys spending time in the master bedroom, where the family cuddles in bed to watch TV, as well.
"My husband wanted a huge master bedroom that opened to the outside," she says.
In addition to doors that lead to the back porch, the room includes a double trey ceiling and a large walk-in closet, which is adjoined by the laundry room. Brick pavers cover the laundry room and mudroom floors.
The master bath features tile flooring; quartz countertops; two vanities, plus a built-in dressing table; a modern stand-alone soaking tub; a separate water closet and a walk-in tile shower with a pebble floor. The beaded chandelier was a Mother's Day gift from Seth to Kessler.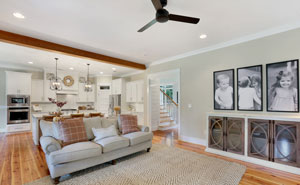 Front of the House
Lining the brick front steps, mums and pumpkins of different colors, shapes and sizes announce that fall is in the air.
"I pick up one or two pumpkins every time I go to the grocery store," Kessler says.
A wheat and cornhusk wreath hangs on each of the double front doors, and cornstalks, along with oversized decorative wood pumpkins, flank the doors. The front porch also includes a tongue-and-groove ceiling, and black and white buffalo-check pillows rest on a quartet of black rockers.
In the front hallway, a transom window tops the entryway to the living room, and the shiplap walls feature nickel gap spacing between the planks. The frame for a family photo on the wall originally was an antique ceiling tile.
Two rough-sawn barn doors lead from the hallway to the office that Kessler and Seth share. They also collaborated on the design, with Seth choosing trim for the walls and Kessler selecting a dark paint color for them.
"We didn't want a formal dining room. We're not that type of family," says Kessler. "This space worked for us as an office since we both own our own business."
The antler chandelier was a birthday gift from Kessler to Seth before they lived in the house, and the animal pelt rug was a gift to Kessler from one of her clients.
"The office is our most complimented room," she says.
A magnifying glass and a French horn rest on top of a round table between two leather director's chairs.
"No one plays the French horn, but it works. Our kids have tested it a number of times," says Kessler.
Creativity & Art
During the construction of the house, Kessler found that being married to the builder had its advantages and disadvantages. She says her friends said their husbands have told them to do whatever they wanted when they built their homes, or that their husbands wanted just one thing. Seth, however, had definite opinions about the home features he wanted.
"He likes the creativity and art of building custom homes," she says.
Kessler appreciates the ideas and expertise he brought to their home. "He did good," she says.
By Betsy Gilliland