Using their natural talents, natural materials and love of tradition, this Evans couple built a timeless home in Magnolia Ridge.
When Evans residents Amanda and Jamie Pierce built their custom home in Magnolia Ridge six years ago, the couple got much more than a new place to live. She also had the chance to put her creative skills to use.
"I loved the creative aspect of it," says Amanda, a former pediatric nurse who has an expert in e-design certification. "When we built the house, I loved the whole process. I planned for it for a long time."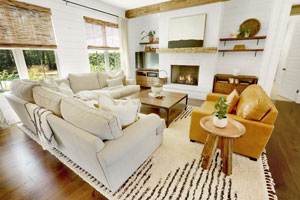 Amanda leans toward timeless, classic designs that can withstand ever-changing trends, and she also finds inspiration in historic architecture and industrial interiors with features such as high ceilings and exposed brick.
Her aunt, who is an interior designer, and her maternal grandmother have been big influences on her as well.
"She's a classy lady with a unique style," Amanda says of her grandmother. "Her homes were always different. They stood out because they were not like anyone else's. A lot of things I do in design and in life, I do because I saw her do them."
She also says that she and Jamie have similar tastes, but he had a few requests such as a large fireplace, a pool and a porch where he can grill. However, he says he mostly just tried to stay out of the way.
"When we built the house, she drew the design on a piece of notebook paper. She designed every nook and cranny," says Jamie, a mortgage banker. "I didn't need to give any input. She knows her stuff."
After all, when it comes to his wife, his instincts have served him well. Jamie and Amanda first met at a Shelter Cove Marina fireworks show in her hometown of Hilton Head Island, where his family had gone on an annual vacation, when he was 17 and she was 15.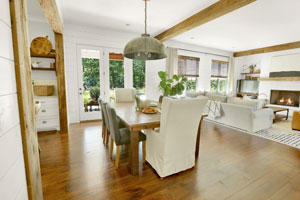 For three years, they had a long distance relationship, which consisted of lots of old-fashioned landline calls and letters in those pre-cell phone days, before they both ended up at schools in Athens.
"I knew that she was about the cutest thing I'd ever seen, so I took my shot," says Jamie, who graduated from Lakeside High School.
"He thought he was just going to talk to girls, but he found a wife," says Amanda of the night they met.
Stately Presence
The Pierces discovered their lot of almost four acres on frequent visits to their friends' house, which also is in the neighborhood. Because it took years for the 15-acre subdivision, which was divided into smaller lots, to be developed, however, the couple had plenty of time to collect items for their home.
Even though it is only six years old, their house, which is constructed of brick that they painted white and features creeping fig that grows on the front steps, has the feel of a stately old home that has stood its ground for generations.
"We built a brick house because we wanted it to last," says Amanda.
An arched entryway, salted concrete floor and a tongue-and-groove ceiling accent the covered front porch. Adding to the timeless look of the home, a gas lantern hangs on the exterior wall on either side of the steps.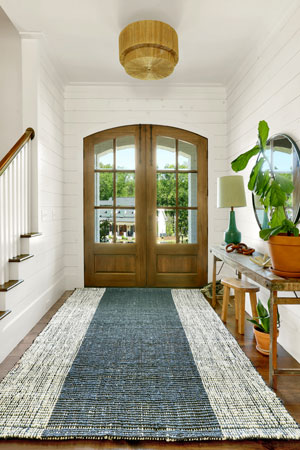 Mandevilla and roses fill a pair of planters on the front porch, and a metal roof on a slanted seam tops a bay window on the front of the house. On the corner of the property, a maple tree that they can tap for syrup adds character to the lot.
Creeping fig also climbs a wall on the back of the house. "It looks kind of like a French café," Amanda says of the vine. "I like a European look in some things."
Another covered porch on the back of the house borrows some features from the front porch. The back porch also includes salted concrete flooring and a metal shed roof on a slanted seam. Edison lights, a television and teak furnishings add to its appeal.
Cedar columns and exposed cedar rafters also accent the back porch, and a cedar bar sits beneath a pass-through window to the kitchen.
"I love all of the rustic wood beams and reclaimed wood in the house," says Jamie.
Inside, where the first floor features 10-foot ceilings, Eastern white pine flooring can be found throughout the house.
Neutral & Natural
In the foyer, which features houseplants, a twine light fixture and a jute rug, the shiplap walls are made of Eastern white pine that has been painted white. The same shiplap walls extend into the living room, which also features pecky, or wormy, cypress beams.
The mantel of the gas brick fireplace, also painted white, is made of reclaimed barnwood from the Indiana homestead of a Civil War general. Two wood chests fit into the space on either side of the fireplace beneath a pair of open shelves.
The books in the living room were ones that Amanda's father kept in his room when he was a boy, and she created the abstract artwork, which Jamie framed, above the fireplace by painting over drywall mud.
"I like neutral abstracts. They're calming," says Amanda.
A fiddleleaf fig, which thrives on neglect, adds a splash of greenery to the living room.
The adjoining dining area features shiplap walls and a custom-built pine table, which is surrounded by upholstered chairs. The galvanized metal light fixture above the table was one of the first items Amanda bought for their new home.
A pecky cypress door frame also leads from the dining area to the kitchen.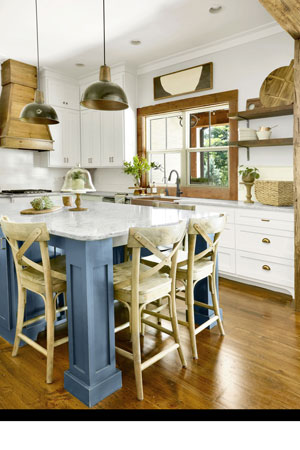 On the kitchen island, a trio of artichokes atop a teak cutting board and a domed cake pedestal with a plant inside of it bring a natural, earthy ambiance to the room. Several wood cutting boards, white bowls and copper pieces accent the space as well.
Other kitchen features include quartz countertops, a hammered copper farmhouse sink, lots of drawer space, a walk-in pantry, recessed lighting and a wood range hood.
Two open wood shelves by the sink and another pair of open wood shelves on the opposite wall are held in place by exposed waxed steel brackets.
Keeping a neat, clean look in the kitchen, a vertical row of 1 1/2-by-1 1/2-inch magnetic photos lines the side of the refrigerator door. Amanda also has pictures of their teenagers – Finley and Beckett – on the inside of cabinet doors.
"I don't have a lot of family photos on the wall, but I know where our pieces come from," says Amanda. "I have a lot of things that came from my parents or grandparents."
For instance, her paternal grandfather's Army trunk is tucked beneath a bench against a wall near the kitchen. The wall also features a remote light fixture above a canvas print of a moth that is flanked by skinny mirrors on either side.
A guest suite, where Amanda's parents stay when they visit from Hilton Head, includes décor that is meaningful to them. A decorative frog on the floor belonged to her mother, and one of her mother's favorite books of poetry rests on the bedside table.
"I wanted everything in the house to be purposeful," says Amanda. "I wanted to love every single thing."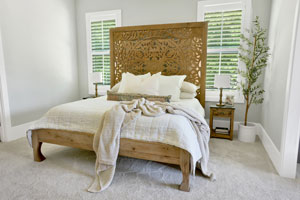 The guest room décor also includes a floor lamp with a wood tripod base, a desk and a framed map of Banner Elk, North Carolina, the Pierces' favorite vacation spot.
Architecture elements include a bay window, but the focal point of the room is the gray accent wall that Amanda and Jamie crafted by applying furring strips to it in a geometric pattern.
A framed map of Hilton Head hangs in the hallway between the bedroom and bath, and a pocket door leads to the suite.
"I like pocket doors because they close off a space but keep everything compact," says Amanda.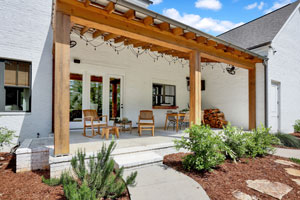 Privacy & Peacefulness
The master bedroom offers the couple a private space to relax. The bed has a hand-carved wood headboard, and a large picture of a rabbit with a vintage look rests on the dresser. "It looks like something you would see in the '20s," says Amanda.
However, her favorite spot in the house is the versatile sitting room that adjoins the master bedroom. The sitting room features pecky cypress beams and more abstract artwork by Amanda.
The private space also offers a place to watch television, and Amanda uses the room as an office, where she creates design boards for clients, and a workout room.
The master bath includes a free-standing soaking tub, two vanities, marble countertops, a chandelier and a walk-in tile shower with a pebble tile floor and walls that mimic shiplap.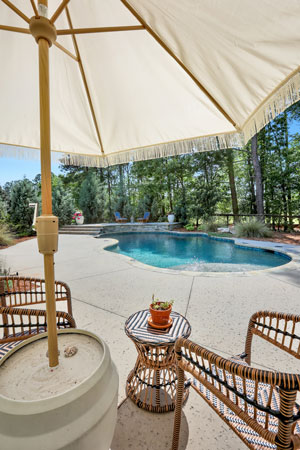 In the summer, the Pierces spend a lot of time on the back porch and around the pool, which features a pebble tech bottom and a tanning ledge. The deck and ledge are made of salted concrete, and they drew out the shape of the pool with a specific goal in mind.
"We wanted to have a small pool so it would have a natural spring look," says Amanda.
They use the copper kettle fire pit in the backyard year-round to burn yard clippings or to gather around the flame, and there's no place Jamie would rather be than their outdoor living space.
"It's so peaceful out here," he says.
By Betsy Gilliland