This DIY couple loves to refurbish and redecorate, but they never stray far from their roots in their Harlem home.
For Crystal and Rodney Hall of Harlem, everything old is new again. Many of the furnishings and décor in their farmhouse home are treasured family heirlooms. Otherwise, Crystal says, "Almost everything in this house is from a thrift store. I love decorating and changing things, so I don't want to spend a lot."
The condition of the furniture when they get it doesn't matter. Crystal has a knack for refinishing and painting furniture, so the pieces in the house, where they have lived since 2018, look brand new – or have the perfect vintage look.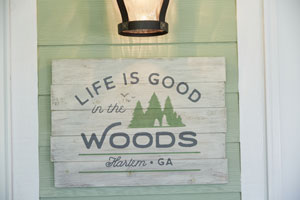 Crystal, who was raised on a North Carolina farm, comes by her thriftiness honestly.
"Growing up in the country, my mother never got new things. She just got a can of spray paint and painted everything," she says.
And she still hasn't left country living behind. The Halls' house is tucked back in the woods on a 10-acre piece of land where they raise chickens with names like Buttercup and Chick-fil-A and enjoy their pond – which was a must-have when they were looking for property to build their forever home.
"My mom says I'm reliving my childhood," says Crystal. "This is the third house we've built, and I said, 'This is it.'"
Sitting Pretty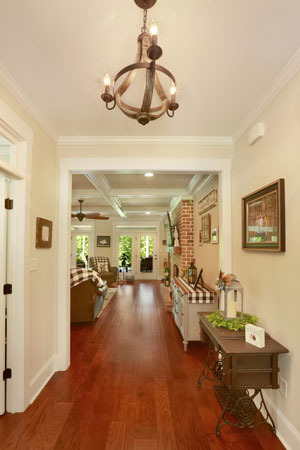 The Halls, who have been married for almost 31 years after meeting on a blind date, wanted to build a one-story home, and Crystal found the house plans on Pinterest. In fact, she found so many things she liked on Pinterest that the builder eventually told her to stay off the site.
"We were going to downsize, but we ended up with the same square footage because we expanded the rooms," says Rodney.
They have filled their space with plenty of country charm, but Crystal redecorates every three years or so. When she's ready for new look, she sells their furnishings on Facebook Marketplace. However, she still gravitates to farmhouse décor, an affinity that begins with the welcoming front porch that invites people to sit awhile and enjoy the back-to-nature setting.
The front porch features a beadboard ceiling, stamped concrete flooring, a floating faucet water fountain, hanging baskets overflowing with ferns, more plants with colorful blooms, a black distressed chest, a front porch swing and two black rockers.
"The rocking chairs are my pride and joy," says Crystal. "They belonged to my grandparents."
Overlooking their pond, the back porch is just as relaxing. This covered porch features a beadboard ceiling, stamped concrete floor, a ceiling fan, recessed lighting and a fountain made out of driftwood. They have wicker furniture on the porch, and a tic-tac-toe board on the table is always ready for a game.
"Every morning I have coffee on the porch and watch the deer and listen to the hummingbirds," says Crystal. "This is my spot."
They also see and hear wildlife such as a red fox, red-headed woodpeckers, possums, hawks, owls and frogs in the pond.
One sign on the wall says, "Life is good in the woods," while another reads, "Welcome to the patio, where memories are made and worries are few." A small plaque that says "Farm Sweet Farm" is nestled in a cotton ball wreath on the wall.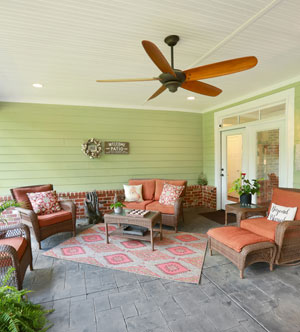 "We love our covered porches. No matter what the weather is, we can use them," says Rodney.
He isn't one for slowing down often, however. "I'm in the woods all the time doing something. Or I'm mowing grass, spraying weeds or fixing what's broken," he says.
He also likes to tinker with his 1967 Chevelle show car, which has its own enclosed bay in the three-car garage.
"The car stays in its own museum. We dated in that car. We had our first kiss on the bumper," Crystal says. "When we were building, I told Rodney he could have his three-car garage as long as I got my back porch."
Slices of Nostalgia
While the porches are the perfect places to sit outside and enjoy the surroundings, the Halls have plenty of mementoes inside to blend their family histories with the life they have built together.
In the front hallway, a vintage Singer sewing machine cabinet, which belonged to Rodney's great-grandmother, lines one wall. Made of wood and cast iron, the cabinet still has the sewing machine in it.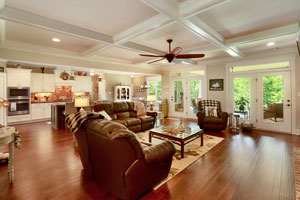 A diamond-shaped wreath hangs from the top rung of a tobacco ladder in the corner. Engineered hardwood flooring, which runs through most of the house, leads from the hallway into the family room.
The brick fireplace in the family room features a raised hearth and a mantel that was made from an 1850 farmhouse in the North Carolina mountains.
Crystal found the coffee table and end tables at a thrift store. "The coffee table was from the '70s," says Rodney. "You know how ugly everything was in the '70s. I sanded it down and repainted it."
Black and white buffalo-checked pillows and blankets add a decorative touch to the family room furnishings. A black and white buffalo-checked runner tops a chest as well.
The lamp on a distressed demilune table, which Crystal found at an online yard sale, belonged to her great-great aunt. A strand of decorative beads lies on the tabletop, and a cotton wreath hangs from the drawer hardware.
Slices of nostalgia in the room include a tobacco basket atop a curio and a gumball machine on a stand.
The family room also features a coffered ceiling and two sets of double doors that open onto the back porch.
"I wanted the whole wall to be made up of doors or glass, but it was too expensive," says Crystal. "We just wanted a pretty view so we could see the pond."
A wooden sign with the coordinates of the house hangs on the wall by the back doors.
Even though it doesn't work, a guitar that belonged to Rodney's great-grandfather is on display in the family room as well. He keeps another functioning guitar in his office.
"I just piddle on the guitar," he says. "I decided at age 45 I wanted to learn to play."
Mix and Match
The adjoining kitchen includes a granite countertop on the island and leatherette granite on the perimeter countertops, a corner pantry, a farmhouse sink and a coffee bar that overlooks the front porch.
A sign that says, "Fresh Eggs," leans against the brick backsplash above the cooktop, and a wire basket full of fresh eggs sits on the island.
"We have lots and lots of fresh eggs. Anything you can do with eggs, I can do," says Crystal.
Her favorite egg dish is quiche, and Rodney's is "my breakfast."
Every morning during his commute to Aiken he has a ham and egg tortilla wrap. "Coffee and a wrap, and I hit the road," Rodney says.
A pair of antique red roosters on top of the kitchen cabinets were a gift to Crystal from her mom, and her 100-year-old grandmother gave her the rooster on the floor by the hutch in the eating area.
They took the glass out of the hutch, which is filled with knick-knacks ranging from china and more decorative chickens to blue eggs in a bird's nest and a vase filled with greenery.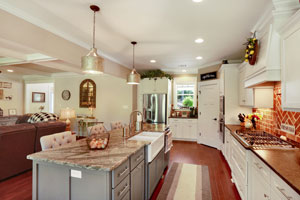 "All the little things in the hutch are mix and match. I've picked them up here and there," says Crystal.
The Halls have framed photos of all four houses where they have lived, complete with their addresses and dates of residence, on a wall in the eating area.
Blinds cover the eating area windows that overlook the backyard and the pond, but they never close them. "We have no curtains in the entire house," Crystal says.
They wash their eggs in the laundry room sink, and the shiny tile floor offers an optical illusion. "We thought the floor would be slick, but it's the opposite," says Rodney.
They bought the washer and dryer with their second house, where they lived from 2004 until 2009, and Rodney has completely rebuilt the washing machine.
"There's nothing Rodney can't fix, so I don't get anything new," Crystal says.
Animal Farm
Well, almost nothing is new.
They bought their master bedroom furniture at a good price from a serviceman who had never used it. "It was brand new," says Crystal. "It still had the tags on it."
The rocking chair in the corner of the room belonged to Crystal's mother. "She rocked both of my children in it," says Crystal. A large vase on the floor is full of peacock feathers that came from birds raised by her late father.
Draped with a strand of decorative beads, a full-length oval cheval mirror occupies another corner of the room. Crystal refinished the desk in front of the windows, and a birdcage full of slender branches sits on top of the chest.
The adjoining master bath features tile flooring, granite countertops, double sinks, a separate vanity and a tile shower. A butterfly, which Crystal's great-great-great grandmother crocheted, hangs in a frame above the garden tub.
The guest bath features a leatherette granite countertop and tile flooring. "We wanted the old farmhouse look, so we picked the black and white tile," says Rodney.
In the guest room, a quilt stand holds a quilt that Crystal's grandmother made for her.
"If this house ever burns down, that's the first thing I would grab," Crystal says of the quilt. "She put all of my farm animals on it. That quilt was on my twin bed when I was little."
In addition to their collection of 32 chickens, which includes five roosters, and their Maltipoo, Sophie, the Halls' menagerie of real animals features a rabbit, Ollie; one Tom Turkey and his girlfriend, Butterball. They also are adding pasture for four baby goats.
Their chicken population is made up of silkies ("They're my favorites. They're docile and sweet," says Crystal.), Laced Wyandottes, a Blue Andalusian and four Golden Comets. "I call them my Golden Girls," Crystal says.
She says caring for chickens is easy. "Water every day, feed and collect the eggs," she says. "They all have different personalities."
Rodney built the chicken coop, which features a tin roof on the henhouse, and the egg boxes. A sign on the coop states, "Pampered Chickens Live Here."
To pamper themselves, the Halls have a hammock by the pond, where they keep their mini pontoon paddle boat at the dock. Two red Adirondack chairs by the pond flank a table that Rodney made by bolting a wood tabletop to a stump in the ground. The tabletop came from a pine tree that he cut down in the front yard.
"There's nothing like country life," Crystal says. "When we commute from work, we feel like we're never going to get home, but once we do, it's like, 'ahh.' It's worth it."
By Betsy Gilliland