A Grovetown couple loves to see their home improvement and refinished furniture projects – for themselves and others – come together.
It all started with the round table in the corner of the living room. When Kristen Kennedy went out of town one weekend on a girls' getaway, her husband, Eric, refinished the table to surprise her when she returned to their Grenelefe Park home. He has been refinishing furniture ever since.
"I come up with ideas, and he is good at helping me make things happen," says Kristen. "I follow a lot of Instagram accounts of interior decorators and get ideas, and Eric supports them."
When she has an idea, though, she needs to be sure it's what she wants before she mentions it to Eric, who is director of campus facilities at Stevens Creek Church and studying to be a pastor. "If I go out of town for a week, it will be done when I come home," Kristen says.
His wife is not the only person who benefits from his skills, however. Eric also has a side business called Distressed Kennedy in which he refinishes vintage furniture. People find out about his work by social media or word-of-mouth, and he posts pictures of refinished pieces on Facebook.
"I used to buy old furniture, paint it, flip it and sell it," he says. "Now people bring things to me to be refinished."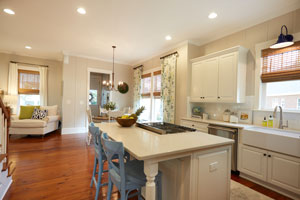 Secret Sauce
The Kennedys' Grovetown home, where they have lived for 3.5 years, is full of their handiwork as well. They fell in love with the neighborhood after Kristen's parents moved there. When all of them would go to the neighborhood, which once was a horse pasture, to check on the progress of her parents' home before they moved in, the Kennedys saw their current house on the market.
"The house was dark inside, but it had good bones," says Kristen, a warranty and business analyst for Electrolux.
With its blue siding, wood front door, thin white columns on the front porch and brick walkway, the exterior offers plenty of curb appeal.
"It was a pretty house, but we knew some things we wanted to do to it," says Eric. "We had a vision for how we wanted it to come together."
They removed the banisters from the front porch, which now features two black rockers, a black porch swing and a pair of ceiling fans.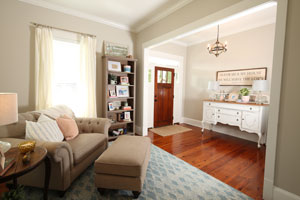 The interior of the home profited from their talents as well. The house originally had a wall between the dining room and the reading room, but the Kennedys opened up the space by putting a cutout with decorative distressed corbels in the wall.
In the reading room a footstool and an oversized chair, one of their first big purchases when they bought the house, sit next to a round end table. "Eric put Liquid Gold on the table to restore the wood," says Kristen. "That's his secret sauce."
Framed artwork by sons Cameron and Christian add pops of color to the bookshelf. A metal sign with an inspirational quote – "Today is a good day to have a good day" – is a reminder of a trip the Kennedys took to Waco, Texas three years ago. They got the sign by Jimmy Don Holmes, whose work has been seen on HGTV's "Fixer Upper," at his JDH Iron Designs shop. (And yes, Eric surprised Kristen with the trip for her birthday.)
On opposite walls of the dining room, two high, square, ledged windows bring light into the space. Eric put an antique walnut stain on the wooden dining room tabletop to match the floor, and an antique gold light fixture runs parallel to the table. In the china cabinet, Kristen mixes her grandmother's china with newer dishes.
The wide foyer is home to a white chest that Eric refinished. "We bought it to sell it, but I wanted to keep it," Kristen says.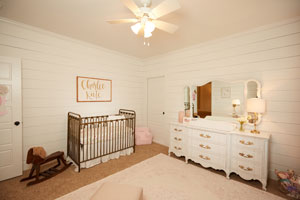 Earthy Tones
Remodeling the kitchen last summer, they changed the direction of the counters and replaced the black granite countertops with white quartz. They added a pantry and a new island, and Eric and Kristen's father installed the white subway tile backsplash. The kitchen also includes a fireclay farmhouse sink – "It's more durable and stain-resistant," says Kristen – and a blue light above the sink. They painted the two chairs at the island blue as well.
"I like neutrals, but I added earthy tones like blues and greens and yellows," Kristen says.
They also added trim on the walls of the kitchen, which opens to the living room, to create separation between the two spaces.
The microwave is hidden in the pantry, which features sliding drawers, dividers for cookie sheets and a sliding cabinet for spices.
Eric painted and refinished the kitchen table and chairs, which he found by the side of a road. He also painted the high chair, which he found on an online yard sale, for their daughter, Charlee Kate.
The adjoining living room features a brick gas fireplace, a flat screen TV above the stained pine mantel, a leather sectional sofa and a grouping of family photos on one wall. Eric distressed the coffee table and a round table between the fireplace and an oversized chair.
"We love the living room. It's big enough for all of us," says Kristen. "We're all in here together at night."
The nearby powder room features a pedestal sink and shiplap walls – another surprise from Eric for Kristen after an out-of-town trip.
With elements of yesteryear, the house features 10-foot ceilings. The wood flooring throughout the first floor, except for the master bedroom, is a soft pine that came from a sawmill in Virginia.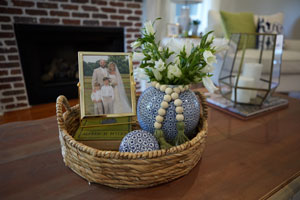 Décor to A-Door
Six-paneled doors also are featured throughout the interior of the house, but other doors have moved from one spot to another.
For instance, the swinging, six-paned, wood door from the hallway to the kitchen originally was the back door to the house.
Which meant that another door was needed for the rear of the house, and Eric found the perfect one in downtown Augusta. The back door came from a 115-year-old house that was built for employees of J.B. White, when that building was constructed downtown. The door features a large window, ornate carvings and a turnkey antique doorbell.
"I drove by one day and saw that the right side of the house was gone," says Eric. He called the company that was demolishing the house and asked if he could have the door, which he refinished and painted.
Another door, along with a screen door, in the master bedroom leads to the front porch. "It has grown on us," says Kristen. "The boys wait for the bus by the door."
The bedroom furniture was their first major purchase after they got married, and an old barn gable hangs on the wall above the bed. "I got the gable in a trade for refinishing a piece of furniture for someone," says Eric.
On a bedroom wall, a chicken wire bulletin board holds invitations to their rehearsal dinner and 2014 barn wedding in Appling, along with their wedding program.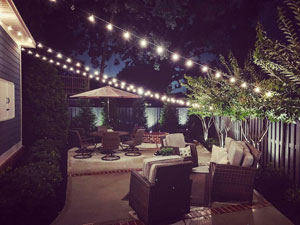 Multi Makeovers
More mementoes can be found in a gold and glass keepsake box in Charlee Kate's nursery. The box holds baby spoons that belonged to Kristen and her mom, a piece of a pink golf ball from her gender reveal party, a rattle, Kristen's baby brush and a cross necklace that Kristen's mother gave to Charlee Kate.
Kristen's old rocking horse is in the room, along with a stack of her childhood Golden books and a framed picture of her favorite Bible verse – Jeremiah 29:11.
The nursery also feaures shiplap walls, painted bookshelves and pink and white buffalo-checked, blackout curtains. "As she gets older, we can add pieces to her bedroom furniture," says Kristen.
An added wall upstairs turned a space into another bedroom, and the Kennedys gave their backyard a makeover as well.
They used to have giant hickory nut trees in the backyard, but after a day of raking, they realized they wouldn't be able to enjoy the yard. So, they took down the trees and created an outdoor living oasis. It's the perfect spot to grill out, roast marshmallows for s'mores over the gas fire pit and watch football games on a 65-inch, flat-screen TV mounted in a wood cabinet on the carport wall.
The fenced-in outdoor living area also features Adirondack chairs around the fire pit, wicker furnishings and a round umbrella table with swivel chairs beneath a pergola. Eric planted crape myrtles, hawthorns, hydrangeas and the confederate jasmine that climbs up the columns of the pergola. The strands of lights that are strung across the outdoor living space were part of their wedding décor.
"We love it out here, especially in the fall when it's not so hot," Kristen says.
The carport has become an extended entertainment area, and Eric uses the covered space to work his magic to refinish furniture. It's fitting that he does his work in the open space because he can't seem to keep his projects hidden from Kristen for long.
"He's full of surprises, but he can't wait to give them to me," she says. "I always get them early."
By Betsy Gilliland