When it's time for a little R & R, houseboat owners feel at home on Clarks Hill Lake
For some people, Trade Winds Marina in Appling is a great place to dock a boat. For others – particularly those who keep houseboats at the marina – it's a home away from home. And the weekends, if they can wait that long, can't get here fast enough. 
Living on Autopilot
James "Buzzy" Mims of Evans has been going to Clarks Hill Lake since childhood. In more recent years, he spent a lot of time at the lake on a friend's houseboat. A decade ago, he finally decided to get a houseboat of his own. 
"I just love the water, and you have so much room on a houseboat," says Buzzy. "I love going out at night and sleeping on the lake and floating around."
Buzzy owns Richmond Industrial Machine, a company that makes parts for machines in the baking industry, and he always has been mechanically inclined. So when he bought his houseboat, he put his skills to good use.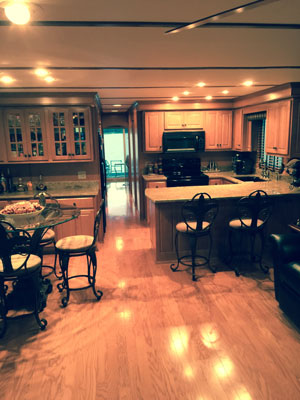 He quickly got to work customizing the boat with lots of automated features. The houseboat has an extra 25-gallon tank supplying purified water to the refrigerator and ice makers; a water refill assist system that fills all tanks in sequence without having to flip valves tucked in out-of-the-way places; and a flip-out beach ladder on the underside of the bow. With the push of a button, Buzzy can change the engine and generator oil. If the power goes out or if there's water in the hold, a device sends Buzzy a text message to let him know. 
"If I was to fall off the boat, it would come find me," he jokes. 
The houseboat has a stereo system, and its weather radar system reaches out 24 miles. Buzzy also can enter his desired destination into an automatic pilot system. Of course, what good is the autopilot system if you can't have a little fun with it?
When he has a floating party on the lake (with or without a live band), one of his favorite tricks is to ask someone who has never been on a boat – there's always someone – to do him a favor. He'll just ask the guest to take the steering wheel and drive the boat for a moment. Who could turn down such a gracious host? However, Buzzy says, "I'm actually driving the boat with the remote control in my pocket."
He also neglects to tell his temporary skipper something he learned in a hurry.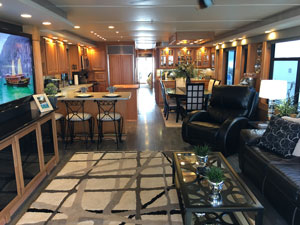 "Houseboats are very difficult to drive. It takes a lot of time to learn and a lot of nerve. For the first year, nobody talked to me when I was driving. It took two years for me to feel comfortable driving the boat," says Buzzy. "Some people have houseboats but never drive them. I just love it. I love the challenge."
The houseboat, which is 16-feet-by-70-feet, features four bedrooms, two full baths, a kitchen, a den and an upper deck that covers the full length of the vessel. Buzzy has worked his magic in those areas as well. 
The boat originally had carpeting, but he replaced it with oak wood flooring. He put granite countertops in the kitchen, and maple wood can be found throughout the boat as well. 
Buzzy made the custom steering wheel on the lower helm out of black walnut, and even the wood has a story. The lumber had been in his family for about 200 years, and he also used it to build a walnut instrument panel to replace the standard black panel.
"The wood belonged to my great-grandmother. Her parents gave her the boards as a wedding gift to make bedroom furniture, but they never did," Buzzy says. "The wood was passed down in my family, and I finally did something with it." 
On the upper deck, an auto-tracking HD satellite system lets people watch TV on any of the numerous flat screen TVs onboard. One of those televisions – the 48-inch TV on the top deck – swings up into a lockable, Buzzy-designed enclosure so that it's out of the way when not in use. The upper deck also includes a covered area with two ceiling fans and a grill.
Buzzy spends as many weekends as he can at the lake, and he spends most of his time on the houseboat on the upper deck. 
"We go out year-round. We just don't swim year-round," he says. "We'll tie it up on the beaches and stay for the weekend."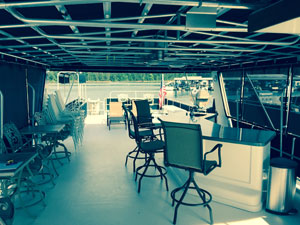 So naturally, he needed to make the boat as comfortable as possible for the hottest and coldest days. Buzzy spent two-and-a-half years adding a bow enclosure to the front deck. He designed and built the walls, individually fabricating each wall panel to size. He milled out the windows and carefully bolted them into place. Since no detail is too small to overlook, he also fabricated in-house all of the hardware such as doors, handles and hinges.
"For 10 years of my life, I've spent almost every weekend on this boat. It's the best investment I've ever made," Buzzy says. "It's a lot of fun, but it's a lot of work. It's a labor of love." 
For about six years, the houseboat only lacked one thing – a name. "It was the boat with no name forever," says Buzzy. 
One night when he was watching a baseball game, however, the announcer said, "See ya later," after a batter hit a homerun. "That was it," Buzzy says. He christened his boat "Sea Ya Later."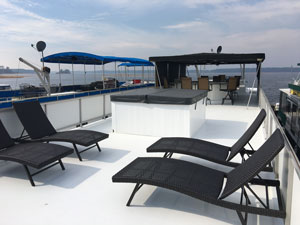 Hot Tub to Hot Spot
While Buzzy might be ready to "Sea Ya Later," for two more houseboat owners, Blake and Kenley Clark, the "Sky's the Limit."
That name came with the 17-year-old, 16-foot-by-90-foot houseboat they purchased about a year ago, and they decided to keep the moniker.
"The previous owner was a helicopter pilot," says Blake. "But if you think about it, it can mean a lot of other things, too." 
The name certainly could apply to the amenities in this three bedroom, two bath houseboat. The vessel is energy efficient, and Blake and Kenley can control the lights and air conditioning with their cell phones. The boat also has cameras everywhere.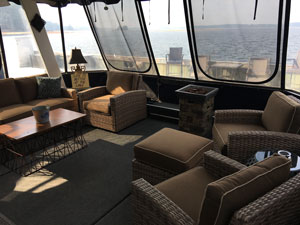 "From my cell phone, I can see what's going on all around the boat," Blake says. "The cameras make sure everything is safe."
The boat also features a hot spot for cellular service, so they can watch television without satellite or cable out on the water. "We're never disconnected," says Blake.
Wood flooring covers the cabin, galley, dining area, baths and hallway, and the boat also has a full-sized washer and dryer. "Most boats don't have room for them," says Blake. "Others will have mini stackers."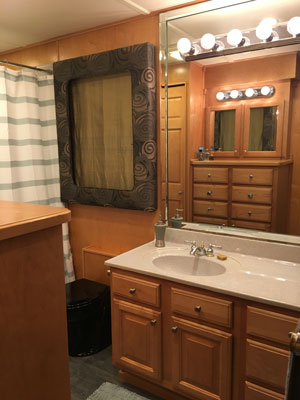 The large, U-shaped kitchen features a center island, Corian countertops, a double oven, an industrial-size Sub-Zero refrigerator, a trash compactor and a microwave. A fountain on the bar has five different buttons that let thirsty passengers select their drink of choice.
A custom entertainment center with a 60-foot flat screen TV, a leather couch and chair, and a dining table with six chairs can be found in the cabin. A bed for their three dachshunds – Noah, Eli and Maggie – is tucked in the corner of the space, but the seasoned sea dogs also have the run of the boat. 
The master bedroom includes a ceiling fan and three walk-in closets. The master bath has a full-size jetted tub/shower, and the doors in the boat, which includes a front deck enclosure, are all solid wood.
Although Blake and Kenley live in Augusta, they spend about 70 percent of their time on the water. "We usually have something going on every weekend," says Blake. 
The top deck is the perfect spot to entertain. This 24-foot party area includes a 55-foot flat screen TV, screens, lights, a stereo, a hot tub and a covered wet bar with a ceiling fan, sink, refrigerator, ice maker, wine cooler and stainless steel grill. 
They like to jet ski, relax, entertain friends and beach it on the islands in the lake. As much as they love the time they spend at Clarks Hill, it isn't purely for pleasure. Blake and Kenley started renting their Augusta home to patients at the Georgia Cancer Center more than two years ago. Since they started renting their house to cancer patients, they have spent the majority of their time living on their houseboat.
 "We rent the house for six, eight or 10 weeks at the time. It has been pretty constant," Kenley says. "We don't do it to make money. We do it for cost."
He also likes the rural feel of Clarks Hill, even though it is so close to Augusta. "It's sad that more people don't take advantage of the lake," says Kenley.
Buzzy agrees. "This is one of the area's best kept secrets," he says.
By Sarah James