With a mix of farmhouse and contemporary décor, along with pieces from the past, an upbeat family finds its rhythm in their Bartram Trail home.
When Evans residents Jamie and Dennis Sidener discovered their Bartram Trail home almost two years ago, they knew it struck just the right note for their blended family.
"I found the house when I was driving through the neighborhood and saw that it was for sale," says Dennis. "The house had been sold, but we made a counteroffer. A couple of days later, the house was back on the market."
At the time the Sideners were living in the Jones Creek patio home where Jamie and her daughters, Hannah Kate and Molly Mulanax, had moved after her first husband passed away in 2016. When Jamie and Dennis got married in 2019, they quickly realized that the patio home wasn't big enough for a new husband and his daughters, Gracie and Preslie.
They started house hunting, and Jamie, the music teacher at Stevens Creek Elementary School, says there was one key feature she needed to live in harmony in a new home.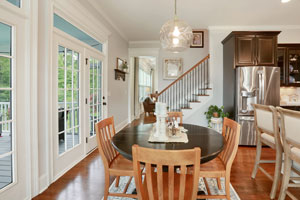 "We had to have a big, eat-in kitchen with a large island and double ovens so we can accommodate our families," she says.
The kitchen in the Bartram Trail house was perfect, except for the black cabinets that left Jamie unimpressed when she saw them online. She changed her tune, however, once she saw the house in person. Consequently, the house didn't stay on the market again for long – and the cabinets are still black.
Farmhouse Feel
While black cabinetry initially may not have been her style, Jamie had plenty of ideas to put her imprint on the house.
"I've always liked to mix farmhouse and modern pieces," she says. "I don't like homes that are perfectly curated. I like things that tell a story and give a house texture and warmth and comfort."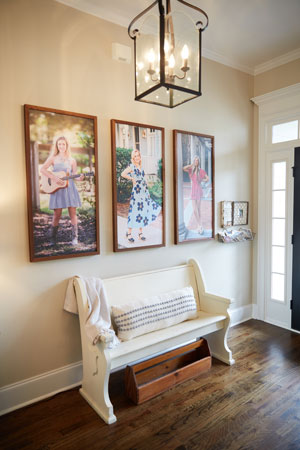 Every nook and cranny of the house seems to share their story in one way or another. For instance, the home is filled with farmhouse pieces that Jamie brought from her native Kansas when she and her family moved to the area in 2005.
The old church pew in the foyer came from her home church in Lawrence, Kansas. "When they remodeled the church, they got rid of the old pews," says Jamie. "I had it cut down, and I painted it."
She filled a wire basket on the wall with black-and-white family photos. The snapshots include a picture of her parents, an old photo booth picture of her grandparents, a 1940s-era image of her mother as a little girl dressed in overalls and a picture of Jamie as a young girl in a Winnebago with her father and siblings.
In the dining room, Jamie loves to set the table with her grandmother's gold-rimmed, 1940s Blue Willow china. A small bride-and-groom cake topper that Jamie's grandparents used at their wedding has a place of honor in the china cabinet.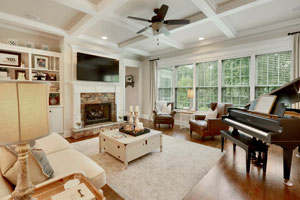 "I don't want my house to look like a granny house or to be full of knick-knacks, but I like to use one or two special things," Jamie says. "Most of my things are old, family pieces. I'm not a 'go into a store and buy something new' kind of girl."
Highlighting Jamie's musical background, an old French horn and a violin case rest on top of the china cabinet. While she plays a variety of instruments, she primarily is a pianist and a vocalist. She also performs in community theater productions with Augusta Players and Fort Gordon Dinner Theatre.
Architectural features in the dining room include a high chair rail, a trey ceiling and a column that provides separation from the foyer and the den.
All About Authenticity
A coffered ceiling, a built-in bookcase and a gas fireplace with a raised stone hearth add definition to the adjoining den. A collection of old-fashioned keys hangs from the fireplace screen, and more keys are piled in a small white dish.
Jamie's affinity for keys dates back to her college days as a Kappa Kappa Gamma, which has a key as its symbol, at Kansas State University.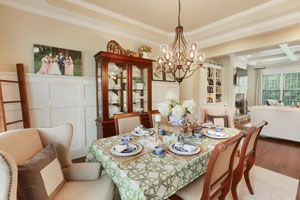 Even though she's not in Kansas anymore, Jamie has filled the home with treasures from her home state, such as the coffee table in the den. While the table, originally a chicken egg incubator, is used for storage now, it has served other purposes.
"It has been several different colors," Jamie says. "It's so sturdy. You can't hurt it. My girls have been involved in fine arts and theater, so it's also been a stage. We would clear it off, and they would do little shows."
An old farmhouse door, another find from Kansas, leans against the den wall, and Jamie centered a wreath, which she made by rolling hymnal pages into cone shapes, on the door.
"My farmhouse pieces are real. They're authentic. They have true peeling paint," Jamie says. "I used to go to flea markets and estate sales in Kansas. In the '90s, these things were cheap."
However, the focal point of the room is a 1929 Vose & Sons piano. Jamie, who comes from a "long line of musicians," received the piano in 2000 as a Mother's Day gift from her late husband.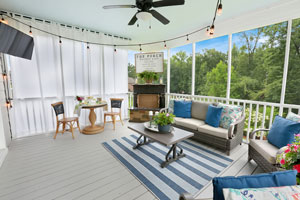 "It hasn't been refinished. I like the patina on it," she says. "I love that it has been around for almost 100 years. So many people have played it and loved it and learned on it."
Jamie teaches piano lessons to neighborhood children about two afternoons a week – something she has done since 1995.
"My parents gave me an upright piano as a college graduation gift," she says. "They said, 'If all else fails, you can teach piano lessons wherever you live.'"
Old hymnals and music books that belonged to Jamie's grandmother, who played the piano and organ, are stacked on the bookcase, and the volumes are filled with her grandmother's handwritten notes.
Although he prefers to be outdoors fishing in local bass tournaments at Clarks Hill Lake or golfing, Dennis says the den is his favorite spot in the house. He likes to watch TV there, but he says, "I'm usually either in the yard or with my fishing lures in the garage."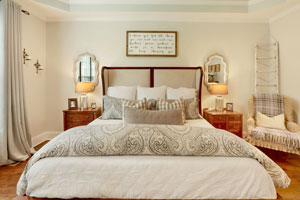 In Fine Form
The master bedroom features a trey ceiling and mix-and-match furniture. Two pictures of Japanese silks, which Jamie's grandfather brought back from Japan after World War II, hang on a wall.
The adjoining master bath features granite countertops, tile flooring, double vanities, a walk-in shower and a jetted tub. Jamie built a shelf for the tub out of an old piece of wood that she stained and attached handles on each end.
"I know my way around some power tools," she says. "If I can't find what I want, I figure it out. I don't like to pay people to do things I can do for myself."
Two of the most functional rooms in the house – the kitchen and the laundry room – are in fine form as well.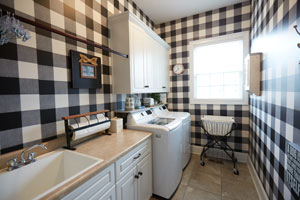 A custom-made pinewood cabinet is tucked in the corner of the kitchen, and it is filled with white dishes, including vintage Delta Airlines pieces that Jamie picked up at garage sales. Two pendant lights hang above the spacious island, and the backsplash features quatrefoil tiles. Jamie displays more Blue Willow china in glass-front cabinets.
The adjoining breakfast area features a round table and four chairs. As part of the centerpiece, Jamie wrapped pages from a copy of Pride and Prejudice around a pair of pillar candles and tied them with a piece of twine.
She wallpapered the laundry room with a pattern featuring black-and-white buffalo checks. "That was a lot of blood, sweat and tears," she says. "This is probably the only laundry room I will ever wallpaper."
Of course, the laundry room has the requisite washer and dryer, but Jamie also stores more of her quirky treasures in the space.
A retro medicine cabinet, another flea market find, hangs on the wall, and Jamie also keeps an authentic vintage packing paper dispenser from a general store in the laundry room. She has had the paper dispenser since the 1990s, and through the years the newsprint has been used for everything from table covers to the girls' school projects.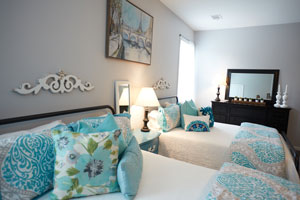 The Sorority House
One of Jamie's prized possessions is the baptismal dress, bonnet and bloomers that her daughters wore when they were christened. Her mother embroidered the girls' names and baptism dates on the bloomers, and Jamie arranged the clothing in a shadow box with a piece of pink toile fabric in the background. She put the shadow box in an antique white frame that she found at a garage sale.
The frame hangs by the staircase that leads up to a TV room and the girls' bedrooms. The Sideners fittingly call the second floor the "Sorority House," and like a good, 21st-century mom, Jamie texts the girls – sometimes days in advance – when she is venturing up to their turf.
The TV room features a gallery wall of family photos. "We took pieces of my past and Dennis' past and our daughters and put them all together," says Jamie. "It's chaotic and messy like our family."
Tucked in the corner of Molly's bedroom is a large architect's desk that belonged to her paternal grandfather. "He is a retired architect," says Jamie. "This was his drafting table when he was in college and first got started."
All four of their daughters are dancers, and in Gracie's room, two frames hold pages from a French magazine, Noir Et Blanc, that feature ballerinas. Jamie bought the magazine from a street vendor during a family trip to Paris in 2012 and had the pages custom framed.
The white dresser and bed in Preslie's room belonged to Jamie's late husband's grandmother, and Jamie picked up the full-length mirror on the side of the road.
"I've always had to figure out ways to make things work," she says. "I get things off the side of the road. If someone offers me a hand-me-down piece of furniture, I never turn it down."
Bucket List
The screened-in back porch, where they spend a lot of time, offers a view of the woods behind the Sideners' house. "One of the reasons we love this house is because we feel like we're in the trees," says Jamie.
Two strands of string lights extend from wall to wall, and a wicker bistro table with two wood chairs accents one side of the porch. Along with the kitchen, the porch is Jamie's favorite spot in the house.
"The screened porch is so peaceful. I'll have my coffee out here," she says. "And the kitchen is where everyone gathers. I love to cook, and I love to eat. I love to style tables and food."
Jamie likes to prepare themed meals such as taco night and, of course, pimento cheese sandwiches for the Masters. She insists on fixing Dennis' plates so she can style the food.
"I want it to look like restaurant food," she says. "I'm a table setter. If you have it, you should use it."
Since the back porch doesn't have a fireplace, the Sideners improvised. They put a vintage mantel in the corner and placed a firepit in front of it.
A wall art sign, featuring "The Porch Bucket List," hangs above the mantel. The list includes read a book, watch the sunsets, visit with friends, enjoy life and make memories.
That's just what the Sideners intend to do – whether they are home alone or they have a house full of family and friends.
"We look forward to having grandkids in this house," she says.
By Sarah James