With rabbits and roosters, buffalo checks and bargains – with emphasis on the bargains – the décor in this home in The Locks reflects the warm, welcoming, French Country style of a Martinez family. 
Featuring sunny yellow walls, brightly painted furniture and whimsical accent pieces, the Martinez home of Kim and Steve Schultz in The Locks is the perfect setting for a nonstop parade of people – particularly little boys. Kim and Steve are the parents of 6-year-old Jack, and Steve's three adult children from a previous marriage have blessed them with six grandsons that are near Jack in age.
"We always have a house full of little boys," says Kim, "so we can't be too high maintenance."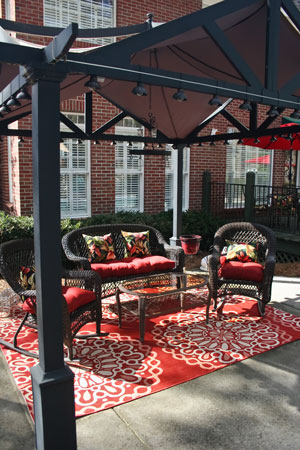 Savvy Shoppers
Through bargain hunting and DIY home projects, the Schultzes have been busy decorating their home, which was built in 1999, since they bought it a little more than a year ago. The original owner was a builder who included features such as heavy crown molding, columns, transom windows above the doorways and oak hardwood flooring in the construction.
"The guts of the house were good, but it needed to be updated," says Kim, who knew she wanted the house as soon as she saw it.
They replaced light fixtures, door knobs and faucets, and Kim started creating a rustic, farmhouse look with French Country décor.
"The house has a classic look to it. That's what I like," she says. "I want my home to be warm and inviting. I want people to feel like they can kick their shoes off and be comfortable."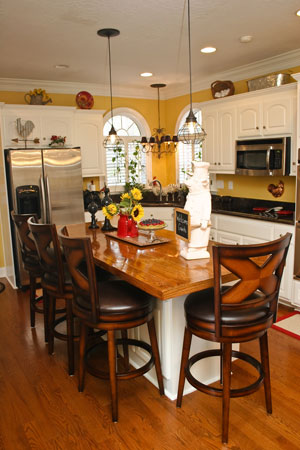 They kept the butcher block island in the sunny yellow kitchen. However, they replaced a ceiling fan above the island with a wire pendant light and added a matching light above the other end. The kitchen also features granite countertops and stainless steel appliances.
Arched windows surround either side of the corner sink, and rooster chandelier, which Kim found on the Augusta Online Yardsale Facebook page, hangs above the sink. A decorative rooster sits on the counter behind the sink, while more roosters hang on the walls or sit atop the cabinets.
A canvas of a rooster hangs on the wall in the adjoining breakfast area, where black-and-white buffalo check drapery panels stand out against the yellow walls. Kim also refinished a white chest in the breakfast area. "I like to refinish furniture," she says.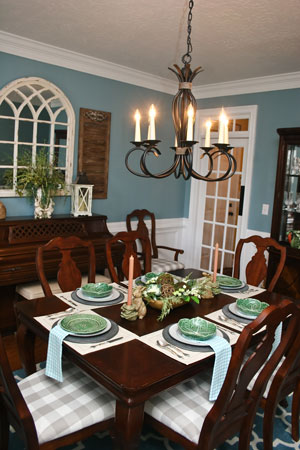 The French Country décor extends into the dining room, which is connected to the kitchen by a swinging door with glass panes. While roosters strut their stuff in the kitchen, rabbits rule the roost in the dining room. "I'm slightly obsessed with rabbits," says Kim. "I've always loved them."
The décor includes rabbit candlesticks on the dining room table, a lamp with a rabbit base on a small chest with glass doors, a greenery-filled rabbit vase on the piano and a rabbit atop the china cabinet. The window treatments in the dining room feature gray-and-white buffalo check panels, and the chairs boast matching fabric. "I'm obsessed with buffalo checks, too," Kim says.
She bought extra curtain panels so she could cover the chairs, and she made the floral arrangement on the dining room table. "If I can do it, I'm going to do it. I make all of my own floral arrangements and wreaths," says Kim. "We do all of our own decorating. I have made curtains out of tablecloths before."
The Schultzes bought the chest with glass doors when they got married 10 years ago. "We do a lot of shopping together. Steve always talks me out of things, and I always regret it," says Kim. 
Not always, however. Kim bought a lot of her "rabbit things" at an old rustic hardware store when they were on their honeymoon in Clayton, Georgia. And in keeping with their happy-go-lucky, whimsical style, Kim says they even got married on an impulse.
"We had planned to go out of town for my birthday on March 4, and we got married on March 1 on a Thursday night at Partridge Inn," she says. "It was a small wedding with our friends and family. We knew we wouldn't have to fight for a venue. Nobody wants to get married on a Thursday night. We turned my birthday celebration into a honeymoon."
Kim also turns to Pinterest for decorating ideas, such as the arched window mirror and shutters on the wall above the piano.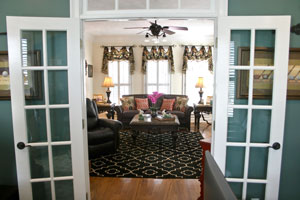 Repurpose and Refinish
The French Country décor – and Kim's love for a good bargain – continues in the living room. She also found the leather couch on the Augusta Online Yardsale Facebook page – one of her favorite shopping spots. "I'm a bargain shopper bigtime," says Kim.
Steve's son refurbished a dresser, which belonged to Steve's late ex-wife, and made it into a TV stand. The living room also includes a wood-burning fireplace, a ceiling fan and double doors to Steve's office, which was supposed to be a formal living room. "He has to have one room in the house," says Kim. "The rest of the rooms are mine."
Steve, who works at SRS, has filled the office with golf memorabilia including a mirror with small golf clubs on the frame, a chair covered in golf-themed fabric and a golf-themed rug. A black distressed desk offers a striking contrast to white built-in bookcases.
Kim, a University Hospital nurse, often has a furniture refinishing project underway in the garage. However, she usually doesn't get started until Jack has gone to bed and she has finished her homework for the online classes she is taking to earn an advanced nursing degree. She redid a chest in a guest bedroom, and she refinished Steve's old desk for Jack's room and painted it blue with chalk paint. "They say you should have something blue in every room," says Kim.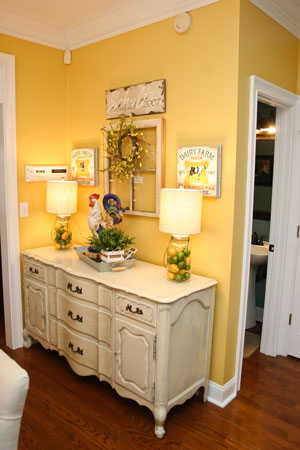 The master bedroom features blue walls and a white trey ceiling. Furnishings include a sleigh bed and a roll top desk, which once belonged to Kim's cousin. "I hate that desk, but Steve loves it," says Kim. "He's a packrat."
Steve's daughter embroidered the monogrammed pillowcases on the bed. "I love the bedroom. It's probably one of my favorite rooms in the house," says Kim. "Some people just use their room to sleep in, but I do not. I love to put on my PJs and watch TV in bed. Steve calls me '24' because I could stay in bed 24 hours a day."
During the summer months, however, the Schultzes spend most of their time by the saltwater pool in their backyard. "Steve's children and grandchildren come over a lot," says Kim. "We do everything as a family."
Seating areas include a wood deck with a red umbrella table and University of Georgia memorabilia, which undoubtedly brings back fond memories for the couple. They first met while tailgating in Athens with mutual friends, but sparks didn't fly until they tailgated with the same group at a Georgia-Florida game. "That's when he charmed me," says Kim.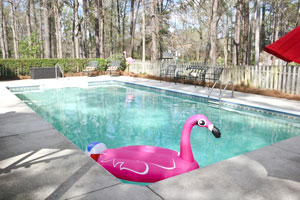 A gazebo covers wicker furniture with red cushions and a red and white rug, and they love the peace and quiet of their backyard sanctuary.
"When you're out here," Kim says, "you don't realize that you're in the middle of a closely built neighborhood."
By Leigh Howard