The combination of vintage and trendy pieces in this Parkington Estates home helps a Martinez family create its own signature style.
In their lines of work, Martinez residents Tracy and Theron Sapp Jr., help other people create their dream homes. So, when they built their house in Parkington Estates three years ago, they put their expertise to good use for themselves.
Theron, who co-owns a construction and site work business with his brother, acted as general contractor during construction. Tracy, who owns a blind and shutter company, relied on her eye for design to showcase her family's personality in the décor. 
And they certainly were willing to change course along the way. For starters, they had no intention of building their own home.
"We were looking for a house to buy, but everything needed to be renovated," says Theron. "We decided that if we could build our own house, we could get what we wanted."
Embracing Change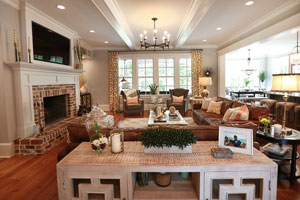 Tracy started collecting furnishings and accessories for their home, which took about a year to build, while it was under construction. "Our entire house was in storage units," she says. "I didn't buy everything at one time." 
By collecting furniture and accessories during construction, Tracy says, they knew what size the rooms needed to be. They also made changes to the house plans during the process, particularly as the structure was being framed. They added a room that doubles as a den and a guest bedroom. In a clever use of space in the walk-in closet in the master suite, they finished a storage area (where Tracy keeps her shoes) under the stairs. "It was going to be walled up and not used at all," says Tracy. 
The Sapps like to make changes to the décor as well. "I want to change things out every two years," Tracy says. "He's the same way, so that's good." 
Despite their affinity for change, the house has some design elements that are consistent throughout the house. Pine flooring covers the first floor, and the downstairs rooms feature cove crown molding and 12-inch baseboards. The double front doors lead to a wide foyer and a wide stairwell.
"Our hallways are a little bit wider than usual. It makes the house feel bigger," says Tracy.
The home also features 10-foot ceilings and six-panel doors downstairs as well as nine-foot ceilings and five-panel doors upstairs. In addition, Tracy says, "We have Bluetooth capabilities and surround sound. Every room downstairs has speakers, and our patio has speakers."
Small Spaces, Big Ideas
The back patio also features pavers, wicker furnishings and a wood-burning fireplace made of architectural block. "The fireplace was a last minute addition," says Theron. "We wanted a focal point on the patio." 
Suspended strands of socket string lights run from the roof of the covered back porch to posts, which support hanging baskets, on the edge of the patio. The lights turned out to be as functional as they are attractive. "When we put them up, we had no idea they would put off so much light," says Tracy. 
The covered back porch includes an antique heart pine bead board ceiling, recessed lighting, two ceiling fans, a stained concrete floor, two columns and a flat-screen TV. The indoor/outdoor wicker furniture features tables with granite tabletops, and curtains on the side walls shield the space from the sun.
The front porch, which wraps around to the side of the house, boasts an antique pine bead board ceiling. Wicker chairs on the front porch and black rocking chairs on the side porch offer cozy seating choices. Metal awnings top the front porch and bays of the three-car garage. Making the best use of all of their space, the Sapps also use a garage under the house as a workshop.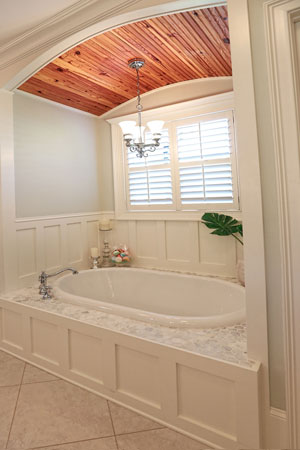 The Sapps employ other big ideas in small spaces as well. They have three barrel ceilings in various spots in the house – the mudroom, the walkway to a half bath and above the standalone tub in the master bath. The flooring in the laundry room features a herringbone pattern in alternating colors.
"I thought this would be a good place to try something different in case I got sick of it. It looks good in a small space," says Tracy.
Mixed Textures
She continues her creativity in the main living areas of the home, where she likes to mix vintage and trendy pieces. "We have different styles throughout the house," Tracy says. "I just like what I like, and then I put it together."
The décor in the family room features a mix of textures including a raised hearth brick fireplace and a natural pine wall. Furnishings include an antique marble coffee table and a round travertine stone table. The space also includes cubbies above the wood wall, recessed lighting and ceiling beams. A tongue-and-groove ceiling accent leads to the master suite. "We painted it with a high gloss white. At night it really shines," says Theron.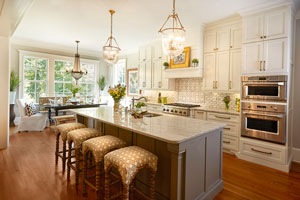 The kitchen features white shaker-style cabinets with lights underneath, stainless steel appliances, a gray island and polished chrome fixtures. An appliance garage houses the toaster and the charging station for phones and tablets. The natural stone countertops are made of polished Macaubas Quartzite, a Brazilian granite of whites with deep random charcoal veins, and the marble backsplash features an accent that Tracy designed.
The butler's pantry, which connects the kitchen with the dining room, includes a polished white Macaubas Quartzite countertop as well as a marble and travertine backsplash with a basket weave pattern.
A coffered ceiling and wainscoting on walls accent the dining room. Furnishings include mix and match chairs and stools at the dining room table and a repurposed table from a secondhand shop. An old window that Tracy found at a garage sale sits atop the china cabinet.
Personality Plus
The bedrooms are full of personality as well. The master bedroom includes a trey ceiling, a secretary that belonged to Tracy's late aunt and custom draperies. A painting on the wall is one of several in the house by Theron's mother, Kay Sapp, and a curio displays artwork that the couple's children, Brayden and Theron III, have made. The walk-in closet also includes built-in drawers. "We have storage galore," says Tracy.
In the downstairs guest room/den, the walls, doors and trim are painted blue. A picture above the bed chronicles a piece of family of history. The picture depicts Theron's father, Theron Sr., as he crosses the goal line to score the only touchdown of the 1957 football game between the University of Georgia and Georgia Tech at Grant Field in Atlanta. 
The picture captures an important moment in UGA football as well. Georgia had lost to Tech eight straight years before its 7-0 victory in that game, and not only was Sapp's touchdown the lone score of the game. The fourth-down run also was the first touchdown Georgia had scored against Tech since 1953. Sapp, a running back who is one of only four UGA football players to have his jersey retired, became known as the "Drought Breaker."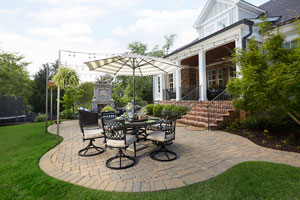 Brayden's bedroom includes a sitting area, where she and her friends have drawn pictures and signed their names with chalk markers on the windows. Theron's bedroom includes a pinewood accent wall and a hideout with pegboard to store his collection of nerf guns.
"The house evolved," says Tracy. "We wish we could have seen it before it was built and then wanted to buy it." 
By Betsy Gilliland