Designed for equal parts of entertainment and R&R, this recently remodeled contemporary home in Martinez is a place where family and friends are always welcome.
When it comes to home renovations, one thing often leads to another. And another. And another. Just ask Amy and Bryan Tuschen of Martinez. They started renovating their home in Highview Acres in October 2018 and didn't finish until March 30, 2020. The process began simply enough, however.
"This whole renovation started as 'Let's get rid of the wall-to-wall carpeting and popcorn ceiling,' and then it went way beyond that," says Amy.
'Hospitality Bug'
The Tuschens completely changed the look of the house, where they have lived since 1998, from traditional to contemporary by following a carefully orchestrated plan.
"We established the color scheme with lots of grays and whites first," Amy says.
They purchased new furnishings for the house before they started the renovations, giving away most of their previous furniture to family members.
Decorative elements such as wallpaper and tile are repeated in different places in the house. In addition, Amy says, "All of the hardware and all of the cabinets are the same throughout the house. It simplifies everything."
Instead of draperies they opted for darkening, pull-down shades to cover the windows. And, even though the Tuschens – parents to three grown children, Maygen, Morgan and Matthew – are empty nesters, the house still needed to accommodate a crowd.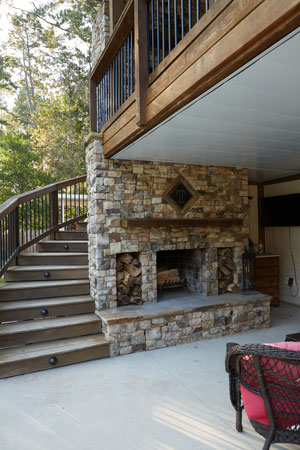 "We entertain regularly, so it's nice to be able to share the house with friends and family," says Amy. "We have that hospitality bug."
Their home has been the site of retirement, graduation and murder mystery parties – some of which Amy has written herself. In December, they had a rehearsal dinner and wedding reception for Morgan and her new husband, Tim, and drop-ins on three different days so the get-togethers could be properly social distanced.
Their affiliation with Fort Gordon keeps them busy as well. Amy, who served in the U.S. Army and was stationed in Germany from 1990 to 1998, is the Fort Gordon Historical Society director. Bryan, a financial advisor and self-described South Dakota "farm boy" who loves singing and karaoke, volunteers as the national director for the Signal Corps Regimental Association.
"We host a lot of events because of the Signal Corps," he says.
To accommodate their guests, the Tuschens have two different driveways on their three-acre property that overlooks a lake. The rear driveway is for their personal use, and a ramp leads to the lower level of the house.
The long drive in front of the house serves notice that people are arriving someplace special. American flags are mounted on a wooden privacy fence alongside the driveway, and another American flag is raised on a pole by the house.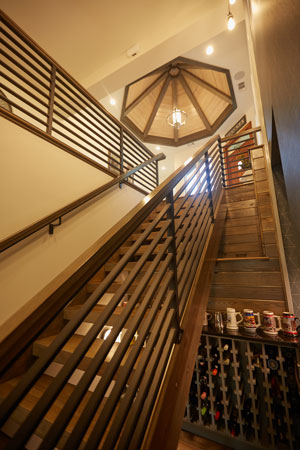 The exterior of the home features a double cupola, and pre-fabricated rock separates the brick of the original house from the brick of their new addition.
"We wanted to bring the house forward and tie in the rec room," says Amy.
Travel-Inspired Décor
Statement-making features continue in the entryway where wallpaper from China, which has stacked triangle shapes, covers a wall that extends to the lower level of the house. (The same wallpaper is used on accent walls in the prayer room and the rec room.) Three pulleys with an Edison lightbulb hang in front of the wall.
The bedrooms are upstairs, which is the street level of the house, and they open onto a covered deck. The Tuschens converted the former master bedroom into an office for Bryan, and before the renovation, the two walk-in closets with built-in drawers in the now master bedroom were two of their children's bedrooms.
The master bedroom is furnished with a suite of distressed white furniture and a Singer sewing machine – exhibiting another one of Amy's talents.
As part of the addition, the master bath also includes a spa area. The bath features ceramic tile flooring, a tile walk-in shower with two rain showerheads and two rectangular vessel sinks.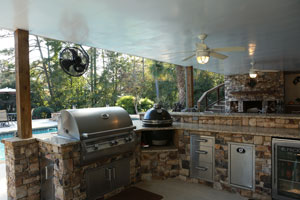 "We travel to Cancun and Mexico a lot, so this room was inspired by our travels," says Amy. "We bring our vacations to our home."
Seems only natural. In addition to their "hospitality bug," the Tuschens, who have been married for 30 years, also have a "travel bug." After all, they met in college on a spring break trip to South Padre Island, Texas in March 1989.
Amy and Bryan, who attended different Midwestern schools, were among a busload of students that got stranded in Dallas because of snow – yes, snow – and mechanical problems on one of the buses.
"We were stuck at a Denny's Restaurant for 18 hours, so we had a lot of time to talk," says Bryan. "Our ninth time together, we got engaged. Our 13th time together, we got married."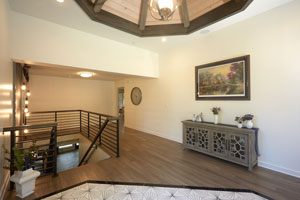 To commemorate their various excursions, they have a Tuschen Family Travels map, where small round-headed pushpins mark the places they have been, in their new garage. The garage, also part of the addition, features an epoxy floor that allows them to expand their entertainment space, and it adjoins the rec room.
The house originally had a detached garage, which they never used as a garage, and the Tuschens converted it to a rec room in 2001.
"We knew we still wanted the play space. We just had to attach it," Amy says. "It's been a great hangout for kids and adults."
Some of the artwork in the room features two girls and a boy, representing the Tuschens' children. One of their teachers painted a picture of the three children that hangs on one wall. Another painting, which they found in Asheville, North Carolina, shows two girls and a boy from behind walking on a beach. "They literally could have been our kids," says Bryan.
The rec room also includes a pool table, ceiling fan, tile flooring and a sitting area with a TV and an electric insert fireplace.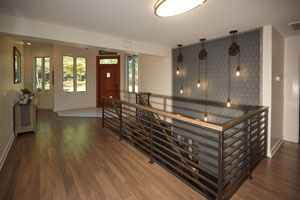 Functional & Fun
However, the rec room isn't the only entertainment area in the house. Open stairs lead from the main entryway to the living and entertainment space downstairs.
"This was the last open staircase built in Columbia County," Bryan says. "They don't allow them anymore, but it was pre-approved."
To take advantage of every bit of available real estate, a built-in wine rack and a small wine fridge are tucked behind the stairs.
The open living room, dining area and kitchen offer plenty of room for guests – even in this day and age of social distancing. Before opening up the spaces in the renovation, walls divided them into separate rooms.
The living room previously featured a stone wall with a gas fireplace. However, instead of ripping out the stone, they covered it with a blue accent wall where the wood is placed on the diagonal. They installed an electric fireplace, which features a marble tile surround, on the wall. Depending on the occasion and the mood, the Tuschens can change the colors of the flames and the rocks in the fireplace.
A grandfather clock that the couple got when they were married fits perfectly into a wall nook, and a cuckoo clock from Germany hangs on a wall in the living room.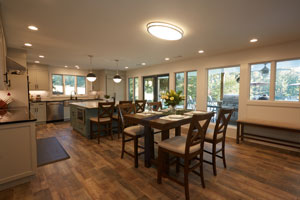 Other décor includes Leyk Lighthouses, handmade ceramic houses that are fashioned after the famous German Fachwerkhaus, or half-timbered house. They are referred to as "Lighthouses" because they hold tealight candles.
The dining area separates the living room and kitchen. "We can seat up to 12 people at the table," says Bryan. "We just turn it longways."
The kitchen features a large island with a built-in microwave and a sink with filtered water, a warming drawer, a stainless steel farmhouse sink and a confection stovetop. Cabinet doors to the refrigerator blend into the wall, and horizontally stacked subway tiles make up the backsplash. While the island countertop is quartz, the perimeter countertops are ceramic tile.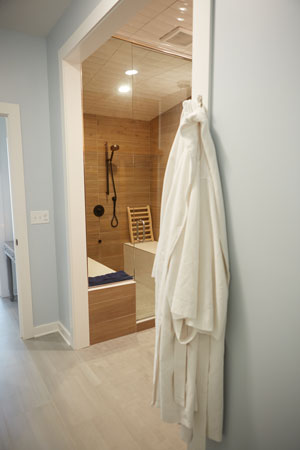 Doubling as a catering area for parties, the walk-in pantry features a fresh coffee maker where Bryan grinds his beans every morning, a second refrigerator and an ice machine. For variety, the subway tile in the pantry is arranged in a staggered, or running bond, pattern.
Two sets of double doors, which provide plenty of ventilation when they're open, replaced sliding doors in the living space. The doors lead to the outdoor kitchen and sitting area of the covered patio.
Constructed with individual stones, the outdoor kitchen includes a Kamado Joe grill, gas grill, compact outdoor refrigerator and ceramic tile countertops.
The sitting area, where the Tuschens watch football games in the fall, features wicker furniture and an antique chest. A double-decker, raised-hearth, stacked-stone, wood-burning fireplace extends from the lower to the upper level, which are connected by a spiral staircase with wide wooden steps.
Quiet Time
As much as Amy and Bryan enjoy company, they relish their quiet time as well. And their house is full of spots to take in a little R&R.
A prayer room includes two comfortable chairs, a small refrigerator, cabinets and a window that overlooks their gardens.
"I like to sit there with a cup of tea," says Amy. "It's a nice way to start my day with the quiet."
Her late mother made the angel quilt that hangs on one wall. She also cross stitched an angel for each of her four daughters, and Amy's framed angel hangs on another wall in the prayer room. Porcelain angels in the family room, artwork and vases also belonged to Amy's mother.
A sliding barn door leads to the spa area, which includes a sauna, steam bath, exercise room and massage table. "We have massage therapists that come to the house," says Bryan. "When we work out, we can head to the steam room afterward."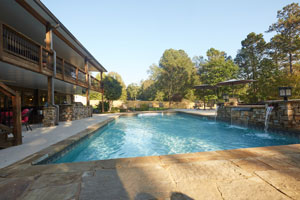 They also relax outside in their backyard gardens or by the pool. Amy enjoys working in the raised beds that include a berry, an herb and a vegetable garden. She grows blueberries and blackberries as well as mint, parsley and rosemary.
The Tuschens renovated the outdoor area for their 25th wedding anniversary, adding the outdoor kitchen and redoing the swimming pool, which is 4 1/2 feet deep from end to end. They also added a raised deck and built a hot tub, which is illuminated by a pair of solar-powered lights.
A statue of two girls and a boy, which they found in New Orleans, sits beneath a pine tree near the pool. Several potted plumerias, tropical trees whose flowers are used to make Hawaiian leis, are placed around the pool. A tea olive tree grows by the deck.
They added a waterfall feature to the koi pond and replaced a wooden bridge between the two with a metal bridge. A deck by the lake, where they keep their kayaks, includes a gazebo and benches.
"We're so close to everything. But when we're in the back, we feel like we're all alone," says Amy. "Even with just the two of us here, there's not a lot of unused space."
By Betsy Gilliland