After a brief move to the West Coast, a couple returns to their West Lake home and makes it their own with practical, yet decorative, improvements.
A whirlwind romance brought together Dana and Patrick Conley. Two weeks after meeting on match.com, they got engaged. They were married two months later in December 2014.
Like their courtship, their initial married life followed a similar trajectory of perpetual motion. Dana still had her house in Aiken, but she moved into Patrick's 45-year-old cape cod house in West Lake after they wed. They stayed there for a year-and-a-half until a job opportunity for Patrick took them to Corvallis, Oregon.
The pull of home was strong, however, and they returned to Martinez after 13 months. "We didn't realize how much we missed Columbia County," says Patrick, an Indiana native who came to the area in 1998.
They moved back into the West Lake house in January 2018 and resumed another love affair – continuing the improvements that Patrick had started when he bought the house.
"We've been remodeling and moving most of our marriage," says Dana.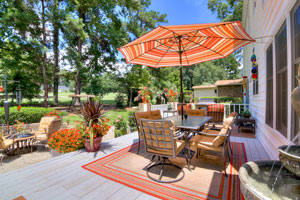 Sense of Place
For the most part, however, those days are behind them. They put the house, which overlooks West Lake Country Club's ninth hole, on the market for several months last year. Soon, though, they realized that this house was home.
"When I bought the house, I was not just drawn to the location," says Patrick. "It was the charm of house."
If they didn't realize how important a sense of place was to them before they moved to Oregon, they quickly discovered it afterward.
"I had never been out of the South," says Dana. "But there was a landmark we saw every day from our apartment that was God's way of letting me know that we were in the right place."
Before they moved, she randomly came across a photo of what she thought was a church and saved it on her phone just because she liked it. "It meant nothing to me personally," she says.
Until they arrived in Oregon and saw that the "church" actually was the Benton County Courthouse that was right outside their apartment.
On their last night in Corvallis, a neighbor gave them a watercolor card of the courthouse as a keepsake. "She didn't know the courthouse story," Dana says.
Dana and Patrick, who have four children between them ranging in age from 25 to 9, made sure the renovations to the West Lake house tell their story as well. Of course, Dana gives Patrick full credit for including personal touches before she arrived. "He was domesticated," she says. "He had family photos."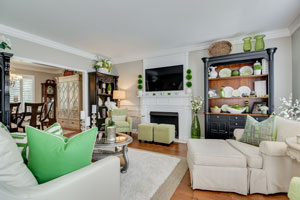 Cozy and Inviting
Although the house has two sitting areas, everyone gravitates to the family room. The previous owner added a wet bar to the space, and the Conleys have made additional improvements.
They removed a wall between the kitchen and family room, replacing it with a peninsula to separate the spaces. A clock that protrudes from the entry frame between the rooms was a gift from Patrick's brother to celebrate their Irish roots. "It's the centerpiece of the two rooms," says Dana.
To honor Patrick's six years of service in the U.S. Navy, the family room features a nautical theme. A picture of his submarine and a decorative anchor occupies one wall while a silver bell with a tassel pull hangs on another. Navy blue throw pillows, more nautical décor and Auburn paraphernalia – Patrick also is a proud War Eagle –accent the room as well. Lots of blankets, draped over furniture or folded up in a basket, are placed strategically around the room.
"We have people come over here, and they just camp out and fall asleep," says Dana.
The cozy space also features wood-paneled walls, dentil molding, a ceiling fan, a flat-screen TV above the gas fireplace and three built-in bookcases. They brightened the room by painting the backs of the built-ins and by installing lighter carpet.
The Conleys finished the kitchen and breakfast nook renovations in February. Although they kept the kitchen trim, Dana chose new colors that complement the existing tile flooring. The room includes granite countertops, and a brown cordless woven wood shade above the sink picks up the brown tones of the granite.
Some of the cabinets also feature sliding shelves, and the white doors and hardware for the cabinetry are new. "We kept the bones of the cabinets," says Dana. "They're 45 years old and made of real wood."
They replaced the small tiles of the backsplash with longer subway tile pieces. New stainless-steel appliances accent the kitchen, and a double oven was a must. "As much as we like to entertain, we're always fighting for oven space," Patrick says.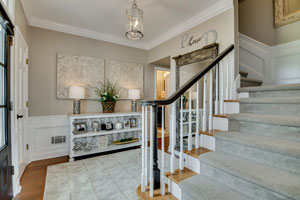 'A Pretty Haven'
Even though the family room typically lures visitors, the living room is just as inviting. Green and white accents create an atmosphere of perpetual spring. A pair of matching green ottomans sits in front of the gas fireplace, which includes a tile surround that the Conleys painted white. Black bookshelves provide a striking contrast for the accessories, and a pair of wall sconces flank a circular mirror above the cream-colored couch.
They got the sconces during a trip to Magnolia Farms in Waco, Texas last year. They flew to San Antonio for a visit and rented a Ford Mustang convertible for the drive to Waco. A clear vase holding a large magnolia bloom on a stem sits atop each sconce. Dana also fills glass containers spread around the room, which features a chair rail and dentil molding, with seasonal accents.
"I like neutral couches and rugs, and I bring in color with pillows and accessories," she says.
The adjoining dining room features wainscoting, gray walls, dentil molding and an area rug. A grandfather clock is tucked in a corner.
"This is our favorite part of the house that we never use," Patrick says of the two rooms.
The home also includes three custom light fixtures – Dana had purchased them for her house in Aiken – in the breakfast nook, foyer and dining room.
In the foyer, the letters P and D, along with a "home" word sign – more finds from Magnolia Farms – hang above a full-length mirror. The foyer originally had a door to the guest room, but the Conleys walled in the entryway.
The master bedroom features a dormer window seat, and an antique mirror hangs above the gas fireplace. A photo of Aiken's The Willcox, where the couple got married, accents a wall.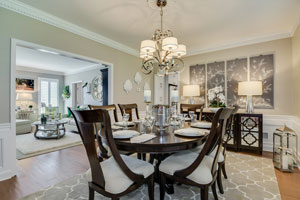 "Home is important. Home is your haven," says Dana. "I like a pretty haven."
Dana and Patrick each have walk-in closets. He added shelving – plus all-important shoe cubbies – to hers, and his is off the master bath, which includes tile flooring, a stand-alone soaker tub, walk-in shower, quartz countertops, double vanity sink and pocket door to the water closet.
Outdoor Oasis
The Conleys love to spend time outside on the deck or the stamped concrete patio, making s'mores on the fire pit or watching movies on a 100-inch screen they can put up. The backyard also features tiered flowerbeds, water fountains, bird feeders and bird baths.
"We love it out here. It's so peaceful," says Patrick. "We like to watch the birds get in the birdbath and splash."
The Conleys still have a few home projects left on their agenda. They want to change the tile in the master bath and replace the oak flooring in the house. In addition, Patrick says, "In our long-term plans, we would love to put a sunroom on the house."
Overall, however, they're pleased with the way the home has come together.
"We tried to add decorative elements that were useful," says Patrick. "We're really enjoying the house. We've definitely made it our own and made it into a home. We've put a lot of time and love into it."
By Sarah James