Everyone has a place at the table at this Appling couple's home that is built for entertaining.
Appling resident Terra Newsome loves everything about fall.
"I love fall weather, the color of the leaves, Thanksgiving traditions and football season," says Terra.
Her favorite season of the year is even better at her happy place – the lake house where she lives with her husband, Chris.
"We always had these big dreams that one day we would live on the lake, but we never thought it would really happen," Terra says.
Although the couple started married life together at ages 16 and 18 in a single-wide trailer in Burke County, they never let go of the idea of living on the lake. The two small business owners – she co-owns Southern Willow Market and he owns Newsome Electrical Construction – have worked hard, and they moved into their custom-built home on 2-plus acres in April 2020.
"All I wanted was a red dining room and a front porch," says Terra. "I got them in our first house."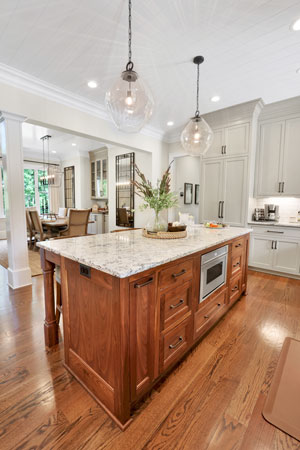 The red dining room has been replaced with neutral walls and décor at their lake house, and one of their favorite home accessories is people.
"We host a lot. We have people here every weekend," says Terra. "I really enjoy cooking and feeding people. My friends say this is the best bed and breakfast on the lake."
Recipe for Fun
After all, the spacious kitchen is well-equipped to feed friends and family in style.
The room features granite countertops, a farmhouse sink, a pot filler; two pendant lights above the island, which includes a warming drawer, and a subway tile backsplash in a running bond pattern. An inset of subway tile above the stovetop has a herringbone pattern.
Two shelves on one end of the island are filled with cookbooks.
"I know a lot of recipes are online, but I love cookbooks," says Terra. "There's just something about a good cookbook. I like to sit down and open it up and look for recipes."
However, Terra's favorite recipes are tucked in a folder – handwritten on notebook paper by her father and grandmother.
"When they ask me what I want, I tell them to write down some of their recipes in their handwriting," says Terra. "If I want something else, I can buy it. But I can't buy those recipes."
On her recipes, Terra's grandmother even writes special notes like "This is the frosting Dawn used to put on German chocolate cake" on a recipe for coconut-pecan frosting or "This is my recipe 'trial and error,'" on her chicken and dumplings recipe. She added "Terra and I started making this in 2007" on their cornbread dressing recipe.
Thanksgiving is Terra's favorite holiday, and she likes preparing the meal as much as she enjoys having a houseful of family members.
""There are no expectations," Terra says. "I don't have to buy gifts. I cook. I love to have everybody here to eat."
The menu features fried turkey each year, and Terra and her maternal grandmother make six gallons of dressing together.
"That's been a tradition ever since my grandfather passed away in 2003," says Terra. "I look forward to it every year."
This ritual became even more meaningful to them after Terra lost her mother in 2015.
In the adjoining dining area, studded upholstered chairs line the farmhouse table.
Round wooden lattice chargers are topped with a white pumpkin and a white cloth napkin. To celebrate the season, a cursive word such as "grateful," "gather," "blessed," "thankful" or "together" stretches across the place setting.
The dining area also features a linear chandelier, a jute rug and two rectangular window pane mirrors on either side of a butler's pantry, which has glass-front cabinet doors and a wood countertop.
The kitchen and dining area, as well as the foyer, share a shiplap ceiling, and the first floor includes hardwood flooring, 12-inch baseboards and 10-foot ceilings.
Friends and family also can gather in the adjacent living room, where pine beams and a windmill fan add interest to the cathedral ceiling.
Wooden picture frames and woven baskets accent the built-in bookcase next to the stacked stone fireplace, where a basket of birchwood rests on the raised hearth.
Two sets of double doors open onto the upstairs porch, which has a pine cathedral ceiling, a pair of side-by-side ceiling fans, recessed lighting, two egg chairs, two Adirondack chairs and a bed swing.
"I love porches and swings and rocking chairs," says Terra.
Hub of Entertainment
While the first floor is a ready-made gathering spot for guests, Terra says the basement is their real "hub for entertaining."
The basement includes a pine beam and columns, LVP flooring and another full kitchen, which is accented with stainless steel appliances and a distressed vintage subway tile backsplash. A sitting area features a sectional couch, oars on the wall and a custom-made picture of the lake, which shows the various channels and marks the spot where the "Newsome Lake House" sits.
French doors lead to a covered patio with stacked stone columns, two ceiling fans, another bed swing, an outdoor sitting area and a custom-made 6 1/2-foot square white oak table.
The table inside the basement, however, has special meaning to the Newsome family. With a bench on each side and a chair at either end, the table belonged to Chris' father, who passed away unexpectedly two years ago.
"Chris' family grew up sitting at this table," says Terra. "He just couldn't let it go. This table has seen a lot of family dinners. The last time we saw Chris' dad was at a Sunday dinner at that table."
In addition, pencil mark lines where Chris did his homework as a child are visible in the tabletop.
"The best memories are made around the table," says Terra.
The sideboard against the wall is "where all the desserts go," and Terra says they also like "good country cooking."
"I'm a Southern cook," she says. "I try to cook healthy, but it's hard."
Rooms With a View
The Newsomes not only entertain friends and family for meals. They also like for them to stay a while (their friends don't call the house a B&B for no reason), and they make sure their company feels at home.
Upstairs, a large room that they call "the apartment" features a bed, sitting area, private bath and yet another kitchen that includes an island, refrigerator, sink and microwave. The apartment also has a walk-in closet with built-in shelves, and a pair of crisscrossed oars hangs on the shiplap wall behind the bed.
Black-and-white photos in wood frames line the stairs that lead to the apartment, and Terra changes the images every summer.
"The pictures are of people who have stayed here," she says.
A bead board wall accents the master bedroom. French doors open onto the deck, and a barn door leads to the master bath. Bathed in luxury, this space features a heated marble floor, a walk-through shower with multiple heads and a tile inset in a herringbone pattern on the wall, a chandelier above the soaking tub, two vanities with granite countertops and a walk-in closet with built-ins.
The basement includes two more bedrooms, and the bed in the guest room on the first floor strategically faces the window.
"You can see the lake from every window in the house," says Terra.
It's not unusual for the Newsomes, who have two grown children, to host 60 people for holidays, and they made sure to build a house with room for all.
"We wanted a place for grandchildren," Terra says.
By Betsy Gilliland