An eclectic mix of old and new – along with soothing surroundings – make this River Island home a relaxing retreat. 
Evans resident Tracy Webb has lived and worked all across the world from France, Australia and India to Wisconsin, California and Delaware in the United States. She has lived in many houses along the way, but she has found a home in River Island.
"This is the second time I've built this house," she says. 
She had lived in a house at the River Club in North Augusta with a similar floorplan, but she made a few tweaks two years ago when she built the home the second time around. She enlarged the kitchen, added a breakfast nook, took out a wall and built a detached, rather than an attached, garage. The River Island house and porch are wider as well.
"I didn't want a traditional house. I wanted more of a 'lofty' house with rustic floors and an old feel," says Tracy.
Waterside View
While the house was under construction she purchased furnishings and décor from a variety of sources. "Amazon was my friend," Tracy says. "Nothing is matchy-matchy in here. It just had to all come together."
Did it ever. From family mementoes and novel travel souvenirs to accessories she found online and repurposed furnishings, Tracy pulled together an eclectic mix of old and new to showcase her style.
Of course, Mother Nature had a hand in the home's ambiance as well. Overlooking Jones Creek and the Savannah River, the house takes advantage of the lot that Tracy owned for 11 years before she finally built on it.
"I love water. It's just a calming thing," she says.
Her favorite spots in the house are the breakfast nook and kitchen, where she can see the water and watch wildlife such as cranes and beavers through the windows. 
"I didn't want any grids in the windows, but the neighborhood association says you have to have grids, so I put them in the top," says Tracy. "I love all the light and the view. I see good sunrises and good sunsets. I leave the doors open when the weather is nice."
Transom windows above the five-paneled doors throughout the house illustrate her penchant for openness as well.
The light, airy kitchen features marble countertops, stainless steel appliances, a subway glass tile backsplash, lighting under the glass-front cabinets and ship lantern light fixtures – two above the island and one above the farmhouse sink with an industrial faucet.
"I wanted a huge island. I wanted it long like a table," says Tracy. "And I put drawers everywhere. I don't like crawling through cabinets."
The island includes a distressed finish, a wine rack and shelving, and the walk-in pantry features a reeded glass door and an automatic electronic light. A coffered ceiling extends from the kitchen to the breakfast nook.
Tucked in the corner of the breakfast nook, the repurposed table is an old cotton wheel on a sewing machine base. A piece of round glass sits on top. Tracy found the glass-topped table at an antique store in Madison, Georgia. "My daughter and I stuffed it in my Jeep and brought it home," she says. 
A little divine providence helped their cause. When they were trying to fit the table into the Jeep, an Aiken man that Tracy had met on a flight back from Denver two days earlier happened to walk past and offered his assistance. "It pays to be nice to everybody," she says.
The Art of Family
From the blue-gray walls to the ebony stain on the oak flooring, the house is full of elements that are as calming as the water outside as well.
"I didn't want the floors to be pristine because my kids have dogs, and they bring them over," Tracy says. "I wanted an 'I don't care' floor with knots in it."
The importance of family, which includes her grown children, Gregory Jones and Caroline Mickley, is evident throughout the house. And this sentiment extends to previous generations. Tracy has a collection of woodblock prints from the 1920s, 1930s and 1940s by her maternal great-grandfather, Glenn Wheete, and her step-great-grandmother, Treva. They lived in Santa Fe, and most of his artwork depicts life in the Southwest. She made primarily floral prints. Her dad did the pencil artwork above the bed in the upstairs bedroom.
Tracy has artists on both sides of her family, and Caroline is in graduate school at Savannah College of Art and Design. Her grandfather, who worked for Kimberly-Clark, designed the pattern on a brown, foil-looking oblong Kleenex box that was popular in the 1970s. 
"I got the math gene," says Tracy, who works in project controls for Longenecker & Associates. "I didn't get the artist gene."
A photo of Tracy's late daughter, Alison Jones, sits on a tabletop in the master bedroom, and a framed note from Alison to her mother hangs on the wall by the door. "She used to leave me notes with my cup of tea every morning," says Tracy. "And I put notes in my children's lunches every day." 
Family photos dominate the built-in bookcase in the foyer, and it also is not unusual for the house to be full of friends and family members in the flesh. Tracy invites 30 family members to her house for Thanksgiving dinner, but she enjoys entertaining year-round.
"I can use the inside and outside of the house all the time because the weather is so nice," she says.
The screened-in back porch features a gas stone fireplace, wicker chairs and table, two chaise lounges, Travertine tile flooring, a tongue-and-groove pine ceiling and a twin turbo ceiling fan. 
The neighborhood walking trail also meanders along the water behind Tracy's house. "It's a great neighborhood for getting out and walking or just sitting and relaxing," she says.
Keepsakes and Collectibles
The main living area, which features a two-story ceiling, overlooks the water as well. Accessories include pieces from Australia such as an Aborigine painting on the wall and a didgeridoo, an Australian wind instrument, on the fireplace mantel.
Ray Fitzgerald, who did the trim work in Tracy's house, worked on the fireplace while she was in Australia. Her son sent her a picture of it while it was under construction, but then Fitzgerald told him, "No more pictures. I want your mother to be surprised." (She was, and she loves it.) 
Tracy has more mementoes from her globe-trotting in the foyer. A glass-front keepsake cabinet holds her collection of crosses, which includes a cross from the Vatican, another one from Mexico and a bishop's cross from Ethiopia (which she bought in Sedona, Arizona). In the cabinet, she has a couple of camel bone dishes that she got in India as well. She also has a silk rug from India in the upstairs bedroom. 
Two colorful fish rubbing pictures of a lobster and a crab hang on the entryway walls. A tobacco ladder leans against a chest.
Another built-in bookcase shelf in the foyer holds University of Georgia memorabilia such as a lithograph of a bulldog. One of Tracy's prized possessions, the lithograph was signed by members of the 1980 national championship football team including Herschel Walker, Lindsay Scott and Buck Belue. 
More woodblock prints by her great-grandfather and his wife hang on the walls in the master bedroom. A painting of a little girl in a pink dress by Mexican artist Gustavo Montoya, which had been in her grandfather's house, hangs in a prominent spot on one wall. "That painting was the one thing I wanted from my grandfather's house," says Tracy. 
Even her basket-woven clothes hamper, which is topped with a sombrero, adds a bit of Southwestern flair to the room.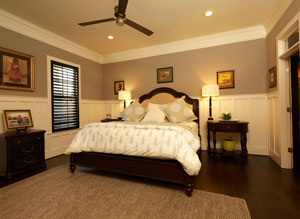 The bedroom also features a high chair rail, wainscoting on the walls, black shutters, an upholstered headboard on the bed and demi-lune bedside tables. 
The wainscoting extends into the master bath, which includes two separate vanities with rectangular vessel sinks, marble countertops, pulley-weighted light fixtures, black shutters, metal framed mirrors and a reeded glass door.
A stand-alone tub is situated next to a free-standing, gold-colored fixture that includes a handheld faucet. And that tub prompted an important question from Tracy during construction. "I said, 'I'm getting a soaking tub, and I'm using it every day. Do I need extra support under the floor?'" she asked. (She did not.) 
Garage Getaway
When she wants to retreat to another space at home, Tracy can relax in the apartment above the detached garage. "It's another place to get away, but I don't know who I'm getting away from," she says.
A tin roof covers a tongue-and-groove pine ceiling to the front porch and adjoining walkway that leads to the garage apartment. A Dutch door opens to the stairs that climb up to the apartment. Tracy fell in love with Dutch doors when she worked in California and lived with a couple that had Dutch doors that opened to the outside in every bedroom.
The apartment features an oak floor, a bed with an iron frame, a sitting area, two ceiling fans, a turntable and her collection of vinyl records, a walk-in closet with a knotty pine door and an efficiency kitchen. 
The kitchen includes a granite countertop, bead board cabinets with an old world finish, a two-burner stovetop and a wine cooler. A drafting table and two drafting stools provide dining space. And even though Tracy bought the table and stools separately, they look like they were made to be together.
A barn door leads to the bath, which features a brick floor, marble countertop, two pendant lights and a copper sink. 
From the breakfast nook to the tub to the garage apartment, Tracy can relax just about anywhere in her home.
"I like this neighborhood. The people are friendly. I have thought about selling the house because it has more space than I need, but I would just move into another house in River Island," she says. "There's no other place in Columbia County I would rather be."
By Sarah James