While most people live at the lake to play with their water toys, this Appling resident wanted a place for his cars.
When Thomas Koch started building his Appling lake house 2 1/2 years ago, it wasn't the water that reeled him in to this little corner of paradise. Instead, the self-described "car guy" was lured by the 11 acres of wooded land that would give him plenty of space to fulfill the one requirement he had in a home.
"I wanted a garage with a house attached to it," he says. "My whole life I told people I wanted a garage with a house attached to it."
After all, he needed someplace to park his favorite toys – his German automobiles. The mechanical engineer, a first-generation American who has dual United States and German citizenship, says the desire to be able to collect cars drove him to succeed in life.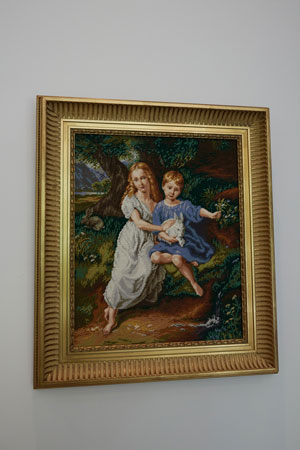 German Roots
The contemporary house, where Thomas lives with his fiancée, Shannon Albert, is filled with traditional furnishings, and his veneration for his German roots is evident throughout the home as well.
That appreciation starts on the living room wall by the front door, where a pair of praying hands is mounted on a piece of walnut.
"This is something you'll find in a lot of German homes. It means 'go in peace,'" says Thomas. "Walnut and oak are common in Germany."
The living room features a two-story vaulted ceiling with an industrial fan and a two-sided shiplap gas fireplace, which is shared with the dining area. The mantels of all of the fireplaces in the house, as well as the stairs on the floating staircase, are made of reclaimed hickory wood from Tennessee.
A painting of Lafayette Square in Savannah hangs above the mantel. "I fell in love with it as soon as I saw it," says Shannon. "We knew that would be the piece to go there."
Beer steins, rum pots and pewter shot glasses from Germany fill the shelves of a cherrywood bookcase in the living room, and a walking stick, which has metal emblems from German beer fests nailed into it, hangs from the top of the bookcase.
The "car guy" and his fiancée are also cat people, and a wood carved cat, which is signed by the artist, lounges atop the bookcase. Shannon says the wood cat reminds them of their cat, Diesel, who died last year at age 12.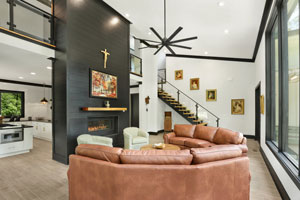 "He always laid on the arm of a chair the way that cat is laying," she says.
Some of their favorite artwork in the house are the intricate needlepoint pictures stitched by Thomas' grandmother, Leiselotte Eichen. A framed needlepoint picture of Mona Lisa hangs by the front door, and four needlepoints in gold frames are staggered on the wall along the staircase.
"It took a big space for the pictures," says Thomas. "This is a way for my grandmother to be immortalized. She lived in Germany, so I didn't see her often. But she was fun."
On the back of each of her works, his grandmother wrote the start and finish dates of the projects, along with the number of stitches in each one.
A German cuckoo clock hangs on another wall, and beneath the floating staircase with tempered glass on the sides, a Victrola, made by Victor Talking Machine Co., is tucked in a corner. "My mom gave that to my dad for his 32nd birthday," says Thomas.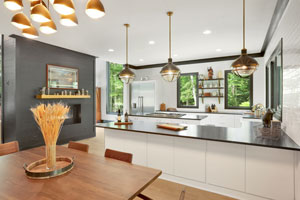 Words to Live By
In the dining area, more pewter beer steins and shot glasses from Germany sit atop the fireplace mantel.
The dining table and chairs are made of black walnut, and the overhead light fixture features black shades with gold interiors.
In another nod to Thomas' heritage, a picture made of crushed glass features a saying written in German:
"When you believe, you have love; when you have love, you have joy; when you have joy, you have faith; when you have faith, you have God; when you have God, you need not."
In the adjoining kitchen, three pendant lights are suspended above the peninsula. The kitchen also features a cooktop in the island, a divided farmhouse sink, lots of drawers with rubbed bronze hardware, leathered granite countertops, subway tile in an offset pattern on the walls and a walk-in pantry.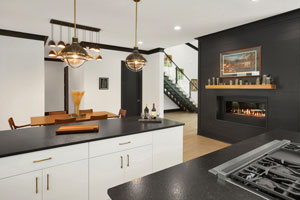 A trio of open reclaimed hickory wood shelves are held in place on the wall by rubbed bronze brackets. The shelves hold kitchen items such as a colander, a scale and a coffee grinder from Germany.
"As a kid, I used to grind coffee every morning for my mother with that grinder," Thomas says.
A hand-carved wooden monk, called "The Blessing of the Harvest," stands on the top shelf where another wood cat rests at his feet. A pair of cast iron black cats, perched on the countertop, are peering out the window.
Wood cutting boards add to the kitchen décor, and a butcher knife that a U.S. Marine gave to Thomas' uncle, who was a butcher in Germany, lies across one of the cutting boards.
A walnut bowl, which says "give us this day our daily bread" in German, hangs on the wall by the back door.
Using black walnut wood, a friend crafted the wine flight in the kitchen as well as a whiskey flight in the TV room upstairs.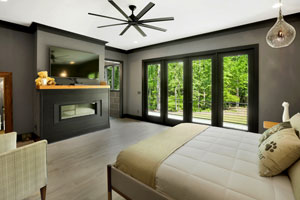 Industrial Feel
Black walnut furniture and accessories accent the master bedroom as well. For instance, the bedside tables are made of black walnut, and a full-length mirror, leaning against a wall, has a walnut frame.
The master bedroom also includes two tear-drop shaped, seeded glass pendant lights that hang from the ceiling by the bed, an industrial ceiling fan and a fireplace.
On one end of the hickory wood mantel, a container holding Diesel's ashes is nestled in the arms of a jointed stuffed Teddy bear, which was made in Germany by Steiff. Diesel liked to lie down by the bear, and his favorite toy, a stuffed, much-loved tick – yes, a tick – is placed by the bear as well.
Diesel came into Thomas' life in 2008 when he was depressed because of injuries that resulted from a serious motorcycle accident. Several months into his recovery, he found the one-day-old kitten, abandoned by his mother, in the yard of his Martinez home.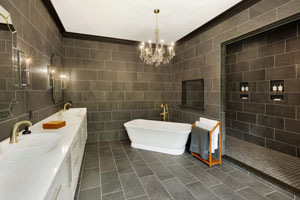 Thomas bottle-fed the newborn kitten, and the two became inseparable. "He rode everywhere with me," he says.
Doors in the bedroom open to a balcony outside, where Thomas and Shannon, who met in an Evans High School accounting class in the 1980s and reconnected 10 years ago, can watch deer by day and stargaze at night.
With its floor-to-ceiling charcoal-shaded Italian tile, the adjoining master bath matches the evening sky. However, large windows bring light into the space, which also includes quartz countertops, two vessel sinks, a walk-in shower, a soaking tub and a chandelier.
Upstairs, the ample windows in the TV room offer a view of the neighborhood pond across the street and the pastures for 18 Black Angus cows that six of the neighbors own together.
"We get a lot of light up here," Thomas says.
The fireplace from the first floor extends up to the TV room, and exposed duct work runs across the ceiling.
"I wanted something that would give the room a modern, industrial feel," says Thomas. "That was the whole key for the house."
Furnishings include a sectional couch and a walnut gathering table. Two pedal cars are parked in two corners of the room.
Thomas' favorite cars, however, reside in the garage. His collection includes an Audi R8 and a dark gray 2022 BMW M5 CS, which he waited a year to get.
"Each dealer gets one allocation. That one's mine," Thomas says.
He got his first cool car, a 1992 Mustang LX, at age 21, and he remembers it well. "It was emerald green with five-spoke, silver wheels," he says.
Thomas and Shannon got track training at the BMW training center in Greenville, South Carolina, and his first BMW was a Z3 convertible. "All I buy now are motor sport cars," he says.
His favorite car, however, is his 2019 Porsche 911 GT 3 RS.
"That's my dream car," says Thomas. "It's the best German car built."
The "car guy" who lives at the lake doesn't have a total aversion water, though, and future plans for the house include building a pool. In the meantime, though, he's perfectly happy hanging out with his cars in the garage.
By Betsy Gilliland