A family of five, plus an animal or three, embraces country living in their forever home in rural Columbia County.
With a secluded location, generous living space and rustic farmhouse décor, Cori and Chris Pittman found a little slice of Southern comfort on a six-acre tract of land in Appling.
"My husband always wanted to live in the country. I wanted to live in a neighborhood because we had children. We lived in a subdivision in Grovetown for about year, but we realized that we needed to be out in the country," Cori says.
So, they got to work. They scoured Pinterest and other internet sites for house plans and decorating ideas to build their "forever" home, and they moved into the house with their three sons, Cameron, Banks and River, in November 2019.
"When we decided to build, I started Pinterest boards and began shopping before I knew what the house was going to look like," says Cori. "I've always loved decorating. I have helped family members decorate, and it has become more of a hobby in the last couple of years. It has become a creative outlet."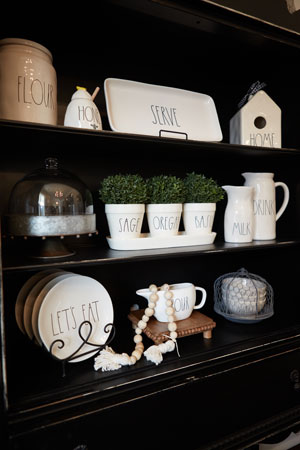 Pretty, but Functional
Cori, who worked in nursing for 10 years and spent another five years as a stay-at-home mom, also has turned that creative outlet into a profitable enterprise. In October 2019 she opened a farmhouse décor shop, Cotton & Chic Farmhouse Boutique, on Washington Road between Appling and Lincolnton. The shop is open Thursday through Saturday, and she even sells fresh eggs from a local farm.
"I didn't want to go back into nursing. I just wanted an outlet. It's a passion of mine," Cori says of the boutique. "And what better way to connect with the community?"
When she shops at marts or online for merchandise for her business, she often knows the perfect place for it. "When I get items for my boutique, I have a tendency to bring them home," says Cori.
She also likes to shop at other locally owned stores, and she uncovers lots of treasures in antique shops between Columbia County and Chattanooga, Tennessee as well.
"Sometimes I know exactly what I'm looking for, and sometimes I'll walk in someplace when I'm not looking for anything in particular and come out with tons of stuff," Cori says. "If I fall in love with a piece, I'll find a place for it."
The house is filled with barnwood and neutral shades. "I like a lot of white, wood tones, gray and black," Cori says. "I've incorporated a lot of old barnwood that has been reclaimed or found when I was antique treasure hunting."
She has a practical side as well. Engineered hardwood flooring covers the main living areas of the house.
"We have three boys and a dog," she says. "We knew we needed flooring that was pretty, but also functional. I love dark floors. I love the contrast with our décor."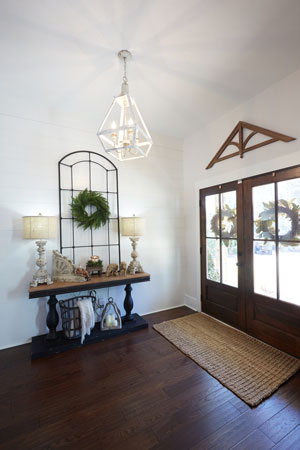 Attention to Detail
From the jute rug on the floor to the gable above the doorway, her attention to detail is evident with the first step into the foyer.
"When you come in the house, the accents make a statement," says Cori. "Every piece has a story."
The table in the foyer has a black distressed base and a natural barnwood top. A pair of distressed white lamps, sheep figurines, a small riser holding a candle and greenery, and a corbel wrapped with beads occupy the tabletop.
"I'm absolutely obsessed with beads," Cori says. "I love to put them on things."
A green wreath is centered on a faux iron window frame that rests on the tabletop and leans against the shiplap wall. Candles and a metal basket with a blanket draped on the side sit on the lower shelf.
An iron and hammered tin umbrella stand is tucked in a corner by the door, and a distressed white chandelier hangs from the ceiling. A lone brick column distinguishes the entry space from the living room.
The living room features a gas fireplace with a raised brick hearth, and the cedar mantel and black iron support brackets are handmade. Cori repurposed a sugar mold to hold the TV remotes, and two lanterns draped with tassels occupy the hearth.
"We wanted brick that looks old and messy, and it flows with the brick column and kitchen backsplash," says Cori.
A reclaimed barnwood table sits beneath the windmill ceiling fan in the living room, and another gable hangs above the double doors to the covered back porch. "Gables have so much character," Cori says.
A cream-colored pillow and textured blanket are stored in a wire laundry basket on wheels.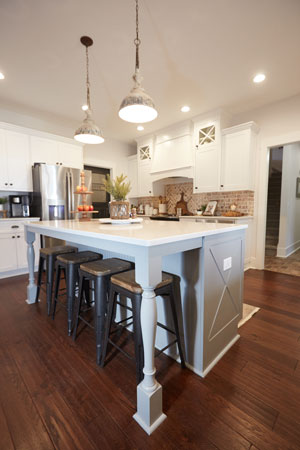 Go With the Flow
Two corbels, which have a vintage look, in the wide entryway help separate the kitchen from the living room. "I wanted something with character to split up the rooms," Cori says.
However, the brick veneer backsplash ties into the living room. "With the open concept of the house, I wanted everything to flow," says Cori.
While the kitchen cabinetry is white, the island is gray. The durable quartz countertops also are white with a hint of gray.
Two metal pendant lights featuring rustic chipped paint hang above the island. A matching pendant light hangs above the white farmhouse sink with a rubbed bronze faucet.
"The lights were the first thing I found for the kitchen, and we built everything around them," says Cori. "I love anything with an antique, chippy style."
A pair of glass-front cabinets on either side of the sink are the perfect place to exhibit some of Cori's Rae Dunn pottery collection. More of the pottery is displayed in two smaller glass-front cabinets on each side of the stove. Cori also likes to put kitchen accessories on wood risers and pedestal cake stands.
Stainless steel appliances bring out the gray tones, and the microwave is situated beneath one of the countertops to make it more functional for their sons. The custom-made black distressed pantry door, which features a frosted window that says, "Pantry," accents the kitchen as well.
Cori decorated the dining room around the black sideboard that she refinished, and she displays more Rae Dunn pottery on its open shelves. "Everything in the dining room is antique," she says.
A huge, authentic dough bowl is propped in a corner next to a tall wooden stool that holds a Norfolk pine on the small round seat.
The dining room table, which features a black base and a cedar top, was made locally. A dough bowl filled with artificial pine serves as the centerpiece. Black farmhouse chairs line the sides of the table, and a captain's chair accents each end. Pictures of birds in wood frames are tied by twine to rungs of a ladder leaning against a wall.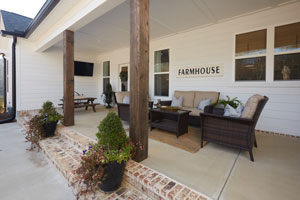 A picture of a cow hangs on another wall. "I love this cow because it looks like he has a bowl cut," Cori says.
Like the adjoining foyer, the dining room also features a distressed white chandelier and a jute rug.
Color and Texture
The tile flooring in the back hall has a brick look. "We wanted to put in real brick, but we thought with bare feet, that would really hurt," Cori says.
An antique sign hangs on one wall, while Cori placed a magnolia wreath in the middle of an oversized 90-year-old tobacco basket that hangs on another wall. "I got the basket from someone who had it in a barn in Tennessee where her great-grandfather used to farm tobacco," she says.
The back hall leads to the master bedroom, which features a bed with a slat headboard and an upholstered bench at the foot of the bed. The bedside tables have tray tops made of natural barnwood, and Cori refinished the dresser.
"I love different colors and textures of wood," she says.
A full-length mirror leans against a wall. All of the bedrooms are carpeted, and the Pittmans have a braided chiffon rug on the floor in the master bedroom.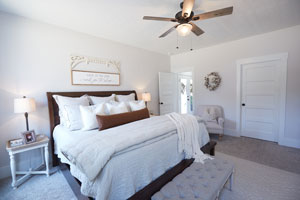 "The rug breaks things up and adds more texture," says Cori.
A cotton ball wreath hangs from a decorative lamb head on a wall. "I love cotton. I love that rustic feel that it gives," Cori says.
The master bath includes his and hers vanities, tile flooring with a wood look and subway tile backsplash for the tub and shower. The tile around the tub features a little gray mixed in with the white to add texture and color, and the wall by the tub includes a tempered glass window with a privacy glaze.
More wood pedestals and risers sit on the granite countertops, and Cori decorated the room around the wood-framed mirrors. She repurposed a charcuterie board to use as a bath board for the tub as well. "With a glass of wine and a good book, you're all set," she says.
Better Nature
The Pittmans share their home with a Texas Blue Lacy dog named Grey; a mini donkey, 3-year-old Jasper; and a mini mule, 1-year-old Rosie. They had two donkeys, but one of them died.
"Donkeys are very emotional creatures. Jasper was grieving, so we got Rosie," Cori says. "She rules the roost, but they have become the best of friends."
While their house was under construction, the Pittmans lived in the apartment in an outbuilding on the property. Now, that building serves as Chris' man cave and office. The structure has a tin roof, and on the ceiling inside, they encased two-by-fours to make them look like beams. The rustic décor includes a pulley light fixture, old metal signs, canvases of Ford cars and trucks, and a collection of small metal tractors on two shelves.
Rusted farm equipment, such as a tractor and implements for old mule-drawn plows, is scattered strategically in the front yard to add an artistic element to the landscape (the working machinery is in the back).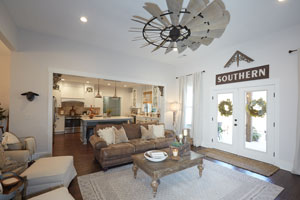 "My husband loves collecting old farm equipment," Cori says. "He has been collecting it for about five years."
The covered front porch features two black rockers and a wooden bench accented by black-and-white buffalo check pillows. A black planter filled with greenery flanks either side of the double front doors, and a lantern sits by each planter. The porch also includes four wood columns, and three wire baskets are filled with potted plants.
However, the covered back porch is one of their favorite spots in the house. That's where Cori and Chris start every day by having their coffee together before going off in different directions. This daily ritual is a reminder that moving to the country was the right choice for them.
"It's quiet. It's so serene," Cori says. "When we get up in the morning and have our coffee, there are 10 deer standing outside. It's awesome."
By Betsy Gilliland