The season of pumpkins and scarecrows, colorful leaves and cooler temperatures, family and food, comes early at a Northwood home.
Never mind the calendar. At the Northwood home of Regina and Peter Weitz, fall arrives in late August or early September. That's when Regina starts decorating their home for the season.
"Fall is my favorite time of year," she says.
Colors, Crafts & Cornstalks
The Long Island natives, who have lived in Columbia County for 26 years, moved into their Evans house 7.5 years ago after they became empty nesters. However, from the gorgeous seasonal décor to a score of guests on Thanksgiving, the Weitz household is anything but empty when fall is in the air.
(They also go all out for Christmas – Peter's favorite time of year.)
A glimpse of the front yard and front porch lets passersby know that fall is in full swing. It starts with a scene on the front lawn built around a section of white picket fence draped with a strand of lighted fall leaves. A seated scarecrow blowup, a cornstalk, another smiling scarecrow, a bale of hay topped by pumpkins and a decorative fall flag add to the playful vignette.
The welcoming atmosphere extends to the front porch, which features white wicker furnishings including chairs, tables and a front porch swing; two ceiling fans; pillows and fabric with black-and-white buffalo checks; pumpkins; and fall flowers in containers and hanging baskets. Cornstalks are tied to white columns with fall ribbon, and bright yellow sunflowers are tucked in the bows.
Regina crafted a pumpkin-themed checkers set that sits atop a table in front of a wicker loveseat. She made orange and white pumpkins out of felt, attaching weights to the bottom of the pieces, and painted a piece of cut board with black and white squares. However, the game not only adds a decorative touch to the front porch.
"We sit out here and play checkers," says Peter.
In fact, Regina made many of the crafts that decorate their home, including two pillows with the initial "W" on the back deck. "I usually do one or two crafts a year for each season," she says.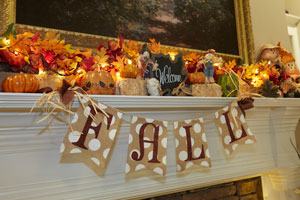 Peter built an addition to the deck to expand the area, and he also built decorative partitions, which hang from hinges, to offer a bit of privacy to the space. "I design. He makes," says Regina.
Containers of mums add a splash of color to the outdoor space, and a water feature on the wall enhances the ambiance.
A pergola covers one of several seating areas on the deck; four chairs surround a fire pit and a canopy shields the grill. Strands of lights are strung around the backyard, which features more seating areas, flowerbeds and planters.
"I love to work outside in the yard," says Regina.
The Heart of the Home
She also likes to paint, and some of her artwork, including an acrylic of a pumpkin in the hallway and an oil of a tree in the dining room, hangs on the walls. A wire pumpkin filled with gold balls sits atop a serpentine chest in the dining room.
The centerpiece on the dining room table features fall leaves, gold and burlap ribbon, gold balls, a gold pumpkin, multi-colored candles in hurricane holders, burnt orange pillar candles on tall bronze holders and a table runner.
To accommodate their 20-plus guests for Thanksgiving, the Weitzes add a leaf to the dining room table and set up three more 8-foot tables that spill over into the wide foyer, which features hardwood flooring, a trey ceiling and a pumpkin sign that Regina constructed with wood and rope.
"A lot of us don't have family here, and anyone who doesn't have a place to go for Thanksgiving is always welcome here," says Regina, who is president of the Italian American Club of the CSRA and a member of the Augusta Area Newcomers Club.
The festivities begin with lots of appetizers and a huge antipasto salad. "We get the biggest turkey we can find – 24 or 25 pounds, and Peter puts it in a pan on the grill, closes the lid and cooks and bastes it for three hours," says Regina.
"That frees up the ovens to cook and bake," Peter says.
They need every bit of space in their three ovens to prepare side dishes such as stuffing, sweet potatoes, mashed potatoes, mashed cauliflower, green beans, Brussel sprouts, squash casserole, succotash and eggplant parmesan.
Desserts include apple and pumpkin pies, cakes, fruit and nuts, Italian cookies, cannolis and other Italian pastries.
"It's an all-day feast," says Peter.
As part of their Thanksgiving tradition, they used to go shopping on Black Friday, spreading out three or four newspapers and combing through all of the fliers to look for sales. They lined up outside of stores at 2 a.m., but they have scaled back their shopping extravaganza now that some stores have started opening on Thanksgiving Day.
"Everybody was always in a good mood, telling each other we were crazy for being there," says Peter. "But there's nothing worth leaving your family and friends to go shopping on Thanksgiving."
Especially when everyone is gathered in their cozy kitchen, which the Weitzes call their favorite spot in the house.
"I'm Italian, so the kitchen is always the heart of the home," says Regina. "Italians like to cook and eat, so we always make an excuse to have people over."
In addition to their annual Thanksgiving feast, the Weitzes entertain frequently throughout the year, and their gatherings include 30 – 40 people at a time for their wine and appetizer group.
The kitchen features white cabinets, granite countertops, a glass-front cabinet above the desk, subway tile backsplash and a charcoal-colored deep granite sink. Regina painted the pantry door with magnetic and chalk paints, and she lists their monthly schedule on it to keep track of their activities.
Each year on October 1 a small Santa takes up residence on the stove, and he counts down the last 84 days until Christmas. "He has been in the family for years," says Peter.
A collection of roosters, including decorative roosters on the cabinet tops and pictures of roosters, are scattered about the kitchen. An iron doormat featuring a rooster is suspended from the cabinets above the cooktop, and a cutting board with the word "gather" on it hangs by the stove.
Also in the kitchen area, Regina displays her most cherished fall decoration – an acrylic of a black lantern that her sister, Christina Nazzaro, painted at Lynndale Inc., a day program facility for adults with special needs where Peter has served as a longtime board of trustees member and as acting president for three years.
"I hold this one near and dear to my heart," Regina says of the painting, which is surrounded by fall leaves and a gold pumpkin.
A bay window, which features decorative valances, in the breakfast area overlooks the back yard. The table centerpiece includes a lantern with a burnt orange candle, a pair of pumpkins, leaves and berries. Green candles on black candleholders, placemats with leaf and pumpkin images and a table runner with a pumpkin on each end complete the tablescape.
In the living room, a banner that spells out the word "fall" hangs from the mantel of the raised-hearth, stone fireplace. An arrangement of fall leaves, pumpkins and scarecrows lines the mantel as well.
Family Tree
Upstairs, a family tree is painted on the hallway wall, and candid shots of various family members, who include the Weitzes' daughter and son, their spouses and their three granddaughters, serve as the leaves.
Peter's sports room, featuring a large-screen TV, football décor and lots of New York Yankees and Giants memorabilia, also occupies the second story. Framed photos of legendary Yankees' sluggers Babe Ruth, Joe DiMaggio and Mickey Mantle, along with their stats, hang on a wall. "These are my heroes," says Peter.
And of course, game days are another good reason to entertain friends and family and spread out a buffet. They make sure important people are there in spirit as well.
"Our son moved to Madison, Wisconsin five years ago, so we have to Facetime him during games," Peter says.
For empty nesters, the Weitzes always seem to have a full house.
By Leigh Howard