At their Bartram Trail home, a bird-loving Evans couple creates an inviting "nest" for themselves and for overnight visits from their flock of family and friends.
Evans residents Julie and Timmy Calhoun have been flying high since they moved into their Bartram Trail home in May, and their love of all things avian takes wing from the first step inside their home.
In the foyer, they kill two birds with one stone (Don't worry – it's just an expression) by showing their love of family and feathered friends.
A dough bowl on the chest contains greenery and a nest filled with 12 baby blue eggs. Each egg represents one of their seven nieces and five nephews, who range in age from 4 months to 14 years old.
"We love birds, and we love nests, so we often refer to our place as 'The Nest,'" says Julie. "We are all about hospitality. We have a whole guest suite upstairs."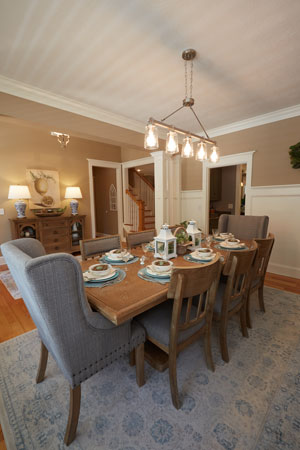 Birds & Bees
The foyer, which features a vaulted ceiling, also has heartwood yellow pine flooring that flows into the main living areas. Their Southern hospitality and affinity for nature extend into the adjoining dining room, which includes a high chair rail and picture frame wall molding.
Ready for entertaining, the table is set with their Lenox bone china pattern, "Chirp," featuring birds and flowering branches, and Julie's grandparents' crystal. For the centerpiece, a ceramic basket sits between white lanterns filled with greenery.
A vintage milk can filled with artificial magnolia blooms occupies a corner of the room, and a wreath of magnolia leaves hangs on a wall. They forage for decorative pieces in small shops in the area, and a local woman that Julie discovered on Facebook Marketplace makes all of her seasonal wreaths.
"We love flowers and plants," says Julie. "And we love supporting small local businesses."
The pen and ink drawings of four insects – a bumblebee, a butterfly, a ladybug and a dragonfly – above the buffet show support for a worthy cause. An avid tennis and soccer player, Julie bought the pictures when the granddaughter of one of her tennis friends was battling cancer. The family was selling the drawings to raise money for pediatric cancer treatment.
The bumblebee represents Julie's sister, Brittany, whom everyone calls "Bee." The butterfly represents her mother; the ladybug represents her grandmother; and the dragonfly represents Julie.
"My mother always loved butterflies. My Nanny had a love of flowers, and she always looked for ladybugs. She would pick them up and let them sit on her fingertips. I likes dragonflies because they're a symbol of peace," says Julie. "All of the pictures are original, except for the bee. It was for a good cause, which is the most important thing to us."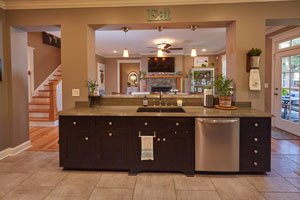 Staying Close
Julie and Timmy also share a passion for cooking, which was instilled in them by their parents. Timmy likes to smoke and grill. Julie prefers to bake, and her Nanny's framed, handwritten recipe for strawberry cake has a prominent spot on the kitchen counter.
"If our house caught on fire, that's one of the first things I would grab," says Julie. "Nanny passed away six years ago. She was the love of my life."
For every family birthday, Julie, who is one of six children, is asked to make the strawberry cake.
"Birthdays are a big deal in my family," she says. "I get that from my Nanny. Everybody had to have a birthday party. That's how we get our family together, and that's how we stay close."
The kitchen also features stainless steel appliances, ceramic tile flooring, a tile backsplash with a copper finish, granite countertops, a wood stove hood, glass-front cabinets on either side of the stove and dark wood cabinetry.
"The dark cabinets were a big draw for me," says Julie. "And they're soft close."
They made the lazy Susan in the center of the breakfast nook table, where they also play cards.
"She comes from a game-playing family," says Timmy. "They had to break me in. Our favorite card game is a game called 'Golf.' It's easy to learn. You play 18 rounds with regular cards."
A breakfast bar overlooking the living room gives the house an open feeling.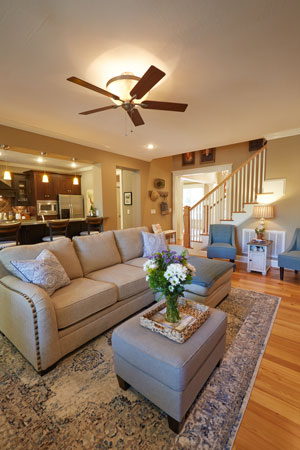 Small & Cozy
The focal point of the living room, which also features heartwood yellow pine flooring, is the stacked stone fireplace with a wood mantel and a raised granite hearth. A word art sign, which they received as a housewarming gift, says, "Welcome to our home. Please leave by 9 p.m." Evidently, their friends know them well.
"We're early to bed, early to rise," says Julie.
Portraits of Julie's late grandparents, Mildred and Jim Goodwin – her Nanny and Papa – hang over the entryway to the living room. Her grandparents also loved birds.
"They had lots of birdfeeders and hummingbirds," says Julie. "My Papa's favorite joke was, 'What do you get when you cross a hummingbird with a doorbell? A humdinger.'"
The master bedroom and bath are on the first floor, and the carpeted room is furnished with an off-white, distressed bedroom suite. The bedroom also features a trey ceiling, and a large window overlooks the backyard.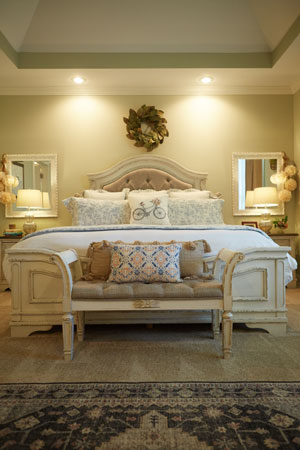 The wall décor includes a tobacco basket filled with greenery, a pair of square white tobacco baskets and a wreath of magnolia leaves.
Double doors lead to the adjoining master bath, which includes a garden tub with a glass tile surround, tile shower, dual sinks, granite countertops, separate water closet and a walk-in closet.
"I like small, cozy houses, and the bottom floor is small and cozy," Julie says.
The Calhouns, who met when she was 14 and he was 13, also wanted the master bedroom on the first floor. When they saw the house online, Julie – like the early bird getting the worm –immediately told their Realtor, "I want that house." They bought the Bartram Trail home and sold their former house on the same day.
They were attracted to the neighborhood, where they play golf and ride bikes on the trails, because of its seasonal events and food trucks as well.
"We wanted a better sense of community. That was one of our main reasons for moving here," says Timmy.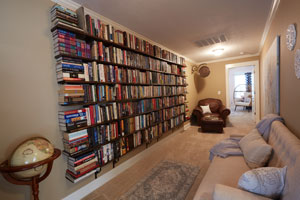 Fun & Games
A map of the world hangs on the wall by the stairs, which lead to a place filled with fantasy and escape for their overnight guests. Their guests have free rein of the second story, which includes two guest bedrooms connected by a Jack and Jill bath, a library and a rec room.
Two watercolors of tennis balls that Julie painted at an art party hang at the top of the stairs in the library, and fellow tennis players are frequent out-of-town visitors.
Her grandfather's putter – Julie used to play golf with him – leans against her grandparents' desk. "I grew up on this desk. I used to play school or pretend like I was a teacher on it. It's very special to me," she says.
A framed $2 bill that Timmy got from his dad sits on top of the desk. "He taught me how money works and how to spend it, and I have kept that $2 bill ever since he gave it to me," Timmy says.
Stacks of individual oak shelves on one wall are filled with books. A duel-sided, hanging station clock with an antique look is mounted on the same wall, and a world map on canvas hangs on the opposite wall.
Timmy always has been interested in maps, languages and cultures, and he loves to read.
"I'm only physically active if it's work. Give me a book; give me a movie, and I'm good to go," says Timmy. "Lately, I have been into vintage crime thrillers written in the '40s and '50s."
One of the bedrooms features an arrangement with – what else? – a bird's nest and eggs on the door and a guest book for visitors to sign.
The second guest room, which has three pink walls and a navy blue accent wall, is set up for their nieces to spend the night. "They have their own fairy named Charlotte. She brings them goodies when they stay," says Julie.
Charlotte "lives" behind a tiny pink door just above the baseboard.
The Jack and Jill bath features tile flooring, and a coffee pot and a basketful of goodies on the countertop make their guests feel at home.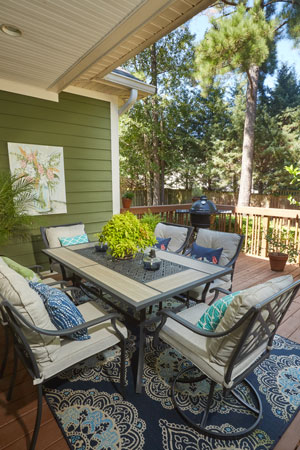 Another snack station in the rec room includes a microwave, a fully stocked mini fridge and a snack rack. The room also features a round game table with four chairs, a big-screen TV and a sectional couch.
Julie and Timmy each claim credit for spotting the sectional couch first, but they agree on one thing. "It is so soft and so comfortable," Julie says.
Green Thumb
Timmy also enjoys gardening, and his green thumb is evident in the front and back yards. "I have a fascination with watching things grow," he says. "I got it from my mom and dad. They loved plants."
By the driveway, Timmy has an experimental flowerbed where he plants cat mint, China barberry, cone flowers and coreopsis.
"I try out new plants until I find something that really sticks," he says. "Julie likes lots of color, so I try things out until I find what she likes."
The front porch, where the doormat appropriately says, "Bless This Nest," also is home to live plants such as a fiddleleaf tree and peace lilies. Window boxes are planted with sweet potato vines, and pots of seasonal flowers line the front steps.
They also have lots of plants on the back deck including potted lavender – one of Julie's favorite flowers, a blueberry bush and a lemon tree. "We eat the fruit right off the plants," Timmy says.
Other shade plants on the deck include azaleas, coleus, hostas, caladium, Ligustrum and mini hydrangeas. Another must-have is a palm tree. "Julie loves the beach, so on every back porch, we have to have a palm tree," says Timmy.
He also plans to plant lots of rose bushes in the yard. And the rose garden, he says, "is going to be the last major project."
Until then, though, the Calhouns can continue to feather their nest with their family, friends and the memories they have made together.
By Betsy Gilliland