Patience plus passion adds up to the perfect house for a Harlem family.
Harlem residents Mandy and Chase Lord knew for years – even before they got married – where they wanted to build their forever home. While they were still dating, they picked out a three-acre lot on 114 acres of land that belongs to Mandy's family.
They have lived in several houses, most recently in Riverwood Plantation, in the 13 years they've been married. They also spent that time patiently looking at floorplans and collecting pictures of home features that they liked before they finally started building their house last February.
After all, Mandy and Chase understand as well as anyone that good things come to those who wait. The couple met in the Kiokee Baptist Church youth group when she was 13 and he was 14 and quickly became friends. Of course, their friendship developed partly out of necessity.
"She wasn't allowed to date until she was 16 years old," Chase says. "I was her first kiss."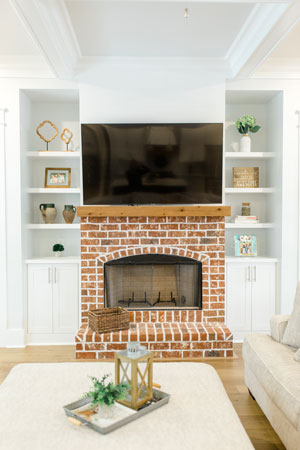 Pure & Simple
Once they were ready to build, however, they didn't let anything hold them back – specifically the coronavirus pandemic that hit at the same time. They simply forged ahead with their plans.
Mandy, a dental hygienist whose office was closed from mid-March to mid-May, often picked out appliances, cabinetry and other materials with their three children, Chandler, 10; Claire, 8; and Colbie Ann, 5, in tow since the schools also were closed last spring. And yes, the littlest Lords offered their input as well.
The family moved into the house with their yellow Lab, Brody, and their three-legged cat, Pumpkin, in July.
And they certainly were welcomed to the neighborhood. Mandy's sister lives across the street. Her parents, two aunts and their husbands, and three sets of cousins and their families also live on the property that originally was purchased by Mandy's grandfather and was passed down to her father, aunts and uncles.
"We wanted to get back out in the country. It's great to be out here," Mandy says.
They describe their home as a modern farmhouse with a coastal feel, in honor of Mandy's love for the beach.
Board and batten siding on the exterior of the home, along with the Galvalume half round gutters that are less prone to corrosion and to collecting debris, add to the rustic farmhouse look. Full-length windows and the salt-pitted concrete flooring on the front and back porches create a beachy ambiance.
"I knew I wanted lots of windows because natural light makes me happy," Mandy says. "I like a clean look."
The interior walls are white, but the changing light affects their appearance throughout the day.
"At different times of the day, it looks different," says Chase, a co-owner of MEGAH Pressure Washing. "There's a lot of blue in the walls in the late afternoon."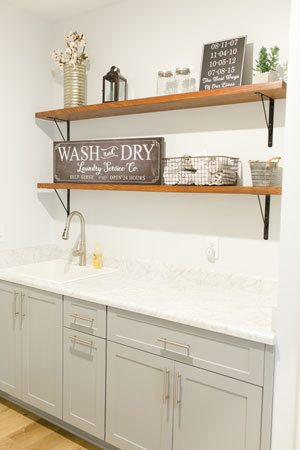 While the house was under construction, they brought various materials to the property to see how they would look in the light. Consequently, they ended up choosing a completely different flooring from the one they originally selected.
However, laminate plank flooring – durable enough to withstand three children – was a must, and five-paneled doors also can be found throughout the house.
"We have a lot of the same tastes, but Chase has to help me make decisions sometimes because I can be indecisive," Mandy says. "I like a twist of modern. He leans toward classic, so we have a combination."
Another feature they wanted for their forever home was for all of the rooms to be on the same level. The only stairs in the house lead up to Chandler's bedroom.
Plenty of land, where they can raise animals and let their children run and play, was a big draw as well.
"We wanted a big outdoor living space," Chase says. "We wanted an open floor concept inside, but we also wanted a big outdoor space to entertain."
For now, their animal collection is confined to Brody and Pumpkin. However, Mandy's cousins have three donkeys, four goats and two horses.
"And there are chickens everywhere," says Mandy. "We don't have chickens yet. We're learning from our family. We want to get more animals."
Chase says they probably wouldn't have built the same house five or 10 years ago because their wants and needs have changed, but they constructed a house that reflects their values and personalities.
"We're simple people. We just wanted good bones," he says. "We wanted a simple place where we can raise our kids and live for the rest of our lives."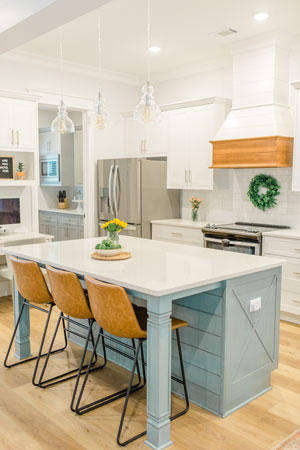 Added Value
The Lords made a few changes to the mid-sized version of the floorplan they selected. For instance, they eliminated the breakfast area that was included in the original plan and added "little details that were inexpensive," Chase says, "but added a lot of value."
In the kitchen, for instance, the walk-in pantry was supposed to have shelving on both sides. However, they included a butler's pantry on one wall instead.
They also added a desk in the kitchen in the spot where a refrigerator or a double oven was supposed to go in some plans.
Two open shelves in the kitchen are made of cedar, and the shiplap range hood also includes a feature with a cedar look. The island, which is painted a shade of blue to contrast with the white cabinets and quartz countertops, also includes shiplap.
"We just highlighted shiplap in a few different places," says Mandy.
A subway tile backsplash is installed in a running bond pattern on the wall behind the stove and on the wall where a window overlooks the backyard. "I like having the sink at the window," Mandy says.
The kitchen also features stainless steel appliances and a stainless steel farmhouse sink. The frosted glass on a set of cabinet doors mimics the glass of the three pendant lights above the island.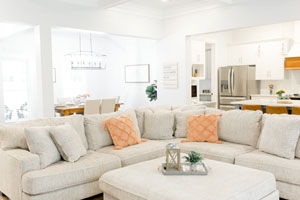 In the adjoining family room, the Lords also have a shiplap wall, where the TV is mounted above the cedar mantel of the raised-hearth, brick fireplace. Built-in bookcases flank either side of the fireplace, which is gas and wood-burning.
The sectional couch is the only new piece of furniture they bought for their new home. Apparently, it was a good purchase as the Lords seem to be in unanimous agreement about their favorite spot in the house.
"The couch," says Chase.
"The couch," says Chandler.
"The couch," says Mandy. "We love a good family movie night."
The room also features a coffered ceiling as well as full-length windows and double glass doors that lead to the covered porch.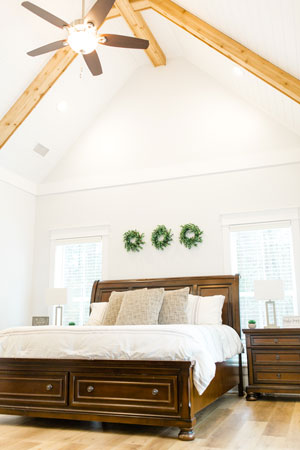 All in the Family
Other furnishings in the house include family pieces or furniture they have had since they got married.
"Thankfully, his mom gets rid of furniture a lot," says Mandy. "And we benefit."
They bought the wine console in the front hallway when they first got married, however. "We don't drink wine," Mandy says. "I just liked the piece of furniture."
A cozy blanket is tucked in a wire basket on the floor next to the console, and a white column adds a hint of separation from the adjoining dining room.
Chase's father made the dining room table, which is about 20 years old, out of pine wood. "The table was at my family's lake house," says Chase. "It has a lot of meaning to me."
The Lords can point out every knick and Sharpie mark in the much-loved tabletop, but these little bits of memory and character aren't noticeable to the casual observer.
A watercolor of one of their former houses, which was painted by Mandy's friend and local artist Anne Luckey, hangs on a dining room wall. "Our kids were born in that house in Grovetown," says Mandy.
About three years ago, Mandy made the silhouettes of their children that hang in a row on the wall in the back hallway. A decorative arrow is positioned underneath the pictures. The arrow symbolizes one of their favorite Bible verses, Psalm 127: 4-5 – "Like arrows in the hands of a warrior are children born in one's youth. Blessed is the man whose quiver is full of them."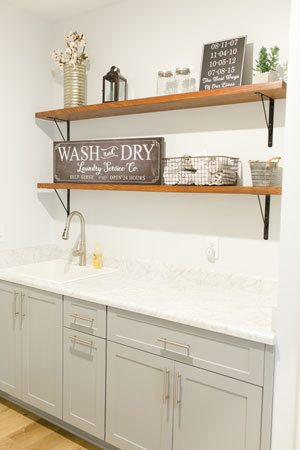 The hallway leads to the master bedroom, which features a tongue and groove cathedral ceiling with exposed cedar beams. "We showed a picture to our contractor, and they took it and ran with it," Chase says of the ceiling.
The adjoining master bath features a ceiling fan, two vanities with quartz countertops, a separate water closet, a walk-in shower, a separate tub and double doors to the walk-in closet. A pocket door connects the closet with the laundry room.
The master bedroom also overlooks the covered porch, which is a favorite gathering spot as well. A hanging bed swing on the porch rivals the family room couch as prime sitting space. One of Chase's employees made the bed swing, and her husband and Chase hung it.
A floor lamp next to bed swing adds a cozy touch to the porch, and a pillow that says "barefoot living" emphasizes their fondness for the casual coastal lifestyle.
The space – where they enjoy eating, reading and entertaining – also features two ceiling fans, a table and chairs, and a wicker couch.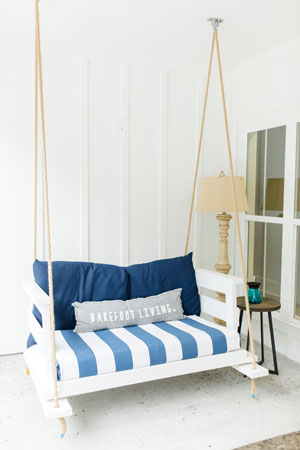 A retro, bright red, wooden Coca-Cola cooler on four legs is tucked in a corner of the porch, and another arrow, which is mounted on wood, is situated above the double doors.
A sign, which was a gift from Chase's mother, also hangs outside. It fittingly says, "Every family has a story. Welcome to ours."
Featuring two ceiling fans and a porch swing, the front porch also offers a welcoming spot to relax and sit a spell. Black and white buffalo-checked pillows accent the wicker furniture and two wrought iron black chairs. An overhead lantern light and two lantern porch lights by the door add to the farmhouse charm. Two big blue planters, offering a splash of ocean color, are filled with greenery and sit on either side of the front door.
Chase planted knockout roses, hydrangeas, lantana, Loropetalum and rush grass in the flowerbeds around the house. The landscaping simply adds another finishing touch to the Lords' forever home. After all, they plan to be there for the long haul.
"You don't sell family land," Chase says.
By Betsy Gilliland