A River Island couple mixes New England and Southern characteristics to give their home a sleek contemporary style.
When Stacey Snyder-Swift and Adam Swift moved to Columbia County from the Boston area eight years ago, their house-hunting efforts took them to about 50 homes. Arriving to look at a house in River Island, however, they had a good feeling before they ever walked inside. After all, their Realtor was waiting for them on the front porch swing with a big smile on her face.
"She knew we were going to like this house," says Stacey.
The Realtor was right. Stacey and Adam loved the open floor plan, and they started making changes to reflect their personalities as soon as they moved into the house in January 2012.
"It was a more traditional Southern cottage with earth tones," Stacey says, "but we wanted it to be a little more contemporary."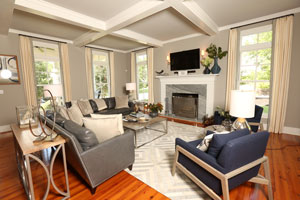 Gray, Glass & Greenery
They changed out all of the light fixtures and replaced the earth tones with gray walls and white trim. "The trim in the house is plain, which I like," Stacey says. "It's cottage-style with a contemporary twist because I wanted to keep the style of home."
The living and dining areas, as well as the kitchen, are all connected in one big space, and wide-plank yellow pine flooring ties them together. The living and dining areas share a coffered ceiling as well.
Studded gray leather couches, a pair of navy chairs and custom window treatments create an inviting ambiance in the living area. "The light that we get with the number of windows is great," says Stacey.
They redid the fireplace, installing a custom mantel and replacing the brick surround with marble. Accenting the mantel and tables, vases hold blooms and greenery such as hydrangea, magnolia leaves and redbud to bring the outdoors inside. Clear glass vases filled with fatsia bring a touch of nature to the built-in bookcases on either side of the opening to the kitchen.
They also painted the backs of the white built-ins gray, where black-and-white family photos sit on the shelves. The bookcases feature a map of Boston Harbor as well.
"We don't do a lot of color," says Stacey.
A geode, a rock that has been split into two pieces to expose the crystalized formation inside, is on display on the table behind a couch. A pair of abstract paintings hang by the front door.
Although he is a landscaper by trade, Adam is pretty handy indoors as well. He made two wood crates for their three dogs – Lucy and Logan, both Cavalier King Charles spaniels, and Moose, a spaniel mix. He also built the square "thunder box," which has a cushion on top and sits in a corner of the living area, for Lucy. The piece has an opening in the back where Lucy can scoot inside to hide when it thunders.
"She's very much the boss – until it rains," Stacey says.
The staircase landing overlooks the dining area, peeking between more built-in bookcases. The bookcase décor includes a photo of Adam's grandfather playing the organ – a favorite activity on family holidays. A candy thermometer, which Adam's grandfather used when he worked as a chemist for the Necco Wafers chocolate factory, rests next to the photo.
Surrounded by upholstered chairs, a farmhouse table occupies the center of the room. "We love that table," says Stacey. "You can destroy it, and it still looks good."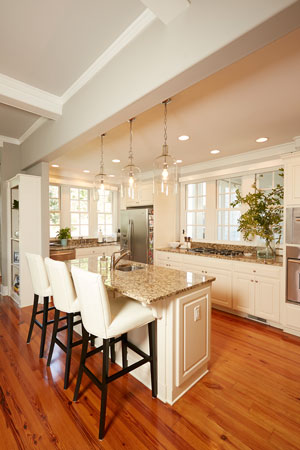 The kitchen features stainless steel appliances, granite countertops, a vegetable sink in the island and lots of drawer space. Elm tree branches fill an oversized glass vase on one counter, and glasses line built-in shelving on a wall in the kitchen. Three glass dome pendant lights hang above the island.
"We've redone a lot of the rooms," says Stacey. "We do a lot of decorating ourselves, but we bring in reinforcements from professionals."
Stacey, who is originally from upstate New York, also relies on her Southern friends to help her bring a regional component to the décor.
Plenty of Privacy
Separated from the main living areas by an office, the master suite is like a secluded little hideaway.
The bedroom features a 14-foot, bead board ceiling; a leather headboard for the bed; and blackout curtains. A full-length mirror leans against a wall, and another mirror, with a coat of silver paint on the cherry frame to match the décor, hangs above the bed.
A geode also sits in a display box in the bedroom, and a window with the seating chart from their wedding, scripted in white lettering on the glass, hangs on a wall. A sofa is angled in a corner of the master bedroom, and double doors open onto a porch.
The master bath features a free-standing claw foot tub, two vanities with marble countertops and a marble walk-in shower. Barn wood, painted gray, covers the walls in the nook for the tub, and Adam did the tile work on the floor.
"We redid the master bathroom from top to bottom," says Stacey.
Family members and friends, who like to take a break from their hectic Boston lifestyle, are regular guests, and a studio apartment in a loft above the carport offers them private accommodations when they visit. The loft includes a kitchenette with a window above the sink and a full bath that Adam and Stacey redid together. The bath includes porcelain tile flooring and a marble shower with penny tile on the floor.
"The loft has its own entrance," says Stacey. "It gives people privacy to come and go as they please."
And they certainly understand their guests' desire for a change in scenery. After initially experiencing a little bit of culture shock, Stacey and Adam, a Massachusetts native, have come to appreciate the slower pace of life in Columbia County.
"I feel like we acclimated easily because people were really friendly," says Stacey.
A screened-in porch is tucked between the house and the carport. The porch features ipe flooring, a bead board ceiling, a ceiling fan and a black marble fireplace that Adam built.
However, Stacey adds, "We give ourselves sabbaticals."
The porch also features a wall of living succulent plants in old sugar molds, and curtains on the two screened walls can close off the space to give it the feel of an indoor space.
"When it cools down, it's perfect," says Stacey.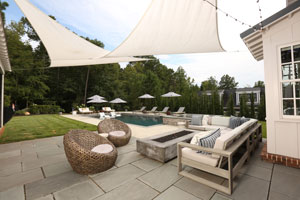 Year-Round Oasis
For R and R, Stacey and Adam also retreat to their outdoor living spaces. They spend most of their time outside in the backyard, where they added a pool and an entertainment area last year. Adam built the patio and outdoor kitchen, which includes soapstone countertops and a mini farmhouse sink.
The patio features bluestone flooring, a nook with a table and chairs, a sitting area around a concrete fire pit, two chairs that face a flat-screen TV on the outdoor kitchen wall, and sailcloth and strings of Edison lights overhead.
The saltwater pool and a Jacuzzi, with a waterfall that spills into the pool, feature bluestone coping. Lounge chairs and umbrellas are set up on the deck, and a pair of lounge chairs and umbrellas sit in the pool.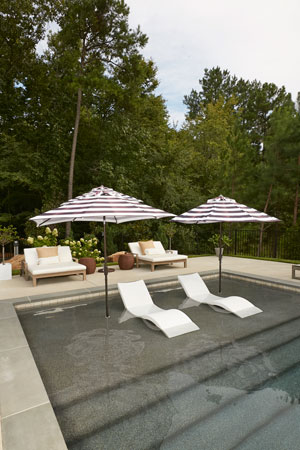 "In the fall, we hang out in the Jacuzzi and look at the stars," Stacey says. "It's really relaxing. It keeps us using our yard all year, too."
Naturally, Adam also takes great pride in the landscaping. He has planted a row of cypress trees, a purple plum tree, gardenias, hydrangeas, snowball viburnum, forest pansy redbuds and plumeria.
Along with the black porch swing, the front porch features two black rockers with red cushions, two ceiling fans and ipe wood flooring.
A banner of some type is sure to be waving from the front porch as well. Adam rotates his inventory of outdoor flags between the Stars and Stripes, Masters and his beloved New England teams – the Patriots, Red Sox and Bruins.
"It's sports or America," says Stacey. "We don't have any decorative seasonal flags."
Stacey and Adam also enjoy the amenities that River Island has to offer.
"We really like that the houses are all different, and there is a lot of wildlife here. Twenty deer come through our side yard almost every night at dusk," says Stacey. "You feel like you can be part of a neighborhood, but also have space to yourself."
By Betsy Gilliland