A natural, minimalist lifestyle brings an abundance of joy to a Grovetown family.
There's a lot to be said for simplicity and self-sufficiency, and Grovetown residents Candice and Dan Lanning bring those traits to almost everything they do. Two years ago, the couple, along with their daughters, Stevie, 7, and Dani, 5, moved to the area from Charlotte, North Carolina to streamline their lives.
For Candice, who grew up in Columbia County, the move was a homecoming – something she never really thought she would do. However, Candice and Dan, who started their own photography business – The Beautiful Mess – in 2007, thought the area would be a picture-perfect place to live. 
"We wanted to have a lifestyle where we could work together and raise a family together," says Dan. "We can live anywhere with our business, and we decided we wanted to be close to family and have space for our kids to see and do." 
A Way with Woods
In January 2016, the Lannings bought 10 acres of land, which they christened Rolling Brook Farms, with Candice's parents, Debra and David Whitley, and started building their house nine months later. Dan, who earned a degree in architecture from the University of Michigan and had worked for a property group in Charlotte, started making sketches for their dream home on a legal pad. With help from Candice's parents and brother, the Lannings did much of the construction themselves and moved into their home in the summer of 2017.
"We're pretty simple in our construction methods. The way we build and the way we live are simple," says Dan. "We knew we wanted to build a home that we could live in. We took elements from different homes that we love."
One of those homes was Candice's grandparents' Albany, Georgia farmhouse, which she says was part of the Underground Railroad. "They had a wraparound porch. It was a great place to live and socialize and be together," says Dan.
Naturally, the Lannings also have a wraparound porch, which includes tongue and groove pine flooring and exposed beams in the ceiling beneath the home's metal roof. Of course, the space wouldn't be complete with a front porch swing.
The interior of the house is designed to bring in as much of the outdoors as possible. "Windows are the most important thing to us," says Candice. "We love good, natural light."
The top windows in the rooms with two-story ceilings also give them incredible views. "At night we can see the moon though the upper windows," says Dan.
They included transom windows above the five-panel doors throughout the house as well. "The transom windows add an old-style farmhouse element," says Candice. "People used to crack them open for air."
All of the lighting in the house is LED, and they have recessed lighting and hardwood flooring throughout most of the house as well.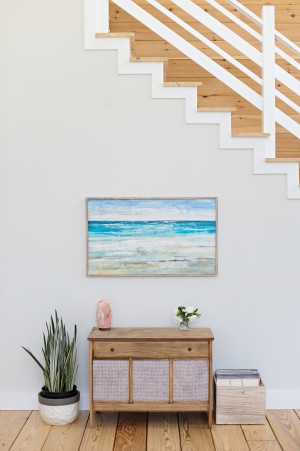 The flooring in the main living area is made up of 1955 heart pine bleacher boards from a high school gym in Ohio. "We wanted our floors to creak," says Candice. "Dan planed every one of the boards, and he put dowels in the holes where the bolts were. I wanted it nailed down."
In addition to the creaky floors, the living area features classic gray walls and a brick, wood-burning fireplace. "We deliberately have not gotten a mantel. I like it plain," says Candice. "I verge on keeping things simple. I think it brings calm to a place."
Dan built a recessed bookshelf on one side of the fireplace in four hours one afternoon. He built the staircase to the loft, and he installed all of the shiplap, which they found in Walhalla, South Carolina, in the house and the trim for the windows.
Candice used lots of rose gold, black and gray hardware and accents in the house. "I didn't want the house to feel like a lodge even though it has a lot of wood," she says.
A four-legged record player console, which the Lannings restored after finding it in their 1952 ranch house in Charlotte, adds a retro touch to the living room.
"We've tried to incorporate a lot of elements that are special to us and that mean something to us into the house," says Dan.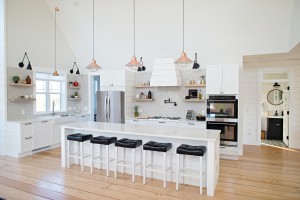 His handiwork is on full display in the kitchen as well. He built the island and installed the scalloped tile backsplash in the kitchen. The floating shelves on the wall are made of white pine wood they found in Appling.
The kitchen also features a pot filler, farmhouse sink, hidden dishwasher, stainless steel refrigerator, double oven, black sconces, soft-close drawers, a shiplap hood cover above the gas cooktop, double oven and quartz countertops.
A trio of rose gold pendant lights hangs above the island, which has open shelving on the back side. "We wanted open cabinets because you don't use appliances that you don't see," says Candice. "It's simple and easy to access."
The island is painted white, but Candice loves the way the knots in the wood seeped through the paint. Dan built the Southern yellow pine table in the pop-out nook for their fifth anniversary.
The mud room features an open pantry with a height chart for the girls on the inside frame, a deacon's bench, shiplap walls, sealed butcher-block countertops, a sink to clean vegetables and plenty of canning supplies. Jars of homemade strawberry jam line a shelf. 
"We eat clean. We cook all of our own food. Because we cook so much, the double oven is a must," says Candice. "We try to be like our grandparents were. Our goal is to homestead and provide as much of our own food as possible."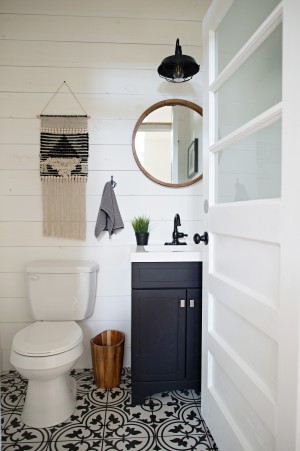 Country Living
Dan, the son of a pastor, grew up on a 40-acre parsonage in northern Michigan, but life in the country was new for Candice. She easily adapted to the lifestyle, however, and her parents also built a house on the property. The Lannings enjoy having the girls' grandparents close by, and most of Dan's family has migrated to South Carolina as well.
The Lannings eat organically, and they grow vegetables such as tomatoes, squash, zucchini, bell peppers and cucumbers in their garden. "We can teach our kids that food doesn't come from the grocery store," says Dan. "Our lifestyle gives us the opportunity to teach our kids a lot of things school-wise and in life."
They have five or six pecan trees on the land as well as blackberries, blueberries and persimmons. "We hope to eventually plant a lot of fruit trees on the property," says Dan.
However, they already planted four trees – a tulip poplar and three October Glory maples – in the front yard. "We wanted trees to grow up with the girls," says Candice.
Their three chickens – named after the Three Musketeers – live in a "swanky" henhouse that Dan built. "We tried to mimic our house with it. It has a metal roof, hardy board and a black door," says Candice. 
They like the privacy and the quiet of living in the country. With their new home they nearly doubled the size of their living space, moving from a 1,400-square foot house in Charlotte to a home of just under 2,500 square feet.
"We have plenty of room in the house, or we can go outside for alone time and space," says Dan.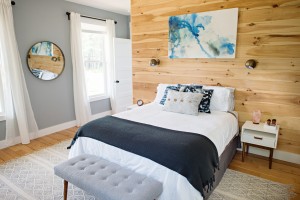 Function and Purpose
The bedrooms offer everyone their own space inside as well, but size doesn't matter. "We went with a smaller master bedroom because we wanted home school space," says Candice.
The master bedroom features a natural shiplap wall, a ceiling fan and a walk-in closet with an open door. The placement of the windows in the room allows them to see the sunrise in the mornings. All of the closets in the house have open doorways, but eventually they plan to put barn doors on them.
"Building a house requires patience," Candice says.
The master bath features shiplap walls, faux wood flooring, rose gold shelving, separate vanities and vanilla leaf-shaped tile in the walk-in shower. The master bath also includes space for the pedestal tub that they plan to restore after finding it in a barn at Candice's grandparents' farmhouse.
"We added a door from the master bath to the home school room," says Dan. "Neither of us are big fans of hallways. They separate space. A hallway is just a way to get from here to there instead of being useful."
The home school space includes a simple white table and chairs, a storage closet, bookshelves on the wall and a piano that came from a home next to James Brown's house.
A portrait of a woman in the room was painted by their neighbor in Charlotte. The woman depicts someone the neighbor met during her missionary work, and they call her "Miss Frances" in honor of the artist.
The powder room is the only room in the house with no windows. "Originally, it was going to be a closet," says Dan.
The space includes a shiplap wall, a black and white tile floor and a six-panel, 100-year-old door.
The bottom panels are wood, but the top three are glass that Dan frosted so no one can see into the room.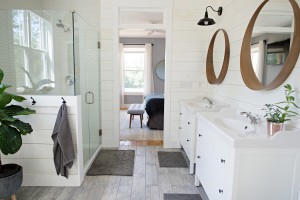 A Jack and Jill bath, which features a transom window and elongated subway tile in the shower, separates the girls' bedrooms. The bedrooms feature a shiplap wall and scalloped, sheer drapes that let in lots of light. Stevie has a white iron bed while Dani has a servant's bed with a distressed finish.
The stairs to the loft feature gate posts on the rail. The loft, which Candice expects to become a bedroom for one of their daughters one day, includes a trundle bed in window. "Dan cut down an existing day bed, and it pulls out into a full bed," says Candice.
The upstairs bath features a hexagon tile floor. Otherwise, along with its incredible views, the loft offers plenty of space and illustrates the methodical way that Candice has filled their home with meaningful pieces.
"I don't want to drown a space. I do one space at a time. I just like to think about it first," she says. "I look for things that speak to us. Everything has a function or a purpose."
By Betsy Gilliland