Get new ideas at the annual Sacred Heart Garden Festival to help your plants thrive. 
Turning an empty canvas into a work of art is not just for painters. Gardening aficionados can put their green thumbs to work to create a masterpiece on a plot of land, and the Sacred Heart Garden Festival April 20-22 offers plenty of inspiration for creative expression. 
Local exhibitors will display fully landscaped and floral designs inside and around Sacred Heart Cultural Center. Vendors from Georgia, South Carolina, North Carolina, Kentucky, Florida, Mississippi, New York and Pennsylvania will sell plants, home accessories and garden accents. Festivalgoers also can visit private gardens that generally are not open to the public.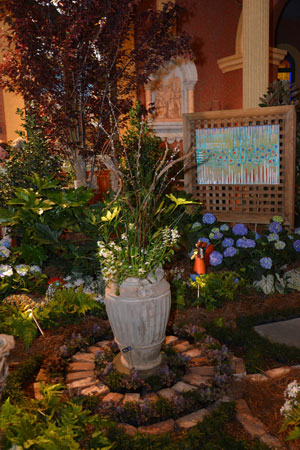 Speakers include Robert "Buddy" Lee, the inventor of Encore Azaleas, and Mark McConnell, a University of Georgia wildlife specialist on Friday. Rose gardener Chris VanCleave, aka "The Redneck Rosarian," and Amanda McNulty, host of SCETV "Making It Grow!" and a Clemson University extension horticulture agent, will share their expertise on Saturday.
At Friday Night in the Garden on April 20 from 5 p.m. – 8 p.m., people can enjoy music, signature beverages and food from Fat Man's Café Food Truck in Sacred Heart's courtyard garden.
With catering provided by Guild of Sacred Heart members, a selection of sandwiches, sweets and more will be available for purchase during the festival. All proceeds from the event benefit Sacred Heart Cultural Center. 
Tickets are available at Sacred Heart and other locations including Angevine's Fine Silver, Bedford Greenhouses, Midtown Market, Southern Landscaping & Lawn Care and Wild Birds Unlimited. They also are available online or by calling (706) 826-4700. 
If You Go:
What: Sacred Heart Garden Festival
When: 9 a.m. – 8 p.m. Friday, April 20; 9 a.m. – 5 p.m. Saturday, April 21 and noon – 5 p.m. Sunday, April 22; garden tours – noon – 5 p.m. each day
Where: Sacred Heart Cultural Center
How Much: $25 weekend pass (through April 19; $30 afterward); $10 daily (festival only; garden tours not included); $10 Friday Night in the Garden 
More Info: sacredheartgardenfestival.com