With a swimming pool, backyard porches and lots of flowering plants, this Bartram Trail home is the perfect place for an Evans couple to enjoy year-round staycations.
Anyone who lives in paradise knows it's an experience to be savored – whether they're sharing the space with friends or enjoying the solitude. Just ask Evans residents Karyn and Paul Edmondson.
They have all the amenities they need to entertain, which they love to do, at their Bartram Trail residence. However, when it's just the two of them at home, the empty nesters, who own two small businesses and have four children between them, can relax in a haven of peace and tranquility.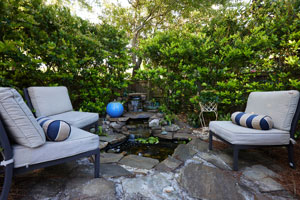 At the end of a busy day, Karyn loves to settle in the soaking tub in their newly remodeled master bath and tell Alexa to play calming music while she relaxes with a glass of wine. If Paul tries to take that opportunity to discuss business with her, well, Karyn isn't having it.
"I tell him, 'We're not working right now. We're on vacation,'" she says. "Because we're in the heating and air business, we don't get to take much vacation in the summer."
However, they don't need to go far to find an escape. "We have staycations in the yard," says Paul.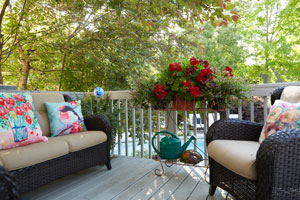 Carefree State of Mind
About eight years ago, they built a swimming pool, complete with tanning shelves, in the backyard. Lush flowerbeds filled with beautiful plants like cala lilies, dahlias and lily of the Nile are nestled in the curves of the pool on the surrounding salt pit concrete decking.
"I didn't want the deck to look brand new," says Karyn.
The sound of water soothingly trickles down a stacked stone wall in the backyard koi pond, creating a carefree state of mind.
"It's so nice when the breeze comes through and you can hear the water," Karyn says. "We actually feel like we're on vacation."
Even if their home feels like a resort, the Edmondsons have put a lot of work into it. They moved into the house in 2006, putting a contract on it before it was complete so they were able to pick out the materials they wanted. Through the years, however, they have remodeled the entire house.
Four or five years ago, they renovated the kitchen to create a space that not only is functional. It's also a great place to spend time.
Rich with various textures, the kitchen features a tongue-and-groove pine wood ceiling and tile flooring with a brick look. The copper hammered farmhouse sink has a curved apron front, and the tile backsplash called "grunge" adds to the room's rustic, farmhouse look. A decorative tile inset accents the wall above the range, and the range hood, which Paul ordered from Mexico, is made of stainless steel, iron and copper.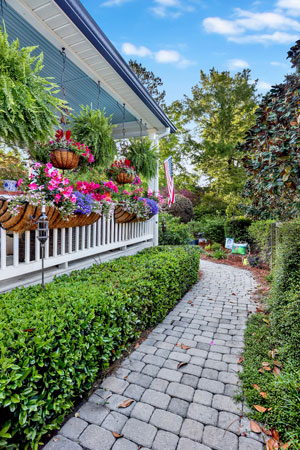 The room also includes marble countertops, barn door cabinets, a pot filler and a large island. Sitting on the end of the island is a wood riser that Paul made from the base of a cedar tree. Typically, it is a display space for flowers, candles and other accessories. However, Karyn says, "When we have parties, I use it for my charcuterie board."
Paul used the rest of the tree to make large cheese boards. He got a lot of the lumber he uses for woodworking projects from a friend's farm in Thomson when he tore down some old buildings on the property. "A lot of the things I make are Karyn's idea," Paul says. "She is very creative – and a great cook."
A chest stands at either end of the island to provide additional storage space such as drawers for pots and pans, and a perimeter countertop serves as a coffee station.
"We're both coffee snobs. We drink coffee all day long," says Karyn. "This is our first stop every morning."
She also keeps a photo of her great-grandmother, who raised her mother, on the coffee station countertop. MacKenzie-Childs accessories, including two rugs, add a splash of color and whimsy to the kitchen.
An adjoining sitting area offers a comfortable spot for guests to gather. Four oyster paintings hang on the wall by the windows that overlook the pool.
Remembrances of Karyn's late brother, Greg Connell, an aerobatic pilot who was killed in an air show accident in 2016, are placed throughout the house, including the kitchen.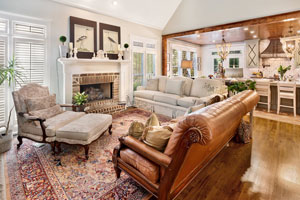 A black-and-white picture of Greg from his high school football playing days hangs on the kitchen wall beneath a canvas of a black dog in a pickup truck. The canvas, where the words "Country roads take me home" are scripted in the bottom left corner, has twofold significance.
"When we were little, we would sing 'Take Me Home, Country Roads' at the top of our lungs," says Karyn.
The Edmondsons also named a new business they recently started, Greco Transport and Home Medical, after Greg's call signal when he flew. Capitalizing on Karyn's healthcare background, the business transports clients to doctors' facilities, treatment centers, patients' and relatives' homes, hospitals and from state to state.
"When we retire the vans, we transport homeless pets from kill shelters to no-kill shelters. We'll take them anywhere," says Karyn. "That's what Greg wanted to do when he retired. He was all about dogs and saving dogs."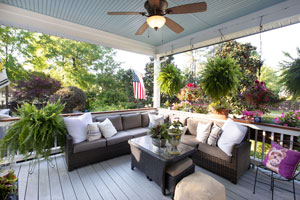 Despite the kitchen's many features, the Edmondsons took advantage of existing space to expand their culinary prep areas. They turned a closet into a small butler's pantry and gave the laundry room, which features a tongue-and-groove ceiling, a dual purpose.
"I transformed my laundry room into a bar," says Karyn. "We took out the utility sink, put in a copper sink and made it into a wet bar."
The laundry room also offers convenient access to Karyn's fresh herbs. "My herb garden is right outside the window, so I just open it and get what I need," she says.
In honor of Paul's Alabama roots, a painting of Bear Bryant hangs on the laundry room wall. In Paul's six degrees of separation from the legendary Crimson Tide football coach, his mother worked for RC Cola when Bryant served on the company's board of directors.
The living room, which features red oak hardwood flooring, a raised-hearth brick fireplace and a cathedral ceiling, adjoins the kitchen. To create a definite demarcation between the living room and the kitchen, they added a pine door frame when they remodeled.
Meaningful Mementoes
Family photos are plentiful throughout the house. "We grew up having our picture made," says Karyn, whose father, Charlie Connell, worked in photo finishing.
One special memento sits on a bench in the foyer, just inside the front door — a blue-and-white-striped stuffed bear that is made out of one of Greg's shirts.
The red oak flooring in the foyer extends into the dining room, which features a high chair rail and the Arnold Palmer Lexington table that Karyn has had for about 30 years. "When I like something, I just keep it," she says.
Giving the formal setting a bit of playfulness, a pair of black-and-white-checked MacKenzie-Childs moose candlesticks sit on the tabletop.
"MacKenzie-Childs pieces can be a little 'extra,' so I have little pieces of it here and there," says Karyn.
The master bedroom features a trey ceiling and a ceiling fan, and a pair of angel wings hang from the armoire in Greg's honor. When Karyn took over her brother's heating and air business after he passed away, she also re-engineered the company logo to include his wings.
In the master bath, they replaced the built-in tub with the stand-along soaking tub and enlarged a walk-in tile shower, which features a rain showerhead, when they renovated the room earlier this year.
"Our shower was like a phone booth," says Karyn. "We expanded it and made it all glass. We added a pebble floor, and it's one of my favorite things."
The space also features a double vanity with a granite countertop, a vaulted ceiling and two shiplap walls.
"We kept the room light so we can feel like we're on vacation," Karyn says.
Porch Life
The Edmondsons' house sits on a corner lot, which brings a cheerful, vacation-like breeze onto the property. They often enjoy the breeze from the covered side porch, where lots of hanging baskets filled with ferns and flowers give them more privacy.
The side porch includes a wicker sectional couch and table, an antique church pew, a ceiling fan and a TV on the wall. The beadboard ceiling, like the front porch ceiling, is painted haint blue.
They found the church pew, which is more than 100 years old and is constructed with wooden pegs, at an antique store.
MacKenzie-Childs accents include a birdhouse that hangs from the ceiling and a frog-shaped dinner bell mount on the wall. The frog's long, curly tongue is sticking out to hold the bell.
Planters filled with bougainvillea hang from the side of the porch railing into the yard, and small blue and white planters line the rail. Paul made the fish wall hanging on the side porch out of plywood and tin.
"We saw one on the wall at TakoSushi. We tried to buy it, but they wouldn't sell it. We came home and the next day, I made it," he says.
An open air porch that extended from the side porch features more wicker furniture and wrought iron chairs. The décor includes a decorative pig and colorful pillows that accent the furnishings. Glass ornaments embellish flower-filled containers.
The Edmondsons like to eat on the porch or by the pool. Mostly, though, they like to enjoy each other's company at work and at home.
"We raised children here," says Paul. It's been a great place."
By Betsy Gilliland