With their new home, this family of four has created a happy place that they love to share with others virtually and in real life.
There is no shortage of online inspiration for anyone who is building or decorating a house. However, a visit to @thejoyfilledfarmhouse, the Instagram page of Tara Matthews, will offer plenty of ideas to homeowners.
Tara started the account in October 2019 when she and her husband, Aaron, were building the west Augusta home they share with their children, 5-year-old Peyton and 2-year-old Aly Kate, to document the construction process.
"I like to help other people if they have questions about building," says Tara, a former teacher and current stay-at-home mom. "I was in that same boat, and I didn't know who to ask."
Recently, their farmhouse-style home, where they have lived since October 2020, was featured on homebunch.com when the site's founder contacted Tara after seeing her Instagram account. The online community features interior design ideas submitted by interior designers, builders, photographers and homeowners.
Before their house was featured on homebunch.com, Tara had about 5,000 followers on Instagram. Now, however, the number has climbed to about 20,000 followers.
"I'm shocked that that many people are interested," she says.
Yet it's really no surprise that their house has generated such a following. After all, the name of her Instagram page itself – along with her tips and photos – captures the joy and TLC that Tara has poured into their home.
"Joy is my favorite word. I got it from my mom. That's her favorite word, and she is exactly that," says Tara.
Aaron encouraged her to start the Instagram account, and the hobby quickly turned into an outreach to others and a vehicle for followers to "shop her home" through the liketoknow.it app.
"We really felt like we were supposed to share our home," Tara says. "I really want people to come here and feel welcome."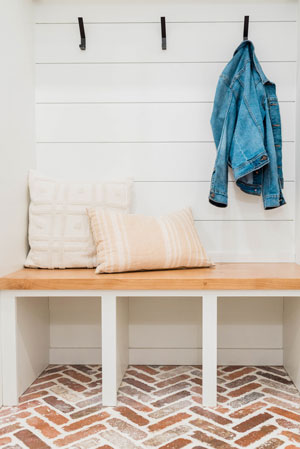 While the self-described introvert might feel more comfortable sharing virtually than in person, Aaron loves to entertain. She is happy to oblige, she says, because "I love my husband a lot."
The Heart of the Home
Visitors to the modern farmhouse, which has board and batten siding and Hardie board on the exterior, are greeted by a doormat that says, "Come on in & cozy up." A black and cream plaid rug beneath the doormat adds a layered look of charm and personality to the front porch, and black gutters accent the white farmhouse.
A trio of hanging ferns lines the porch, and the ubiquitous red and black Georgia flag flies proudly from one of the 8-inch cedar columns. "We always have our Georgia flag out, no matter the season," says Tara.
The front porch also features a gable roof, a tongue-and-groove pine ceiling, a brick skirt and firwood double doors with a natural stain.
"My husband likes a lot of craftsmanship," Tara says.
Inside, Tara and Aaron wanted an open concept so they can mix and mingle with their company. To enhance the open feel of the home, all of the ceilings are 10 feet high, except for the living room's cathedral ceiling that reaches to 17 feet at its highest point. Most of the first story has luxury vinyl plank flooring, which is durable, scratch-resistant and easy to clean.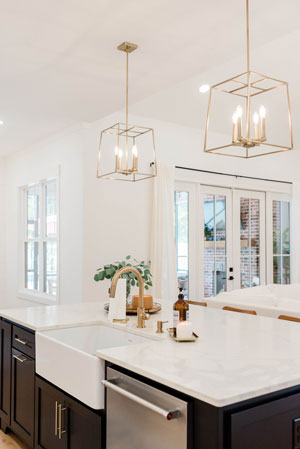 Tara calls the kitchen the heart of the home, and she wanted a space that could feed and seat a crowd.
"I wanted a white kitchen with lots of storage, and I wanted to make it functional," says Tara.
Other kitchen must-haves included floor-to-ceiling cabinets for storage, a walk-in pantry, a large farmhouse sink, a large island, quartz countertops, lots of cabinet drawers, a gas stove and double ovens. An appliance garage for the coffeemaker is tucked in a corner.
"I like for everything to have a place," Tara says. "No clutter."
The island is painted black to contrast with the white walls and the glossy white picket tile backsplash. A pair of pendant lights hangs above the island, and leather chairs provide seating.
"They're so easy with kids," says Tara. "I can just wipe them off."
A four-pane glass and wood door leads to the walk-in pantry, which includes butcher block countertops, a mini-fridge for overflow and lots of cubbies and drawer space.
"This is where I hide all the snacks," says Tara.
Situated just off of the kitchen, the dining room features a pine farmhouse table with upholstered chairs on each end and Windsor chairs along the sides. The room is accented with a rectangular pendant light and an area rug. The sideboard is actually a TV stand with cane-front cabinet doors.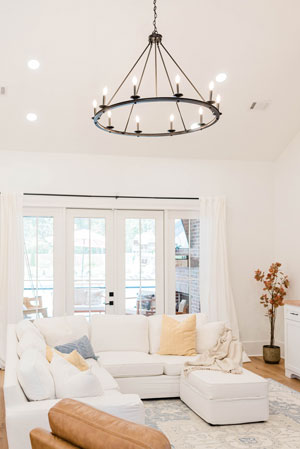 Black & White
Tara and Aaron extended the living room by two feet to have plenty of space to entertain, and they continued the black and white theme into the living room.
The white walls have a matte finish, while the trim has a satin finish. Accents include a 10-light matte black chandelier and matte black swing-arm sconces above open cedar shelves.
Other wood accents, which bring warmth to the large open space, include a cedar beam across the ceiling and a cedar mantel above the brick gas fireplace. Furnishings include a white sectional couch with an ottoman and a pair of tan leather recliners.
Double French doors from the living room open onto the screened-in porch – a favorite hangout for their dachshund, Tucker. "We screened in the porch so we can use it all year round," says Tara.
The space includes a pine tongue-and-groove ceiling; board and batten walls; concrete floor; another brick gas fireplace, which they added to the house plans; space heaters; a TV and windows trimmed in black.
"The black exterior windows pop off of the white," Tara says.
She loves to sit on the custom-made bed swing with her children, and Aaron strung Edison lights around the ceiling line to make the porch feel cozier. Doors also connect the porch with the master bedroom, and the couple likes to take full advantage of them.
"We can have a date night and watch a movie while the kids are sleeping," Tara says.
The master bedroom features board and batten walls and a pine tongue-and-groove inset ceiling. Accents include an area rug and an upholstered bench at the foot of the bed.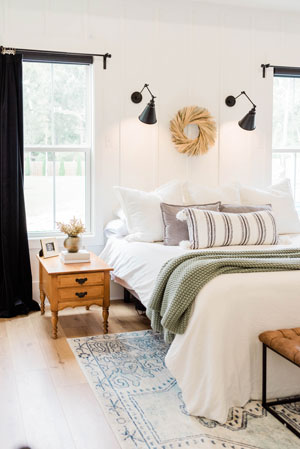 A barn door leads from the master bedroom to the adjoining bath, which has quartz countertops, a knee-space makeup vanity, double sinks, wall-mounted gold faucets, ceramic matte tile flooring with a marble look and lots of cabinet space for storage. The walk-in shower features textured ceramic subway tile and basketweave tile flooring.
Shiplap wainscoting surrounds the pedestal soaking tub. A bamboo tub caddy reaches across the tub, and a chandelier hangs above it.
"This is where I relax and unwind," says Tara.
Form & Function
While the master bath is a sanctuary for R&R, the bath that the children share is designed for function. Their bath features shiplap walls, large subway tiles in the shower, rectangular mirrors with rounded edges and a linen closet with a pocket door. However, one of Tara's favorite features in the space is the built-in, pullout step stools beneath the sinks.
"They can pull the steps out themselves," says Tara. "I saw them on Pinterest, but I didn't know anyone who had them."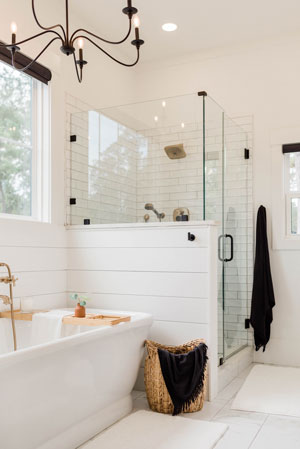 The powder room features a wall-mounted faucet in black matte and a chunky wood vanity. The half-bath also includes brick flooring in a herringbone pattern, which stretches into the mudroom and laundry room.
A pocket door leads to the laundry room, which includes a shiplap backsplash, a soaking sink and a counter to fold clothes. Two large seagrass tote baskets are tucked beneath the counter, and the cabinets are painted soothing Sea Salt by Sherwin Williams.
"I wanted a nice, calming color in the laundry room," says Tara. "I wanted to do something different instead of black and white, like the rest of the house."
Another pocket door leads from the laundry room to the master closet, which is accented with built-ins and a transom window.
Because they rent out their home for the Masters Tournament, Tara and Aaron included other features to accommodate their guests as well. They have a heated pool on their one-acre property, and they added another bedroom and bath on the second story.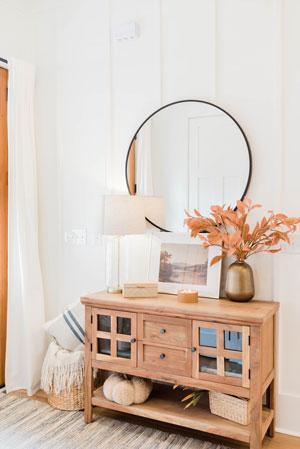 Relatability & Inspiration
It's not just the big-ticket items that garner attention on Tara's Instagram page, however. Her décor stands out as well. Tara collaborates on Instagram with a handful of small businesses such as Southern Willow Market, a local gift shop in Martinez; Little White Shed & Co., a candle company in New Jersey that is run by a mother and her two daughters; and Sand Cloud, a California-based towel company started by three friends who were trying to create the perfect beach towel.
"I only do so many collaborations at a time," Tara says. "I try to stick to two or three at a time."
However, @thejoyfilledfarmhouse is a source of strength and comfort for Tara as well.
After she lost a baby due to a rare condition when she was nine weeks pregnant in November 2020, she stopped posting on Instagram for about three months. Her husband encouraged her to get back into it because he knew how much she had enjoyed it, and it helped her begin the healing process to regain the joy in her life.
She met other women online who had gone through similar circumstances, and she received lots of support from her followers when she posted her story on the baby's due date.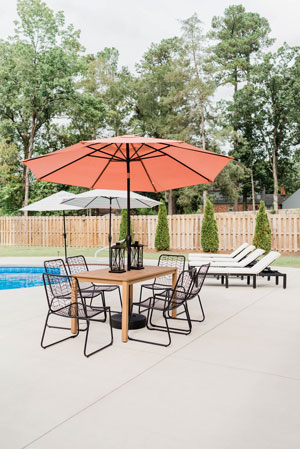 Tara knows life is full of unexpected twists and turns ("Coffee and Jesus help," she says.), but she tries to post something on Instagram every day – even when the house doesn't look perfect.
"There are so many accounts that have inspired me," she says. "I want to relate to people."
By Betsy Gilliland