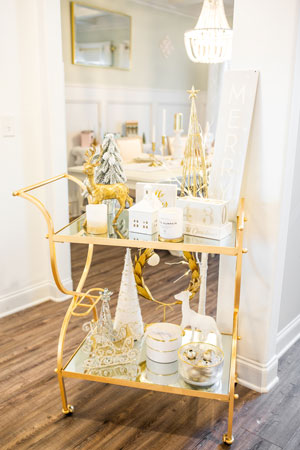 There's always a white Christmas – with flakes of pink and gold – at this Canterbury Farms home.
Grovetown resident Katherine Lamb has loved decorating for Christmas ever since she was a young girl, and she always has known exactly what she liked. She and her mother had definite – and decidedly different – tastes, however. While her mother loves color, Katherine goes for gold and white.
So, when she was in high school, Katherine got a Christmas tree for her bedroom, and her mother let her decorate her room the way she wanted it.
During the holidays, that same tree now occupies the living room of the Canterbury Farms home where Katherine lives with her husband, Tyler. And the tree has plenty of company all winter long.
"Every inch of our house is decorated," Katherine says. "When we take it down, it feels so bare."
The decorations stay up a healthy portion of the year, however. Katherine starts decorating for Christmas November 1, and she keeps the decorations up through February. It takes her about a week to decorate, and she and Tyler each have their own roles in the process.
"I do all the decorating," she says. "Tyler brings everything out and says, 'Go to town.'"
Glitter & Gold
Katherine gets new decorations every season to keep variety in the décor. She moves things from place to place from one year to the next, but she never strays too far from her favorite elements.
"Our theme is 'White Christmas.' We have a lot of trees and reindeer," says Katherine. "I like the clean look of white and gold, with a hint of pink to add color."
The main tree in the living room is tucked in a corner against a shiplap wall, and it stretches to the coffered ceiling. Flocked in gold and white, the tree features wide white ribbon, glittery gold balls, white balls, gold reindeer and white poinsettias.
"I don't hang all of the ornaments on the tree because it can make it look droopy," says Katherine. "I just sit some of the ornaments on the branches to make it look fuller and not so weighted down."
Gold floral picks that protrude from the tree create a 3-D effect, and all shapes and sizes of white boxes trimmed in gold are piled beneath the Christmas tree.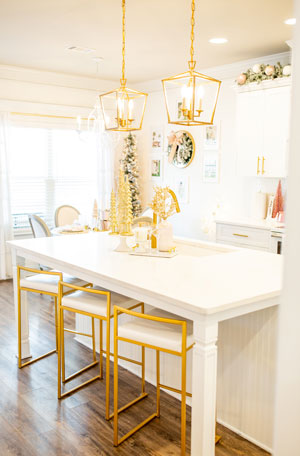 "This is my favorite tree," Katherine says. "We keep the gift boxes under it before we put anything in them. When we start wrapping, we take the empty boxes and fill them up. I wrap them in white and gold wrapping paper. When I wrap gifts, I do it in layers."
The color scheme continues to the fireplace, where pink balls, white lights and gold reindeer are nestled in the flocked garland on the mantel.
"I try to make the garland look fluffy and busy," says Katherine. "I add gold elements and reindeer."
Cascading off each edge of the mantel, the garland and pink balls dangle down to frame three white knitted stockings. A cream-colored pillar candlestick and candle, along with a small white bare-branched tree with white balls and white lights, stand guard on each end. A cluster of cone-shaped trees occupies each side of the flat hearth.
The tree that Katherine had in her childhood bedroom sits on a table, draped with a white cloth, in another corner of the living room. "It's our sentimental tree," she says.
This flocked tree is decorated with meaningful ornaments such as those that commemorate their engagement and their first Christmas together. Other decorations include rolls of artificial snow and more glittery gold and white balls.
The Lambs have two gold bar carts – one with white shelves and one with glass shelves. After all, if you can't decide which one you like better when you're shopping, there's only one thing to do – get them both, of course.
"All the little things that don't really have a place go on the bar carts," says Katherine.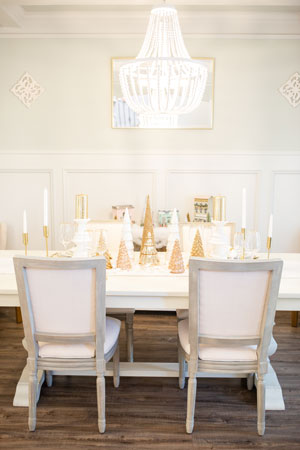 Pink & Girly
In the hallway, a canvas of a shimmery, 3-D textured train engine in the snow is the perfect complement to the winter décor. "We shiplapped the wall because it was big and boring and put the canvas on it," says Katherine.
Two bare-branched white trees (larger versions of the pre-decorated trees on the mantel) sit on the floor next to a white chest with mirrored doors. A white lamp, a pink-and-white-clad Santa and gold trees, along with two snowmen beneath a pair of bell jar domes, rest atop the chest.
Flocked garland, accented with lights and pink ribbon that Katherine added in pieces, wraps around the staircase handrails and landing railing.
A duo of pink-outfitted gnomes – aka "dog toys" for the Lambs' two huskies, Zaya and Zeus – sits on the stairs in the hallway.
The dining room walls above the high chair rail are painted a pale shade of teal. They're the only walls that aren't painted white, so Katherine takes advantage of the hue with the Christmas décor. "I added a little bit more color in the dining room," she says.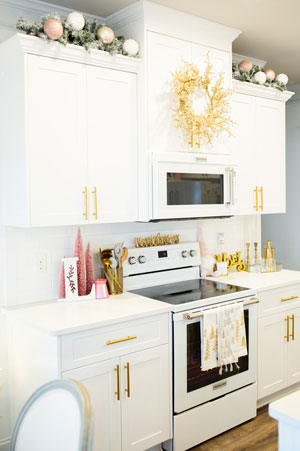 Think pink. "This room is a little bit more fun and girly," says Katherine.
The all-white tree in the corner is decorated with pink ornaments, frosty pink poinsettias and gold picks, while boxes of pink, gold and white are stacked beneath the tree.
"We used to have the tree in our bedroom, but nobody saw it there," Katherine says.
A bed of artificial snow cushions a lighted Parisienne village, trees, two ceramic dogs and a glittery pink Eiffel Tower on a side table.
The dining room table centerpiece is made up of white, gold and pink trees; gold pillar candles atop white candlesticks; white tapers in gold candlesticks and strands of white leaves on a white table runner.
The place settings feature white dinner plates sandwiched between frosty gold-rimmed chargers and salad plates, and white napkins wrapped with gold napkin rings rest on the plates.
Christmas lights are one of the Lambs' favorite things about the season as well, and they like to turn on only the holiday lights in the house.
"We have so many things that are lit up," says Katherine. "We have smart plugs in every outlet, and Alexa turns the lights on and off. That's a Tyler thing, but it's also safe, easier and saves on power. I'm into decorating, and he's into technology and smart stuff."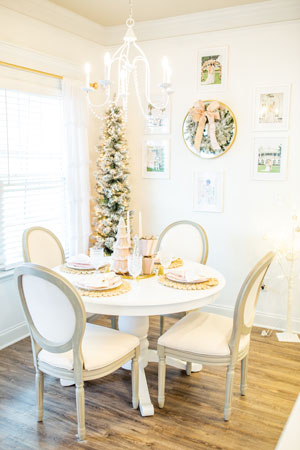 'Make It My Own'
Katherine flocked the garland in the kitchen herself, lined it along the top of the cabinets and filled it in with pink and white balls.
"When I buy something, I try to make it my own," she says. "If I can't find something and I have a vision in my head, I just make it."
While a pink gnome and a gold Noel sign sit on one counter, another counter holds a group of pink trees. A glittery gold wreath hangs above the microwave.
The Lambs love to invite friends to their home during the holidays, and last year Katherine had a gingerbread house-decorating party for her friends. Naturally, she trimmed her gingerbread house with pink and white icing.
Regardless of the season, Katherine keeps fresh flowers in the kitchen as well. "I always try to have a fresh floral arrangement in the house because it smells good and makes it feel lively," she says.
The kitchen also features white quartz countertops, white appliances, white subway tile on the backsplash, white cabinetry with gold hardware and gold lantern pendant lights above the island.
"Gold has always been my favorite color, but it has to be a certain kind of gold," says Katherine. "I love antique bronze, and I love textured gold."
A wreath that she spray painted white hangs on the round mirror, which is surrounded by wedding pictures, in the breakfast nook.
A gold tray filled with a pink tree, gold candlesticks with pink candles, a silver tree and decorative pink presents tied with gold ribbon serve as the table centerpiece, and a white beaded chandelier hangs above the table. An ornament-free, flocked skinny tree with lights stands in the breakfast nook corner.
"We try not to make this corner super busy," says Katherine. "We spend a lot of our time eating and working in here."
She has skinny trees at the top of her wish list this year, and she knows just what she wants to do with them. "I want more skinny trees to put in the corners. There are so many ways you can use them. They're so cute," Katherine says.
Coloring Outside the Lines
She also likes to color outside the lines with her holiday décor, gravitating toward the more traditional Christmas red and green for the exterior of the home.
Although she never gets tired of Christmas, Katherine does have her limits.
"We don't keep our outside decorations up until spring," she says.
By Betsy Gilliland