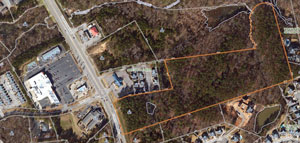 While the status of proposals to build two low-income housing projects in Columbia County currently is in limbo, residents overwhelmingly oppose the plans
This summer out-of-town developers sought tax credits from the state Department of Community Affairs to build two new affordable housing projects in Columbia County. While approval of the projects is yet to come from the state, Columbia County residents have made their feelings known. And it's thumbs down.
"If the DCA approves them for funding, they still need approval from the county," says Scott Sterling, the county Planning Services director. "Neither have happened. Until we get something on paper, it's hard to speculate on the viability of whether it will be approved."
One of the developments, the Woods at Reed Creek, would be located at 487 Furys Ferry Road and border West Lake subdivision behind the office buildings fronted by the Wells Fargo bank branch. It would feature 38 detached single-family dwellings on 17 acres.
Evans Commons would be built at 4975 Hardy McManus Road near the intersection of Hardy McManus Road and William Few Parkway, close to Eagle Creek subdivision. It would include 90 apartment units on 13 acres.
Upon receipt of DCA's letters regarding the development of the two housing projects, the county solicited input from the community.
In a week, the county received more than 1,200 emails from local residents, and the majority of respondents opposed the developments. A corresponding poll on the county's official Facebook page netted more than 3,400 votes. Of those who took the poll, 94 percent opposed the projects and 6 percent supported them.
Reasons for the opposition ranged from traffic concerns to additional burdens on an already overcrowded school system.
In August Board of Commissioners Chairman Doug Duncan sent two letters to the DCA in opposition of the proposals to build the housing developments.
"Columbia County remains one of the fastest growing counties in the United States," he wrote in the letters. "As such, we have been diligent in our planning efforts to ensure that our infrastructure would not only support growth, but meet our citizens' quality of life demands."
To date, the county has received no update from the DCA nor the potential developers since the letters were sent to them.