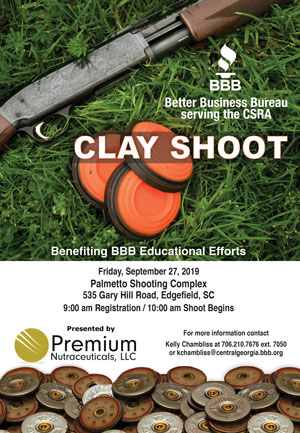 Bring your own gun (12-gauge or 20-gauge), along with ammo (100 shots per person) and protection for your eyes and ears to the Better Business Bureau clay shoot on September 27 at the Palmetto Shooting Complex in Edgefield.
Registration and breakfast begin at 9 a.m. and shooting begins at 10 a.m. A barbecue lunch and awards program will be held at 1 p.m.
To register, call (706) 210-7676 ext. 750 or email kchambliss@centralgeorgia.bbb.org.
The registration deadline is September 6.