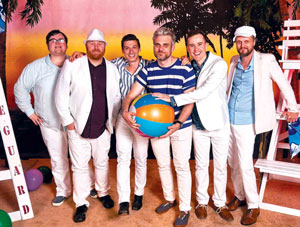 After nearly a year of limited live entertainment opportunities, "Wouldn't It Be Nice" to have some "Good Vibrations" and "Fun, Fun, Fun?"
Well, "Here Comes the Sun." Popular tunes from the 1960s will come to Hardin Auditorium this month with two concerts — Sail On, the Beach Boys Tribute and Liverpool Legends, the Complete Beatles Experience.
Sail On will perform Saturday, February 6, and Liverpool Legends is scheduled for Saturday, February 13. The performances will include two shows each – one at 4 p.m. and the other at 7:30 p.m. Tickets for both shows are $39.95 per person.
Based out of Nashville, Tennessee, Sail On has performed with musicians from Brian Wilson's band, Earth Wind & Fire, The Zombies and Mark Lindsay and produced recordings for Micky Dolenz.
The members of Living Legends, hand-picked by George Harrison's sister, Louise, are celebrating their 10th season of headlining their own show in Branson, Missouri. The group has been awarded multiple honors including Best New Show, Best Band, Best Show and the Visitors' Choice Award for Entertainer of the Year.
For tickets or more information, visit augustaamusements.com.