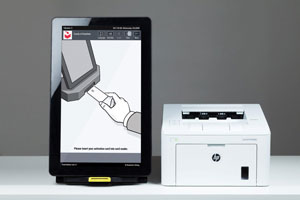 The state has chosen Dominion Voting Systems to implement its new verified paper ballot system. Implementation of the new secure voting system will be in place and fully operational for the March 24 presidential primary.
Voters will still make their choices on a touchscreen machine, but instead of tapping a button that says "cast ballot," they'll click on a button that says "print your ballot." The ballot will print out so voters can review it for accuracy before placing it in a scanner for tabulation. The paper ballots then will be locked in a ballot box for retrieval as needed for audits or recounts.
Nancy Gay, the Columbia County Board of Elections executive director, says the county has not received any additional information since the announcement was made about the new system. "It's still all in the planning, rollout stages," she says.
Some pilot counties will conduct their upcoming municipal elections with the new system, says Gay, but Columbia County will conduct the November municipal elections in Harlem and Grovetown under the old system. The next countywide election will be the March 24 presidential primary.
In addition to the new voting system, the Georgia Secretary of State's office has partnered with the Department of Homeland Security and private cyber-security companies to provide network monitoring, cyber-hygiene scanning and cyber-security assessments. Many Georgia counties also have partnered with DHS to provide physical security assessments of their election offices.