Harlem Arts Council festival showcases local talent and emerging artists.
If April showers bring May flowers, then Harlem Arts Council's fifth annual Bloomin' Arts Festival should bring lots of people to the community May 3-4.
The festivities will begin Friday night with a focus on musical entertainment including performances by the Harlem High School band, the Sand Hills String Band, a jazz trio and Garden City Chorus.
Two big tents will be set up on the grounds on Saturday. One will feature a stage for entertainment, and Harlem Arts Council members will be set up under the other tent to showcase the work of emerging artists.
About 30 regional artists will be selling their works, which will range from paintings to wood carvings. A silent auction will benefit Harlem Arts Council programs.
"We want art to be accessible to everybody," says Ann Blalock, Harlem Arts Council secretary and the festival coordinator. "The council does a lot of classes and exhibits."
Food vendors will sell barbecue, hot dogs, hamburgers and Kona Ice. Children's activities also will be offered, but youngsters not only will be entertained. Some will display their talents as well.
"We're showcasing children's art from all of the Columbia County schools that wish to participate," Blalock says. "It will be set up in the library two weeks in advance."
In another festival highlight, 125 painted lady butterflies will be released on Saturday. "We're doing a butterfly release because we're hatching out," Blalock says. "We've reached the metamorphosis stage."
If You Go:
What: Bloomin' Arts Festival
When: 6 p.m. – 9 p.m. Friday, May 3 and 10 a.m. – 4 p.m. Saturday, May 4
Where: Harlem Library green space
How Much: Free admission; food vendors onsite
More Info: (706) 556-6656, HarlemArtsCouncil@gmail.com, harlemartscouncil.org or facebook.com/HarlemArtsCouncil/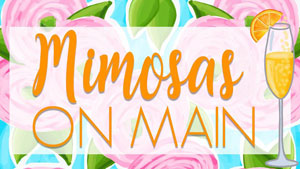 Mimosas on Main Street
In conjunction with the Harlem Arts Council's Bloomin' Arts Festival, the Harlem Merchants Association will hold its inaugural Mimosas on Main Street in downtown Harlem on Saturday, May 4 from 10 a.m. – 1 p.m.
During the festivities, participating merchants will be offering brunch, bubbly and giveaways. Event guides are available at Couch Consulting, in front of the Harlem Library.
The event is free. However, wine and champagne tasting wristbands are $5. Cheers!