Take the sounds of great American crooners and big bands, combine them with the fire and energy of 1930s gypsy jazz, add a dash of Jamaican Rocksteady and what do you have? The Black Market Trust, direct from Los Angeles. Yes, they have an odd name (quickly thrown together when ABC hired musicians for its series, "Happy Endings"), but the old-meets-new, all-acoustic results — with a touch of Rat Pack-style humor — are musically innovative and just may hook you into being a fan.
The group, which consists of five world-class musicians who have performed on the biggest stages and with music's most renowned artists, will bring its distinctive style to the area once again on Friday, January 24.
Merging their love of everything from Cole Porter and Sinatra to Lennon/McCartney and Brian Wilson, the artists will perform some of their favorite Great American Songbook standards. Concert tickets are $39.95.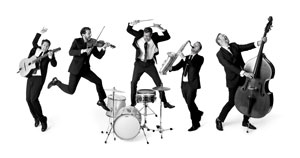 On Tuesday, January 28 and Wednesday, January 29, South Africa's Belinda Davids will present "The Greatest Love of All" in a tribute to Whitney Houston. The vocalist, who will be accompanied by a six-piece band and dancers, will perform some of Houston's greatest hits including "I Will Always Love You," "I Wanna Dance With Somebody" and "How Will I Know."
Directed by Johnny Van Grinsven and launched in 2013, the show has entertained audiences across the United States, Canada, Europe, South Africa, Asia, United Arab Emirates, Australia and New Zealand. Tickets are $44.95.
All of the concerts begin at 7:30 p.m. at Jabez S. Hardin Performing Arts Center. For $25, dinner also is offered before the shows. Dinner reservations are required. For more information, call (706) 726-0366 or visit augustaamusements.com.