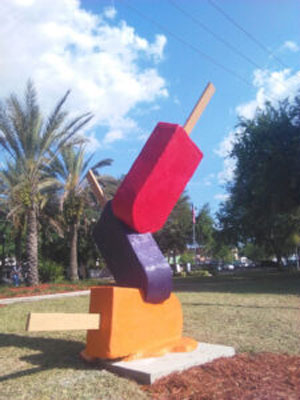 The Augusta Sculpture Trail, which will feature a walking tour app to view 10 public sculptures downtown, will hold an unveiling and celebration Saturday, February 6.
The attraction will run until January 2023, and each month a special event will be held somewhere along the trail. The app will help visitors learn about each work of art and the artist who sculpted it.
Sculptures include:
POPSICLES @ 836 REYNOLDS ST.

By Craig Gray
Craig Gray is from Key West, FL. His focus is connecting community, exploring culture and constructing guideposts of life with art. Weaving a story with the goal of warming the creative soul, and bringing happiness to the heart are just a few of the objectives of my designs. He uses rugged materials incorporating recognizable symbols embracing aspects of a locality to bridge generations of peoples from diverse backgrounds.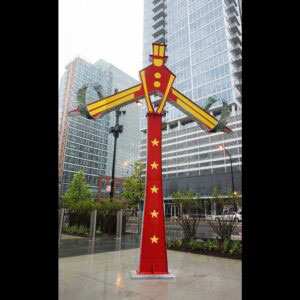 UNSTOPPABLE @ 11TH & BROAD ST.

By Gus and Lina Ocamposilva
Gus and Lina Ocamposilva are from Oldsmar, FL and have worked in various media; clay, cast stone, resin, steel, stainless steel and aluminum. Their sculpture "Unstoppable" honors the freedom and perseverance of the limitless human spirit with a cheerful attitude toward life to surpass any obstacle without fear, showing the perfection of the human being through movement.
IMPRACTICAL HARDWARE @ 10TH & BROAD ST.

By Harry McDaniel
Harry McDaniel is from Asheville, NC. There are many common threads to his sculptures — graceful curves, a sense of motion, and elements of illusion—each public commission has been designed around the architectural constraints and opportunities presented by a specific site. Thematic elements reflect the function, history, or significance of a particular site. His goal is to reward those who wonder about the significance of the forms and take time to explore different viewing angles.
INVASIVE @ 836 BROAD ST.
By Jenn Garrett
Jenn Garrett is from Gainesville, FL. An homage to her mother and sister who have fought breast cancer, Invasive is simultaneously beautiful and somewhat unsettling. The pair of hot pink forms appear to have sprouted from the landscape bringing a robust splash of color to an otherwise ordinary backdrop. The aluminum plate petals are cut with a cell stain pattern, referencing both plant forms and the disease process. Are these flowers or are they weeds?
SUN LION @ 836 BROAD ST.
By D'jean Jawrunner
D'jean Jawrunner is from Tucumcari, NM and views the world microscopically, telescopically, and empirically. Natural and urban realities are community shaping archetypes inspiring dialogue, growth, and human relationships. Horned toads are reptilian unicorns. They are mythical and spiritual… predator and prey… a gift and source of joy to anyone blessed enough to meet one. They play a role in many cultures that is always positive.
ORION @ 8TH & BROAD ST.
By David Sheldon
David Sheldon lives in Asheville, NC. Created with what he calls a 'NASA aesthetic', his current sculpture series are influenced in form by the immaculate instruments of space exploration, as well as the moving rhythms of modern, minimalist music and architecture. Humankind has always sought to understand our place in the Universe, and he believes Art plays a vital function in that search. Beauty goes hand in hand with the acquisition of knowledge.
MAESTRO / FOREVER YOUNG @ 8TH & BROAD ST.
By Larry Schueckler
Larry Schueckler lives in College Station, TX. Maestro: Forever Young, was created as visual stimulus for examining the impact of movement when conveying thoughts, ideas, and even entire stories through the performing arts. The directives of the conductor, which oftentimes are perceived as abstract, have been intentionally magnified during the creation process. The youthful exuberance of a small wide-eyed student bridges the gap of time as the commanding power and authority of the 9′ plus tall maestro exhibits a slight boyish complexion and an insight into how it all began.
DUET @ 836 REYNOLDS ST.
By Gregory Johnson
Gregory Johnson is a Georgia-based artist who has been creating contemporary sculptures for nearly thirty years. Gregory's artworks are currently on display throughout the United States and seven countries. Most of his sculptures are rendered in either stainless steel or bronze and are built upon the traditional art concepts of classical compositions with detailed attention to surfaces and forms. His works often involve geometric shapes that suggest the pathways of life, the forces of nature, and/or emotions of humanity.
WHAT A WONDERFUL WORLD @ 8TH & RIVERWALK
By Leonard Ursachi
Leonard Ursachi is a Romanian-born American artist from Brooklyn, NY. Themes that thread through his work include the consequences of human activity on the environment. He wove What a Wonderful World from the branches of several types of trees, and loosely sketched a map of the continents on its surface in pigmented cement. The ovoid, egg-like form of the "globe" evokes our fragile but reparable world, while the woven branches evoke nests and a yearning for home.
STEPPED TOWER @ 8TH & RIVERWALK
By Larry Millard
Larry Millard, Professor Emeritus at University of Georgia, currently resides in Athens and has had 22 solo shows, over 200 group exhibitions, and has exhibited in numerous public art venues. Stepped Tower refers in an almost archeological way to revealing layers of history or information as the "steps" push up and out of the first, bottom-most "cube" of the sculpture. The ideas that influenced Stepped Tower originated in architectural forms and historic scientific and prosaic writings. The hazy, reflective metal surface integrates the sculpture into the landscape that surround it.
For more information, visit AugustaArts.com.