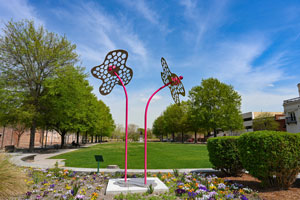 Voting is now open for your favorite sculpture along the Augusta Sculpture Trail at augustaarts.com.
Visitors can select three favorite sculptures on the trail, and the winner will receive a People's Choice Award. Winners will be announced on the Augusta Sculpture Trail website and at the Sculpture Trail Concert at the Saturday Market in downtown Augusta on May 14.
In addition, the Greater Augusta Arts Council has announced that grants for publicly shared projects are available to individual artists.
The maximum award will be $3,000, and the grants are open to artists in a variety of disciplines including visual, performing and literary arts.
The deadline to submit an application is 3 p.m. May 20, and the awards will be announced on June 20. For additional information visit augustaarts.com.